'I didn't take heed of that stigma around 'hospice' - Derry man and Boston native shares his experience
A local man given two life-changing diagnoses just months before his son's mother died said he wants to take the stigma out of the word 'hospice'.
Published 22nd Feb 2023, 11:52 BST

- 3 min read
Updated 22nd Feb 2023, 11:52 BST
Within just seven months, Keith Swerdlick, 55, was diagnosed with lung cancer, had surgery, was diagnosed with Motor Neurone Disease then had to face the death of his son's mother.
Keith, who is originally from Boston, considers Derry his home as he has been living in the city for the last 26 years and works for Derry City and Strabane District Council. He has found that, through availing of the services at Foyle Hospice, both he and his son have found comfort and motivation. He is passionate about changing people's perception about hospice care and wants to demonstrate that people can live well with a life-limiting disease.
"I was diagnosed in September 2021 with lung cancer and had the operation in October 2021, I've been in remission since surgery and that's great, it seems to have been a success," he said.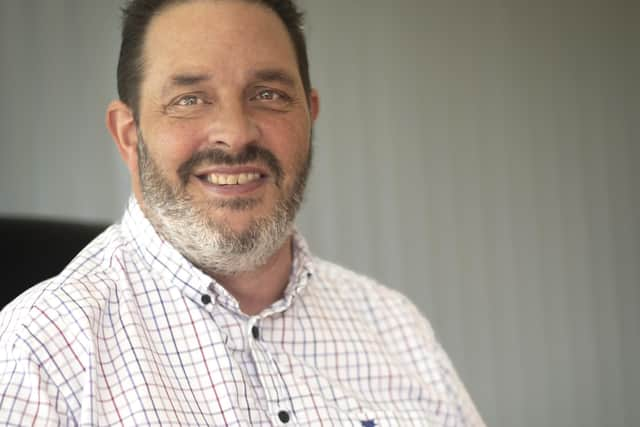 "Then two months later I was diagnosed with Motor Neurone Disease (MND) in December. I had the symptoms for about four years until they figured it out.
"They diagnosed me with other things, such as cervical stenosis, then ruled that out and had to start from scratch – that's how they diagnose MND, by ruling everything else out.
"Then unfortunately, four months after that, my son lost his mother. My son's been through the ringer as well.
"Motor Neurone is a game-changer, it turns your life upside-down, 180 degrees – it's a tough one to come to terms with. Now, I can't dress myself, I can hardly feed myself, I can't take my medication without help but I can still go to work and do my job and I come to Day Hospice nearly every week and it's great to get out of the house."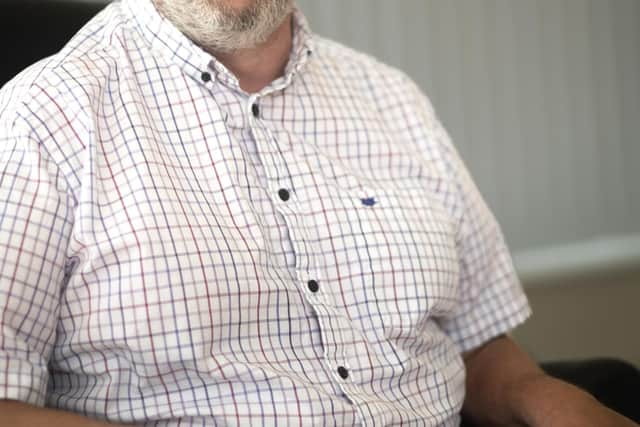 Keith described the positive impact attending the Day Hospice at Foyle Hospice has had on his life.
"I was off work for nearly a year and I went back to work in October but, coming here to Foyle Hospice, it was great to get out of the house, meet people and chat rather than looking at the four walls when my son went off to school," he said.
"The first couple of months after the surgery the cancer was ok, but after that you wanted to go out and do things. My employers are very good, I work for the local council here, and coming to places like Foyle Hospice are part of my working day as it's a recommended adjustment and adaptation. It's great that they recognise the importance of coming here for morale and therapy.
"The staff are great and the services such as the reflexology and acupuncture are very good but it's also very good for mental health, even more than physical health."
Keith said that he feels there are some common misconceptions around hospice care and the term 'palliative care' that he would like to clear up.
"I think work needs to be done in the general populous because people don't know that palliative care doesn't necessarily mean end-of-life care," he said.
"I took advantage of it and I think other people should as well. There's a stigma around the word 'hospice' – I didn't take heed of that stigma, I just thought this was an opportunity for me to feel well, so I came."
Keith said that attending the Day Hospice helps him maintain a positive outlook.
"Coming here helps. Before all this, I was never into self-care, reflexology or mindfulness but now I would endorse all that. Before, I would have gone to the gym, and that's still good for your mind as well, but now I can use reflexology, acupuncture, mindfulness and other things for wellbeing."
Keith said that his young son also availed of Healing Hearts at Foyle Hospice, a pre-bereavement and post-bereavement service for children.
"My son, when his Mum passed away, went to Healing Hearts for about six months or so and he found it helpful and that was the main thing. I was glad the service was here and he could talk to someone," he said.
Keith added: "I highly recommend the Hospice. Work needs to be done on rebranding, it's a tough one for Foyle Hospice because the word 'hospice' is never going to change, but I hope that people my age out there will take advantage of coming here…that really would be a good thing."
If you would like to find out about the range of services offered by Foyle Hospice, please visit www.foylehospice.com or call 02871 351010 for further information.