Inishowen man flies to Spain for free surgery to beat HSE waiting lists - under EU cross-border directive
An Inishowen man has spoken of his 'incredible' experience after flying to Spain for a free knee-replacement operation to beat the HSE waiting lists at home.
Published 21st Feb 2023, 16:37 BST

- 3 min read
Updated 21st Feb 2023, 16:37 BST
Watch more of our videos on Shots!
and live on Freeview channel 276
Visit Shots! now
Bernard McLaughlin, (70), used a little-known European law and the organisation Healthcare Abroad to access the surgery at a top private hospital in the upmarket seaside city resort of Dénia, an hour north of Alicante.
The Buncrana native, who now lives in Malin, also saved a fortune after being told he would have to fork out an extra €7,000 had he chosen to go to a private clinic elsewhere under a different scheme.
"I've had excruciating pains in both my knees," said former construction worker and Fruit of the Loom driver Bernard.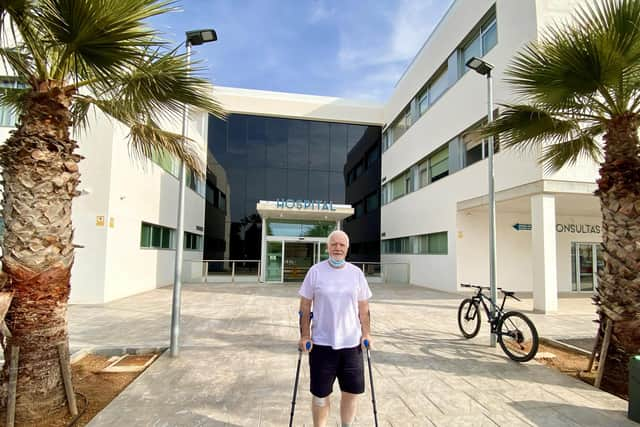 "My left knee started going three years ago. It just kept getting worse. I went to my GP of course and I was then sent to see a consultant and I was told I was too young to have a knee transplant. I was 67 at the time and I couldn't believe it.
"I was given injections instead. And for two years that did keep me going. I was getting massages too to help.
"It got to the stage that I couldn't sleep at night."
Bernard, a member at Ballyliffin Golf Club, was also missing his favourite pastime.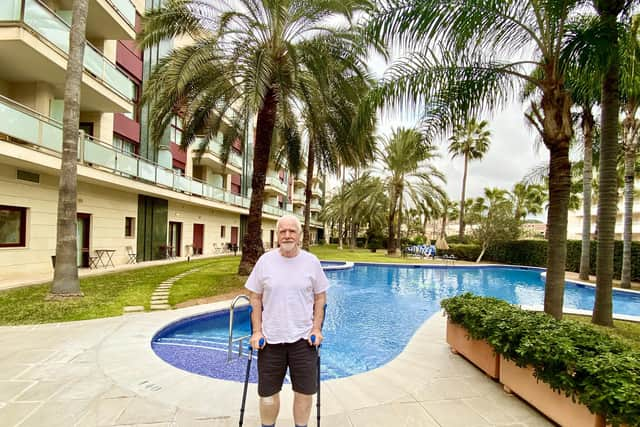 "I haven't been able to play golf for months," he told the Journal.
"That's the biggest thing in my life (apart from my wife Joy of course)."
Bernard was desperate to find a solution that didn't involve up to a four-year wait on HSE waiting lists.
He called a health facility who said it was going to be late April or May and it would cost £17,000 sterling.
"Firstly, I didn't want to wait any longer. Secondly, with the HSE reimbursement, I'd have to pay €7,000 or €8,000.
"Thankfully I found an organisation in Dublin called Healthcare Abroad who have a base in Dénia in Spain. The surgery at the HCB Hospital in Dénia costs €11,700 and the HSE will reimburse all of that.
"Healthcare Abroad couldn't be more helpful. I got a referral from my GP and I was on the plane 10 days later. I was treated like a VIP. We were met at the airport in Dublin. We were collected at the airport in Alicante – and booked into a fabulous 4-star hotel.
"To be honest I really can't begin to find the words to describe how I was treated. The Healthcare Abroad team were exceptional. The staff at the hospital – the nurses, the consultants, the physio team – were absolutely phenomenal. And the team at our hotel, the Daniya Denia, couldn't do enough for you.
"I was ferried back and forward to the hospital for all appointments; and I was given 10 intensive physio sessions after surgery and I was up and about again in no time at all. Better still, Healthcare Abroad did all the paperwork for me."
Bernard, whose late father Harry was a councillor for Buncrana, said he'd never heard of the EU Cross-Border Directive.
"I was going back and forward to hospitals for years and it had never been mentioned to me once," said Bernard.
"I would advise anyone living with the pain I suffered not to wait another day. Get on to Healthcare Abroad and get on a plane to Spain. There's a flight every day out of Belfast or Dublin so there's no excuse.
"Once I've recovered from this knee replacement I will be back out to the HCB Hospital in Dénia to get the other one done so I can get my life back again, and back on the course at Ballyliffin."
A Healthcare Abroad spokesperson said: "We were delighted to help Bernard access surgery in Spain under the EU Cross Border Directive. The full costs of his surgery and rehab will be reimbursed by the HSE around 16 weeks after Bernard gets home.
"Bernard recovered particularly quickly after his knee replacement and we want to wish him all the best for the future. We know he can't wait to get back on the golf course in Ballyliffin."
Under the Healthcare Abroad arrangements, the agency completes all paperwork to ensure the HSE refund. Patients do have to pay for the costs of flights and the hotel (€70 per room B&B) as the HSE does not refund travel costs.
The EU Cross-Border Directive has been operating since 2014 and allows any EU citizen to travel to another EU country for healthcare with the citizen's own country paying all or most of the costs of the procedure. It no longer applies to Northern Ireland since Brexit.