It's true what they say: NHS workers are 'the saints who live next door'
Following a recent short stay in hospital for surgery, Rev. David Latimer hails NHS staff who, he says, constantly go above and beyond the call of duty
Friday, 26th March 2021, 10:43 am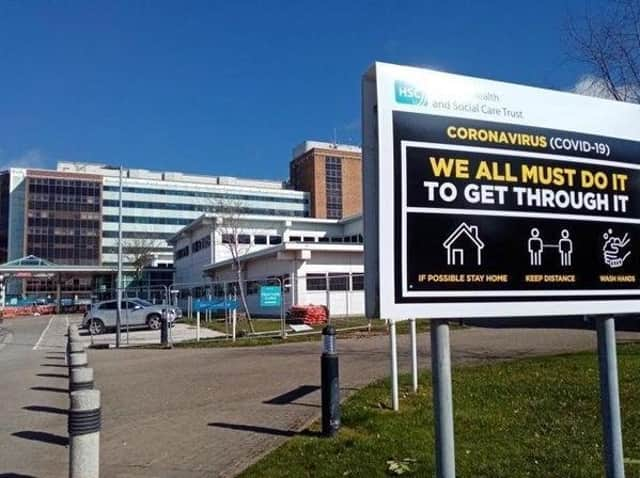 Rev David Latimer has praised staff at Derry's Altnagelvin Hospital.
'In like a lion, out like a lamb,' is accepted as the perfect idiom to describe the month of March which frequently starts off with cold Winter weather and ends with warmer Spring weather, writes Rev. David Latimer.
Strange as it might sound, the first day of March found me lying in the foetal position at the back of my house!
A breezy, but dry, afternoon was sufficient to tempt me outside to do a wee spot of gardening which culminated in carrying a rather heavy bucket of weeds across a stretch of concrete.
Suddenly, and with no prior warning whatsoever, my right leg buckled underneath me and down, onto the hard concrete path, I clumsily fell! Unable to move, I feared the worst.
It quickly became clear I would need more than a pill or sticking plaster. A telephone call to Accident & Emergency at Altnagelvin led to a 5pm appointment at the minor injuries clinic where my painful injury was diagnosed as a torn Patellar Tendon. Later, the results of an X-ray confirmed I would require surgery to repair the tendon.
The A&E waiting room was filled with people patiently and quietly listening out for their name to be called. People nodded as I struggled, with the use of a stick, to an empty seat.
A couple of women quickly rushed across the room to help me into one of the few vacant seats. That was an unexpected and kind gesture. There was a respectful quiet in the waiting room and there was also evidence of empathy. All of us were there because we needed the specialist help doctors, nurses, porters, radiographers and receptionists are trained to provide.
Everyone at that busy hospital entry point was working diligently and in perfect harmony with one another. The team on duty, comprising a range of skills and drills, was completely focussed and committed.
During my two-hour journey through A&E, I was filled with admiration as I observed first-hand the calm, efficient, friendly and professional manner of front-line NHS staff carrying out their various roles. I was in no doubt that I was in the capable hands of people, who despite the added complications of COVID 19, were tirelessly toiling to relate to a constant stream of physical ailments and conditions.
By 8 o'clock, I was delivered, by a friendly porter, to Ward 23 in the pristine North Wing where I found myself in a single en-suite room. Overwhelmed by my private surroundings, I felt like I'd arrived into a luxury hotel.
From the moment I arrived into Room 2, I was treated like I was the most important person in the world. Medical and non-medical staff alike, whether working days or nights, were particularly caring and courteous as they completed their specific tasks which, in the main, were geared towards the welfare of the patient.
Beginning with the consultant's first visit to explain my surgical procedure through to the catering staff, who smilingly served breakfast, lunch and dinner daily, along with a plethora of nurses, pharmacists, physios, Occupational Therapists etc., there was no doubt in my mind that I was in the best place, receiving the best level of care.
Pope Francis, in a recent homily, hit the nail on the head when he referred to doctors, nurses, volunteers and porters as, "the saints who live next door."
Since being discharged, I've been twice to my local medical practice. I've also had my first post-op meeting with the consultant at the fracture clinic. Surgery has been successful. I'm on the mend and, for that, I am so grateful.
Reflecting on my recent enforced hospitalisation, I'm minded to purposely call attention to a multitude of healthcare, medical and non-medical workers. Despite being surrounded by additional pressures and risks caused by the Coronavirus emergency, all those who are employed under the NHS umbrella courageously continue to go above and beyond the call of duty at this time of great need.
Daily, weekly, monthly, the NHS functions as one strong team.
Having endured so much for so many, every single worker, exhausted after twelve months of COVID 19, deserves to be valued, recognised and generously rewarded.
Rev. David Latimer is the retired minister of First Derry Presbyterian Church.