Local recovery group raising awareness of alcohol addiction
A local fitness recovery group is to hold a community work out session for alcohol awareness week and are encouraging everyone to get involved.
Friday, 29th May 2020, 9:45 am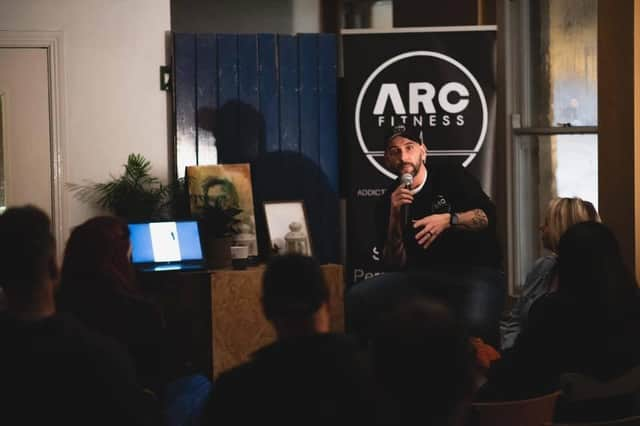 ARC Fitness helps people struggle with substance misuse through a fitness training and recovery programme.
The group was set up by Gary Rutherford, who overcame his own drug addictions to become a registered mental health nurse and personal trainer.
Fitness was instrumental in his own recovery and he is now using his experience to help others.
ARC was set up just over a year ago and has so far assisted 21 people who have issues with substance misuse through tailored exercise and one-to-one programmes.
The programme has been continuing online during the Coronavirus lockdown. However, last week three small groups came together for their first social distanced outdoor training session. "Everyone is really missing that personal interaction and it was really good to see everyone again. Even though we are connecting eight times a week over video, it just isn't the same."
Gary hopes that the groups will be able to meet up on a weekly basis, until the regulations change for small groups to train together in a gym.
Next month, the group will be getting involved in alcohol awareness week with a community recovery workout.
"With the whole lockdown situation, drinking rates are increasing and not as many people are seeking treatment. More drinking and less help is going to cause a bottleneck at some point," Gary said. "
Lockdown is going to have an impact on everyone's mental health. We all have to get used to a new normal and there are going to be more issues with addictive behaviour after all of this.
"The community work out will raise awareness about addiction and the stigma surrounding it. Anyone can get involved, individuals struggling with their relationship to alcohol and other substances; their families and their supporters and members of the public are welcome to show their support."
The work out will take place via Zoom on June 20, at 10:30am.
Meanwhile, ARC fitness is about to reach a worldwide audience with the launch of the ARC Academy. "We are putting the programme online. It's an add on for the participants doing it here in Derry, but opens up the opportunity for the fitness programme and recovery content to go worldwide. People will be able to access the community from anywhere.
"It will also share the ethos of the group, the non-judgemental and compassionate approach that we have," Gary said, adding:
"I have been inundated with requests from people outside Derry, but until now I have been unable to help them. We have linked up with Learning Pool to create the ARC Academy and fill that demand."