Patricia Donnelly says reported AstraZeneca supply issue only likely to delay ahead-of-schedule vaccine programme by two weeks
The head of the vaccination programme in the north Patricia Donnelly says potential reported supply issues with the AstraZeneca vaccine are only likely to delay the inoculation roll-out here by two weeks.
Published 18th Mar 2021, 10:58 BST

- 2 min read
Updated 18th Mar 2021, 11:02 BST
She made the assessment at the Stormont Health Committee this morning after NHS England, upon which we are dependant for supply, warned yesterday there could be a reduction in AstraZeneca stock next month.
The pharmaceutical company has refuted this and said that its UK supply chain is 'not experiencing any disruption and there is no impact on our delivery schedule.'
Asked about the potential impact on the vaccine roll-out in the north which is way ahead of schedule Ms. Donnelly said: "Worst case scenario it probably puts us back by four weeks.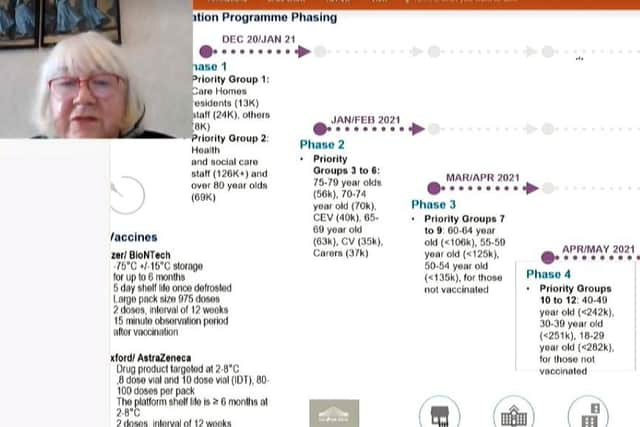 "The mitigation measures that we put in place we hope will only delay it by two weeks so it won't have a huge impact. We had hoped by the time we launched the SSE arena [vaccine centre - planned for the end of this month] that we would be opening to the over 40s.
"I think that will maybe be delayed by two weeks but we will keep that under review and it will very much depend on the remaining deliveries we get from AstraZeneca," she said.
In her briefing to the committee Ms. Donnelly said the Department of Health's intention had been to start delivering vaccines to 40 to 49 year olds, 30 to 39 year olds and 18 to 29 year olds - in that order - at the start of April.
Back in January it was expected that this would not happen until the summer but such has been the success of the programme to date that that has moved forward considerably.
Ms. Donnelly said the programme has been running to time and that an unexpected 'bumper dose' of AstraZeneca at the start of this month allowed the health authorities to significantly ramp up delivery over recent weeks.
Yesterday's announcement may represent a slight bump in the road, however, Ms. Donnelly said the programme is not wholly dependant on AstraZeneca.
"You will have heard from some national media that the second bumper dose that we were expecting at the end of March has now been delayed until April. We had not wholly counted on this as part of our plan.
"I think we indicated before that we try to be flexible in how we deliver this so by having a larger number of individuals, by having a group of both Trusts using Pfizer largely and then GPs and the new centres coming on board that we would use AstraZeneca and Pfizer in combination.
"In the last few days since we were aware there would be a change in the delivery schedule we have adjusted our plans accordingly so anyone who has a booking it will be honoured, anybody who is expecting a second dose we have vaccine reserved for that.
"But we are also hoping to continue with some first doses during the month of April as well as the remainder of March."