Phone First for Altnagelvin A&E to roll out from Monday
A new 'Phone First' service to cover Altnagelvin Hospital's Emergency Department will come into effect from 8am on Monday next, January 25.
Published 18th Jan 2021, 16:48 GMT

- 3 min read
The new arrangement will run from 8:00am to 12 midnight seven days a week, the Trust confirmed yesterday.
Speaking about the new service, Director of Acute Services at the Western Trust Geraldine McKay said: "The 'Phone First' service, aims to ensure that patients can get direct access to the right care, avoiding busy waiting rooms and staying safe.
"The service is designed for patients, including children, who are feeling unwell and considering travelling to an ED or Minor Injuries Unit with an injury or illness which requires urgent treatment but is not immediately life threatening.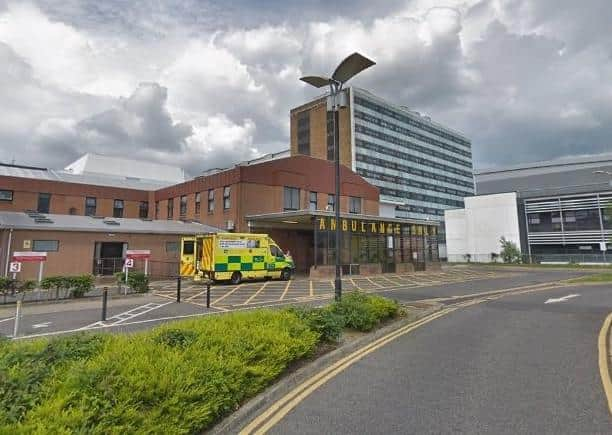 "When you call the 'Phone First' service your condition, or that of the person you are calling on behalf of, will be clinically assessed and arrangements made for you to access the most appropriate service to your needs. At present units in the Western Trust are only offering booked appointments for minor injuries in adults. You may receive telephone advice on minor illness via the phone first service or be directed to see your General Practitioner or to attend ED."
The new 'Phone First' number to ring is 0300 020 6000.
The 'Phone First' text relay number is 0870 240 5152.
For all emergencies that are life threatening always call 999 immediately. This can include: stroke, heart attack, loss of consciousness, breathing difficulties, severe bleeding or major trauma.
It is important to note that Emergency Departments will always be a safe place for patients, and if they attend an ED without ringing first, they will not be turned away. If their condition is not life threatening they may have to wait longer or be signposted to another service.
Head of General Medical Services at the Health and Social Care Board, Dr Margaret O'Brien, said: "With the impact of the COVID-19 pandemic in our community, it is more important than ever that patients who need emergency treatment aren't asked to wait in crowded waiting rooms where they may be exposed to the virus."
She added: "The 'Phone First' service aims to keep our over stretched EDs for emergencies, whilst ensuring rapid access, assessment and treatment on a 24/7 basis for patients who need urgent care."
Dr Ciaran Mullan, GP Associate Medical Director at the Western Health and Social Care Trust said: "The rollout of the Phone First service will improve patient safety in terms of preventing overcrowding and reducing long waits in our EDs and Minor Injuries Service. It will also help reduce the risk of Covid-19 infection and transmission.
"We need your help at this extremely difficult time and I encourage patients to please 'Phone First' if your condition is not life threatening. However, if it is an emergency, if the situation is critical or life threatening then please always ring 999 immediately.
"No one working in an Emergency Department wants to see overcrowded waiting rooms full of sick and injured people many of whom could be treated elsewhere in a more appropriate setting. That is particularly true right at this minute when everyone is so aware of the need to maintain infection control standards."
In August the Minister of Health approved the establishment of an interim 'No More Silos Network' to produce detailed proposals for the reform of Urgent and Emergency Care,
On October 16, 2020, the Department of Health published its COVID-19 Urgent & Emergency Care Action Plan – 'No More Silos'. View the plan in detail on the Department's website at: www.health-ni.gov.uk/NoMoreSilosThe 'No More Silos Action' Plan sets out 10 key actions to ensure that urgent and emergency care services across primary and secondary care can be maintained and improved in an environment that is safe for patients and for staff, both now and into the future.
Five local implementation groups have also been established, made up of leaders across both primary and secondary care, to design and develop plans, tailored to their communities, to implement the key actions at a local level.
'Phone First' is one of 10 recommendations as a result of the review.