'Stress is one of the biggest factors for relapse and lockdown is stressful'
A man who overcame his addictions to become a mental health nurse and set up a groundbreaking exercise recovery programme has warned people against overindulging in alcohol during the lockdown.
Friday, 3rd April 2020, 1:09 pm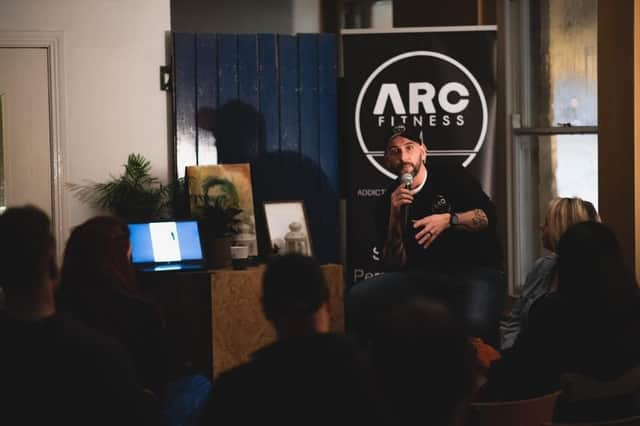 Gary Rutherford, ARC Fitness
Gary Rutherford, who started ARC Recovery a little over 12 months ago, has said that people relying on alcohol during this time of stress could cause them to develop issues.
In the last year, ARC Recovery has helped 21 people who have issues with substance misuse through tailored exercise and one-to-one programmes.
The programme has an impressive success rate, with more than 70 per cent of participants continuing to engage with the group.
A further seven people were due to start on the programme, however this has had to be postponed due to the Coronavirus pandemic.
Gary has moved as much of his programme online as possible and is continuing to provide support to those on it.
"I gave everyone equipment from the gym for free, because they wanted to do exercise in the house themselves and I had originally created videos of myself to share on social media for everyone to follow.
"Then Zoom just exploded and we decided to use that. We do an hour long workout together every day and I also run two check-in sessions. These are an hour and a half long and they give us an opportunity to check in on each other and see how everyone is getting on. It really helps if someone is having a difficult day."
The exercise and check-in sessions have also been opened to the postponed intake to ensure they are getting some support during these trying times.
During lockdown, people with substance abuse issues will particularly struggle with the isolation, lack of routine and boredom.
"The biggest challenge is disconnection," Gary said. "The biggest driver for ARC was always the community and the social aspect of it - people coming together to work out and getting their families and supporters involved in our monthly social nights.
"So many of the group are now finding themselves back in the isolated situation they were in before. They are struggling with a sense of being lost at the same time as going through their own issues and problems."
Gary said that continuing to have daily work-outs is allowing his group to maintain some king of routine. They are also keeping in touch daily through other forms of social media.
"For people in recovery, routine is so important. It is great having a work out now every day, but it is just one hour and then it is a long day.
"I am a creature of habit and structure in my own recovery was so important. I have had to strip it down and make new routines for myself."
Gary said these are issues for everyone during the lockdown, but for people battling substance abuse, issues the stress could make them fall back into old habits.
"Stress is one of the biggest factors for relapse and the reality is this is a massively stressful situation for everybody. There is so much uncertainty and people in recovery like to have some level of control.
"If your coping mechanism for a long time has been drugs or alcohol, it is easier to slip back to that."
Gary said he was shocked to see off-licences listed as an essential service.
"If you don't have good coping mechanisms and you are at home and you're bored and isolated and you start using alcohol over a prolonged period of time, you will find yourself in a predicament once this is over. You may be in a situation where you have to withdraw from alcohol.
"On the flip side, people can do it in moderation, but if you are susceptible to it then that is where the danger lies."
Gary urged everyone to have structure and routine during lockdown to prevent relying on alcohol or other substances.
"Have a plan and make sure you have something useful to do in the morning, afternoon and evening. Exercise regularly and eat well. If anyone is struggling with addiction issues there are many online support groups including AA, NA and Smart Recovery."
To find out more about ARC Recovery visit: www.facebook.com/arcfitnessni/ or https://arcfitness.co.uk/