Artist and peacebuilder launches new book of real life stories from The Troubles
Artistic Director of Theatre of Witness Teya Sepinuck will launch a new book exploring the stories of ten peacemakers, thirteen years after they first told their stories on stage.
Published 15th Feb 2023, 11:56 BST

- 2 min read
Updated 15th Feb 2023, 12:12 BST
'We Are The Ripple Effect' will be launched at The Playhouse on Saturday, March 4 at 4pm.
Ms. Sepinuck, is the founder of Theatre of Witness, a form of testimonial theatre in which the true stories of those who have gone through significant life experiences share their stories onstage as a way for audiences to bear witness to issues of suffering, transformation and peace.
'We Are The Ripple Effect' has been written in collaboration with ten performers who are still active in presenting Theatre of Witness workshops.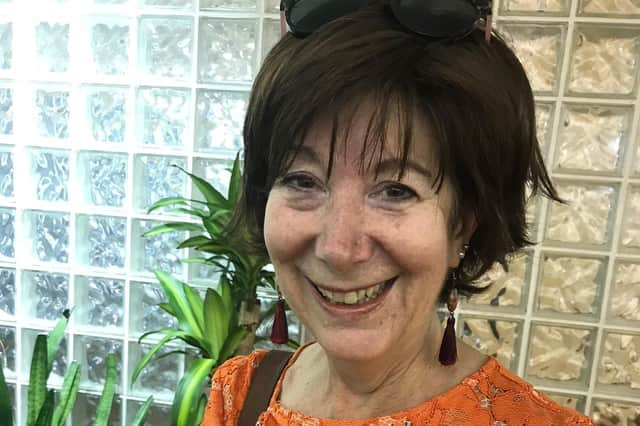 There is a chapter for each of them that begins with their scripted words from their productions, followed by their thoughts and stories about how the process has affected them, and how they see themselves as peacemakers.
Theatre of Witness performers have included: refugees and immigrants; those affected by violence, poverty, conflict and/ or racism; survivors and perpetrators of abuse, ex-combatants, police and security forces, teenage runaways, people living with mental and/or physical health issues, elders, heath care professionals, peacemakers and visionaries.
"On a misty Philadelphia day, midway through the pandemic, the faces of nine of the original Theatre of Witness performers from Northern Ireland dotted my computer screen," Teya said.
"Gazing at them from more than three thousand miles away, I felt their passion and enthusiasm shine. After thirteen years of performances, workshops and presentations, I was struck by how much they had evolved individually and as a family of practitioners since our original Theatre of Witness productions had finished touring nine years previously….
"You have all become such extraordinary peacemakers and teachers. Someone should write a book about you. There was a pause, and I felt chills all up and down my spine. Maybe that person is me," she added.
Ms. Sepinuck said that the draw of collaborating with the peacemakers again was strong, even from another continent.
"Since then, I have re-watched their films, and had numerous online conversations with each of them. When we originally created our productions together, I don't think any of us expected that they would still be presenting this work all these years later.
"But as I write, the offshoots of Theatre of Witness continue to grow. I am continually re-inspired by their dedication, and commitment to model peace," she stated.
Drawing on her dance and counselling backgrounds, Ms. Sepinuck founded this unique form of performance to tap the deepest stories from people whose stories had never been heard before, transforming them into powerful and raw theatre productions.
Teya draws on her capacity to listen to what has been unspoken, leads people into emotional and performative territory they never could have imagined, and seeks to always 'find the medicine' in stories of suffering, transformation and peace while upholding the highest artistic standards.
'We Are The Ripple Effect' by Teya Sepinuck will be launched at The Playhouse on Saturday, March 4 at 4pm, and include a reading from the book. For more information visit www.derryplayhouse.co.uk.