Bishop McKeown speaks of remarkable history of St. Eugene's in 150th anniversary week
Bishop Dónal McKeown spoke of the remarkable history of St. Eugene's Cathedral in his homily for Good Shepherd Sunday ahead of the 150th anniversary of the church this week.
Published 1st May 2023, 13:56 BST

- 3 min read
Updated 1st May 2023, 13:58 BST
He remembered one of his predecessors who first welcomed worshippers into the historic Cathedral in the early 1870s.
"A hundred and fifty years that have passed since Bishop Francis Kelly opened St Eugene's Cathedral for worship on May 4, 1873. By a strange co-incidence, that year May 4 was also Good Shepherd Sunday.
"Bishop Kelly had been Co-adjutor Bishop of this diocese for 15 years from 1849 and thus was the one who shepherded the construction of this building through many challenges," said Bishop McKeown.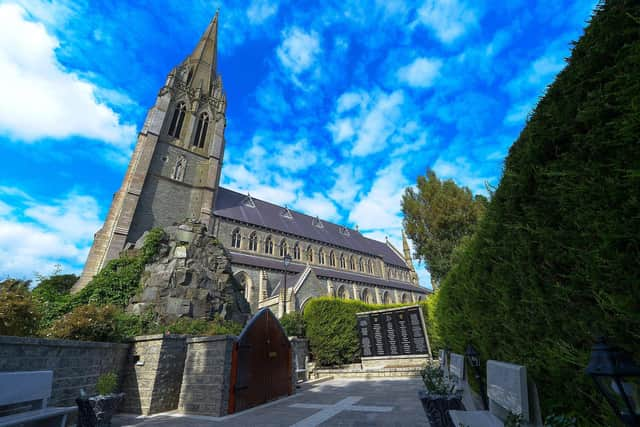 He spoke of how the pioneers who had been the driving force behind the project knew they would not live to see it completed.
"It is interesting to note that it took practically a hundred years between the idea of a Cathedral - dreamed about in the 1830s shortly after the Catholic Emancipation Act of 1829 – and the final consecration of the high altar that took place in April 1936 when the debt was eventually paid off.
"Those who planned and worked knew that they would never see the end of the process. But, with faith, hope and love, they were prepared to lay stone upon stone, knowing that when the Lord builds the house, the builders do not labour in vain," he observed.
Bishop McKeown also referred to the tumultuous times witnessed and endured by the many thousands who have worshipped at St. Eugene's over the years.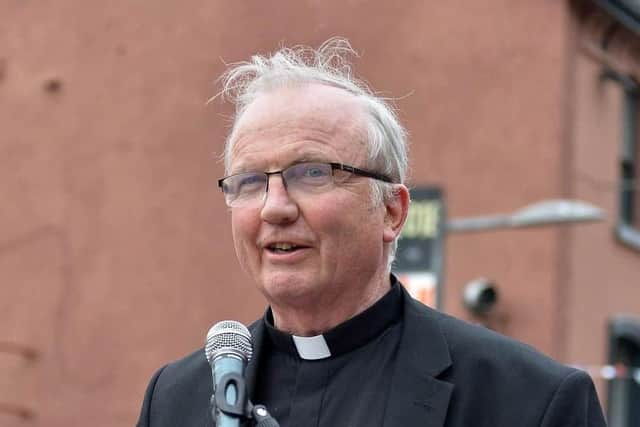 "This cathedral church has ministered in many difficult periods – the unsettled post-Famine decades leading to the creation of NI, years of unemployment and injustice, the awful years of the Troubles and the huge current economic and social uncertainties.
"Often, we think of church leaders whose names are known. But there was the famous piece of local graffiti to the effect that women did not just make shirts, they made communities.
"It is strong women and men of faith who were the salt to the earth and the light to our world in difficult times. And we were blessed with generations of extraordinarily generous consecrated women and men who provided education and many other services.
"In 1973, when the centenary of St Eugene's was marked, it was impossible to have any substantial celebrations because of the raging conflict on our streets, not just here but across Northern Ireland.
"It took a further 25 years of work by dedicated peacemakers to bring us to the watershed moment of the Good Friday Agreement. Just as Jesus suffered on Calvary – as St Peter writes He was bearing our faults in his own body on the cross - the fragile peace was built on generous hearts who did not stop believing in a God who believed in people."
He expressed hope that those listening to his sermon on Sunday would live to see the 200th anniversary of St. Eugene's in 50 years time.
"Please God, some of you will gather here in 2073 to celebrate the Good Shepherd who has been faithful to his flock since Saints Eugene and Colmcille spoke of Christ in our part of this island," he remarked.