Derry & Strabane Council backs preserving home of All Things Bright and Beautiful and Once in Royal David's City hymn writer Cecil Frances Alexander
A motion calling for the preservation of Milltown House, the former residence of hymn writer and poet Mrs. Cecil Frances Alexander, best known for the hymn 'All Things Bright and Beautiful', has received the support of Councillors in Derry & Strabane.
Tuesday, 2nd March 2021, 8:23 am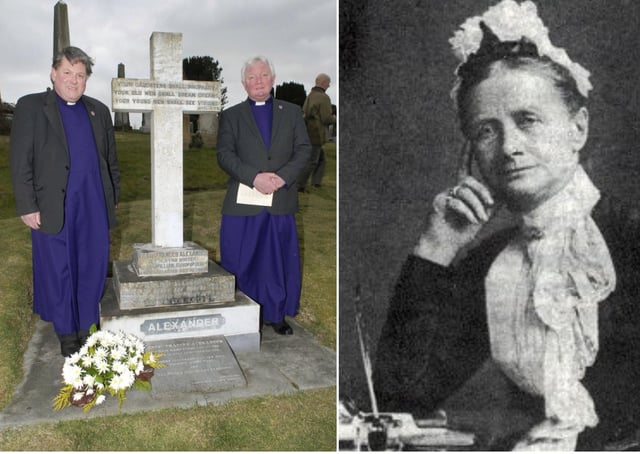 Left, then Dean William Morton and Canon John Merrick pictured back in 2012 during the annual Easter Pilgrimage to the grave of Cecil Frances Alexander in the City Cemetery by parishioners from St. Columb's Cathedral on Good Friday. And right, Cecil Frances Alexander.
The Notice of Motion also called for the other buildings on the old Strabane Grammar School site at Liskey Road, Strabane to be preserved as well as looking into the possibility of pursuing a Community Asset Transfer.
SDLP Councillor Jason Barr brought the Notice of Motion and he explained to Councillors: "This has become very popular among the people of Strabane and the surrounding areas to preserve this site to keep it for tourism and community use.
"The Strabane Historical Society are very hopeful about the conversion of this house and part of the site into a heritage visitors' centre, showcasing the long history our town has to offer.
"The new centre will accommodate heritage, historical information of the area and its peoples, a visitors centre and a community service which will benefit so many in the area.
"We want Derry City & Strabane District Council to protect Milltown House and ensure its availability to Strabane Historical Society who will look after it, publicise and enhance the history it represents."
All Members were in agreeance and the Motion passed unanimously.
Cecil Frances Alexander (nee Humphreys) was born in 1818 to Major John and Elizabeth Humphreys. She died in 1895 in Derry.
Back in 1850 she had married Bishop of Derry & Raphoe Rev. William Alexander and she penned hundreds of hymns during her life-time including 'Once In Royal David's City' and 'There Is A Green Hill Far Away'.