Marooned in Derry COVID-19 land and missing Donegal but finding solace in the natural world
Like the fishing boat stuck fast in the mud of the Foyle we are marooned in 'Covid 19 Land.'
Published 31st Dec 2020, 14:53 GMT

- 5 min read
Updated 31st Dec 2020, 14:58 GMT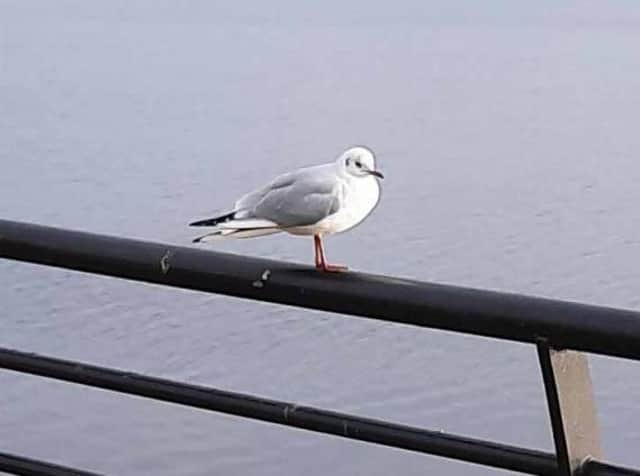 When the whole pandemic saga began before St Patrick's Day few of us would have imagined we would still be stuck fast in Covid 19 problems. Like a lot of people I have lost track of where we are with regards to the status of government advice. I take my own precautions - 'lockdown advice plus'.
I am aware that I am also suffering from a side effect unknown before the crisis, DDS, 'Donegal Deprivation Syndrome'. This affliction is most keenly felt by residents from 'the Derry side'.
Any glance at a map will confirm that our connection with the rest of Ulster depends on two and a half bridges. In contrast it is possible to access Donegal by 13 possible roads. Normally I would be using these routes almost every day: to get fuel, go for a run, take a walk or just to stare at the sea. I have severely limited my visits for a number of months to show solidarity with the efforts of the people in Donegal to keep the disease under control.

There has been an unintended bonus. I have been forced to take my recreation in little visited locations: Out the Line, Enagh Lough, Roe Valley Country Park and Ness Woods.
What they have in common is a lack of traffic which is particularly important in these winter months when visibility is so poor.
They all provide contact with nature, a vital requirement for mental health during these restrictive times. All have their own attractions and their special wildlife. However, being a creature of habit, I find I visit the Bay Road most frequently.
My last visit was at midday a couple of days ago. I began at Sainsbury's car park and walked towards the 'New Bridge'. I decided to concentrate on the birdlife as this remains a point of interest when much of nature is subdued during the winter. Almost immediately I noticed gulls perched on the railings.
The different species of gull are difficult to tell apart as they are all fairly similar. They were blackheaded gulls which confusingly in winter are not blackheaded. They only develop a black head in spring as part of their breeding plumage. It is their bright red legs which distinguish them from the other gull species.
I then passed where the largely subterranean Pennyburn emerges from its culvert and joins the main River Foyle. Looking over the fence I saw a flock of about thirty teal ducks. They are Ireland's smallest and most beautiful ducks. Their head is red and the eye is surrounded by vivid green.
The contrast of these exquisite little ducks with the turgid water and the glar surrounding it could not have been greater. The duck's view of this habitat is different from our own. This would be the last place we would spend a winter break. Their survival instinct has driven them to face the hazards of the ocean to fly from Iceland and Scandinavia to spend the winter months here away from the bleak arctic.
Teal are just one of numerous species of wildfowl: ducks , geese, swans and waders that seek out Ireland's milder climate and food availability during the winter months. Walking into the Bay Road Park it was gratifying to think that this pleasant landscape sits on top of what once was the town's refuse dump. I took the muckier path to get closer to whatever birds might be hiding in the bushes.
I heard robins calling to one another. This took no great expertise in bird song as the robin is the only bird to sing in winter. Their singing is part of a turf war for survival. Each bird marks out the territory it needs to find food by singing and warning off any rivals to their patch.
The stranded fishing boat is still trapped on a sand bank. Numerous gulls were keeping it company. Perhaps they were the same gulls who followed it when is was actively fishing. Were they, like ourselves, patiently waiting for circumstance to change for the better? In reality all gulls are opportunistic scavengers. They find food wherever it is available: behind fishing boats, on the seashore, following the plough, on rubbish dumps and stealing from people eating fish and chips.
A more specialised feeder arrived on the sandbanks. A flock of about twenty birds flew in tight formation landing on the sand bank. They were redshanks. Typical of wading birds, their splayed feed are attached to long legs. This allows them to spread their weight on soft surfaces or to wade in shallow water. Using their sharp sight and sensitive beaks, they search in the mud where they find food in the form of worms and molluscs. Their bright red legs give them their name. Like the teal they breed in the arctic. The Foyle for them is an ideal winter refuge.
Before I turned back towards Sainsbury's I took time to admire the sweep of the Foyle Bridge. Its height reduced the roar of the traffic to a dull hum. Like many things we are most aware of how much we rely on the bridge when its not there. When it's closed the traffic chaos in Derry is intolerable. Its height is now a largely redundant feature as so few large ships pass under it today.
The winter sun shone on the bridge from the south west. The concrete seemed almost as white as when it was first built nearly forty years ago. From the engineering point of view, its sinuous curves were necessary to allow the bridge to span the Foyle. For any observer this functional but flamboyant landmark characterises Derry as much as the two cathedrals or the Guildhall.
Many birds have collective nouns that poetically describe their supposed character: a squabble of gulls, a paddling of ducks, a round of robins and a fling of redshank. A group of magpies is known as a parliament. I saw about a half a dozen having their noisy and querulous parliament in tall trees above the path. They were making more noise than sense. A metaphor perhaps for the performance of our politicians in their mishandling of the current crisis?
Like the fishing boat we can all feel 'stuck in the mud' during these difficult days. The short winter days can make the pandemic restrictions even more irksome. My own 'DDS' problem will no doubt come to an end with the retreat of the coronavirus. In the meantime, I can recommend the Bay Road to anyone looking for the opportunity to meet with family and friends safely, to get fresh air, exercise and contact with nature during Christmas time.