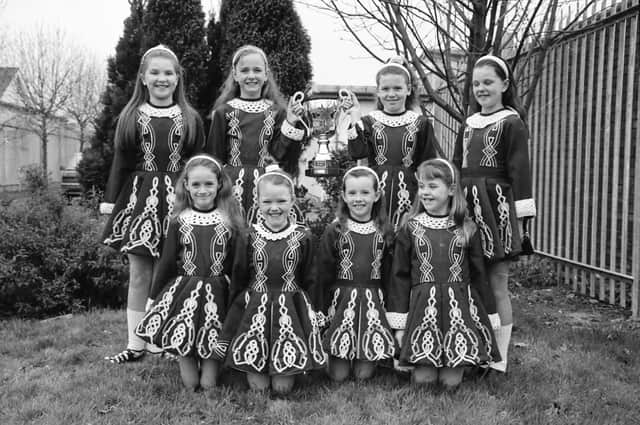 Members of the McConomy School who won the Brendan DeGlin Cup for Figure Dance 8-12 years at the 1997 Feis. Front, from left, Shauna McDevitt, Elan Bradley, Ciara McConomy and Laura Jayne Brady. Back, from left, Joanne Kavanagh, Frances McGonagle, Emma Jayne Ryan and Leanne McConomy.
NOSTALGIA: Derry and Inishowen in pictures - April 1997
In April 1997, Derry-born writer John Keys O'Doherty, was still earning rave reviews for his work at the ripe old age of 85 with the publication of 'Half a Hundred Tales of Women' in his adopted US home; the Minister for Health Michael Noonan insisted that a male sterilisation service would be provided in Donegal; and Protestants living in Derry's Fountain Estate denied Sinn Féin claims that loyalists were responsible for instigating sectarian clashes in the city centre. As ever the 'Journal's photographers were out and about.
Monday, 18th April 2022, 4:30 pm
Updated
Monday, 18th April 2022, 5:04 pm