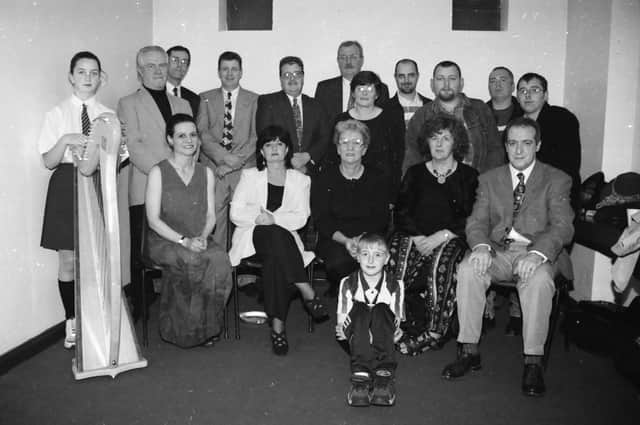 Some of the performers at the Creggan 50th Festival Midsummer Gala Evening held in St. Mary's Community Centre. Seated, from left, are Mary Crumley, festival organiser, Bernadette McFarland, Teresa Moore, Patricia Mulkeen (The Creggan Belles), and John Peoples, director, St. Mary's Choir. Back, from left, are Aine McDevitt, Jim McDermott, Pat Lynch, Gerry Doherty, Eddie Kerr, Kevin McCallion, cast of 'The Walls of Derry', Cora Baker, producer, Dougal McPartland, Phil McGerigal, Paddy Nash and Declan McLaughlin (Screaming Binlids). At front is Kevin Kerr.
NOSTALGIA: Derry and Inishowen in pictures - June 1997
In June 1997 Seagate Technology revealed details of a huge multi-million pound expansion of its Springtown plant in Derry which is expected to create up to 1,100 new jobs in the city; driftnet fishermen in Donegal finalised arrangements to block the Foyle when they meet at the Greencastle Resource Centre on Sunday afternoon; and the visit of Mussolini's right-hand man to Derry in the 1930s, the story of how a Derry writer penned a play on the marching issue and an unusual encounter between a Lebanese flautist and members of a Derry Protestant marching band were just some of the features in an issue of Northern Ireland's cultural traditions journal, Causeway. As ever, the 'Journal' photographers were doing the rounds.
Friday, 3rd June 2022, 1:22 pm
Updated
Friday, 3rd June 2022, 1:24 pm