OF TIMES GONE BY: May 1996
In May 1996 the Mayor, John Kerr, said he would support moves to have bodies found at the Waterside workhouse returned to Sligo for reburial; Oatfield got the licence to produce Star Trek - the Next Generation Sherbet Fruit Drops; and Derry school children sent their sympathy to the grieving community in Dunblane. The Journal photographers - as ever - were out and about in Derry and Donegal.
Friday, 28th May 2021, 6:05 pm
Updated
Friday, 28th May 2021, 6:29 pm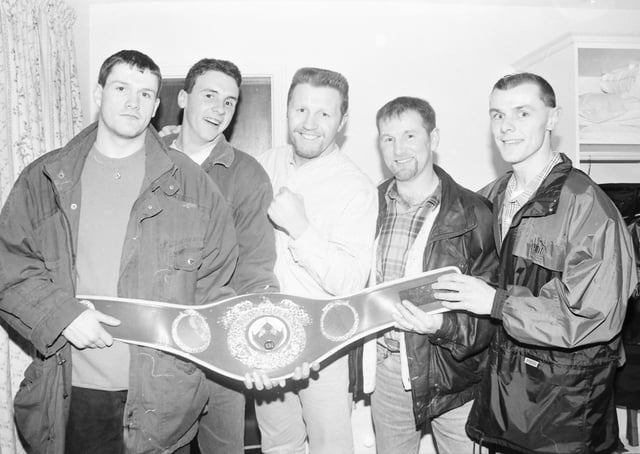 World champion super-middleweight boxer Steve Collins, during a visit to the Lake of Shadows, with from left, Mickey Doherty, Jason Fair and, from right, Joe Donaghey and Mickey Donaghey.
Cutting the ribbon at the newly-refurbished Abercorn Bar.
Staff and committee members at the Inishowen Tourism A.G.M. that took place in the Lake of Shadows. Seated, from left, Kathy Doherty, Deirdre McGeoghegan, John McLaughlin, Susan McCafferty and Gearóidín McCarter. Standing, from left, Robert Walsh, treasurer, Seamus Canavan, Frank Logue, Catherine McGrenaghan and Anna O'Connor.
Regulars socialising in the newly-refurbished Abercorn Bar lounge.
Aisling McLaughlin, Prehen Park, McCafferty School of Singing, winner of the 12-14 Girls' Solo at the Moville Feis.
Bernadette Haughey, trainee compositor, with pupils from St. Cecilia's Secondary School when they visited the Derry Journal offices. Included is Sharon Bergin, teacher.
Patrons at the official opening of the refurbished Abercorn Bar lounge in May 1996.