Stendhal leads community groups in a great big 'yarn bombing' thank you for Limavady key workers
Community groups in Limavady recently came together to say a great big, colourful 'yarn bombing' thank-you to the town's front line key workers.
11th May 2021, 5:35pm
- 3 min read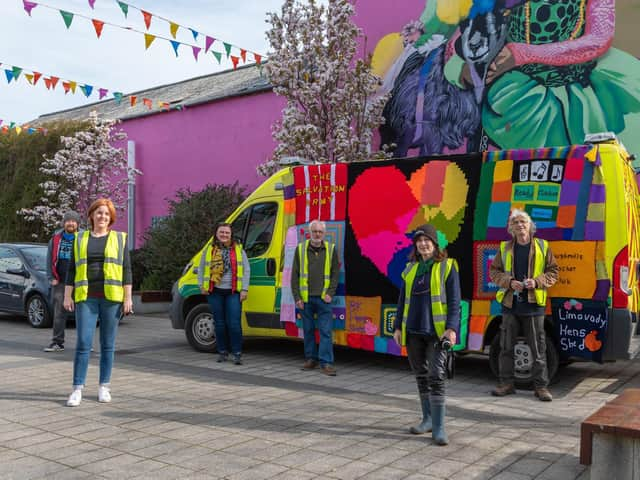 The Great Big Thank you, an initiative devised and led by the community wing of Stendhal Festival, has seen a mass yarn bombing bring colour and life to the town centre in a symbolic showing of gratitude to all those who have put themselves in the front line of the pandemic, so that everyone else can take the necessary precautions and stay as safe as possible.
Fourteen groups in total were involved in the project and members of each organisation helped to turn Limavady into a wooly wonderland.
The community groups involved were; Glenshane Care, Assistance Dogs NI, Cloughmills Crochet Club, Bovally Community Association, Magilligan Craft Group, Hens' Shed at LCDI, Roe Valley Residents Association, Causeway U3A, Keady Clachan Rewilding, The Salvation Army, Ballykelly Residents Association, Ballykelly Hens' Shed, Limavady Be Safe be Well Men's Shed and Stendhal Festival.
The installation is the largest of its kind that the Roe Valley has ever seen and was of course erected using social distancing measures as teams of no more than two people dressed designated areas around the town centre.
Community Outreach Officer at Stendhal Festival, Glenda Rolston explained the thinking behind the project:
"As you may or may not know, we at Stendhal Festival have long been associated with the art of yarn bombing," she said.
"Our famous Woolly Woodland, brought to life by Limavady's own Evelyn Taylor, Karrie Campbell and the amazing team at the Valley Wool Skool, is home to a multitude of beautiful textile covered trees and is always one of the most popular areas of the festival each year.
"We love the area so much and have for a long time now been thinking about how we could bring some of that colour out of the woods and into Limavady.
"So in spring of 2021, as a celebration of Limavady's Key Workers we would like to spread a rainbow of thanks throughout the town centre."
Glenda continued: "We yarn bombed trees, lamp posts, telegraph poles, shop fronts, benches and anything else that could be wrapped with crochet in a bid to make the town as cuddly and colourful as we possibly could."
The 14 groups involved make the great big thank you one of the largest inter-community group projects to ever take place in Limavady and Glenda added that this particular element of the project is the one she is most proud of.
"The enthusiasm for the project has been fantastic. The organisation happened online amongst the group leaders and then they reached out to individual people. There have been around 140 knitters, crocheters and crafters that have been working away from home over the past couple of months to get all the wonderful pieces ready for display."
Glenda added: "I've had loads of positive feedback. People love the feeling of being a part of something after being isolated for so long at home. It has given them a chance to come together to thank all those people we have all been relying on.
"We all know someone we would like to thank for their service over the past year and this is our way of reminding those people we really do appreciate them all.
"The fact that we have been able to bring all these groups together during lockdown and that they have all played a role in creating the visual in the town, to me just reiterates the key role community groups in the town play and that these groups can make special things happen in their communities.
"Long term we hope that the project can grow year on year, become a tourist attraction, bring in corporate donations and sponsorship which can benefit the local community groups involved or even be a Guinness world record."
Glenda concluded: "I'd like to add a special word of thanks to both The Causeway Coast and Glens Borough Council and The Arts Council of Northern Ireland, as
without both organisations, this great big thank you would not have been possible. But truly the biggest thank you is to all our key workers, without whom, life would have been almost impossible over the past year."