War, Peace and the Derry Journal: The Story of 'Jed'
I wasn't long at the Journal when it struck me that it was a very serious paper, that there was way too much doom and gloom. It was bit like a Leonard Cohen album.
Watch more of our videos on Shots! 
and live on Freeview channel 276
Visit Shots! now
That a newspaper in an area where a guerrilla war was in full flow might have been a serious publication is a blindingly obvious observation, but one night at home sitting poring over that week's editions I thought the diet of political coverage, reportage of the latest bombings/ shooting/ army house raids mixed in with the usual staples of courts, councils etc was so heavy duty as to be almost depressive.
There was no light relief anywhere.
I had the thought that if I was a regular reader of the paper happy pills might be a prerequisite before setting out to peruse each edition. There was enough dark reality for the local community in their daily lives so why buy a paper to read about that dark reality? You heard about a shooting or a bombing? It was the talk of the school, the factory, the workplace – did you really want to buy the Journal to read more about it?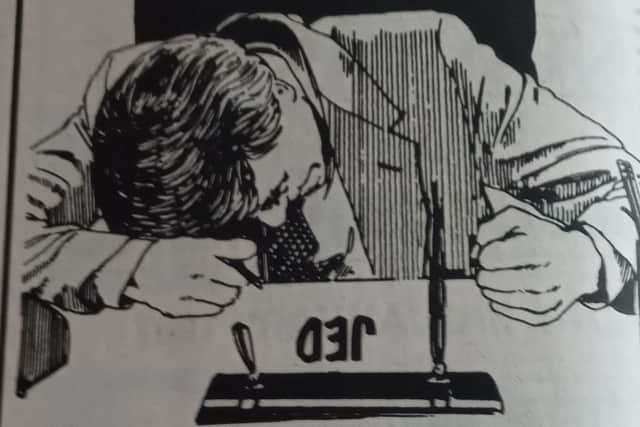 And it also struck me there was no interaction with the local community. The only time an 'ordinary' citizen got a mention was usually when they either got shot or were in court.
The paper was locked in an old-fashioned kind of time warp, not in touch with what was going on in the community. It was all reportage, no interaction. The problem was obvious, the solution much less so.
In the midst of mayhem what's funny? Where's the humour? Could trying to lighten the mood come across as crass and/ or insensitive? The Journal reflected that serious side to life in a city where the majority population had long been subjugated by the minority but now things were changing rapidly yet there was little reflection that the nationalist community had largely emerged from that role and that there was a growing confidence out there. We needed just a little something to reflect this.
The solution soon came to me. In fact, it had been staring me in the face all along.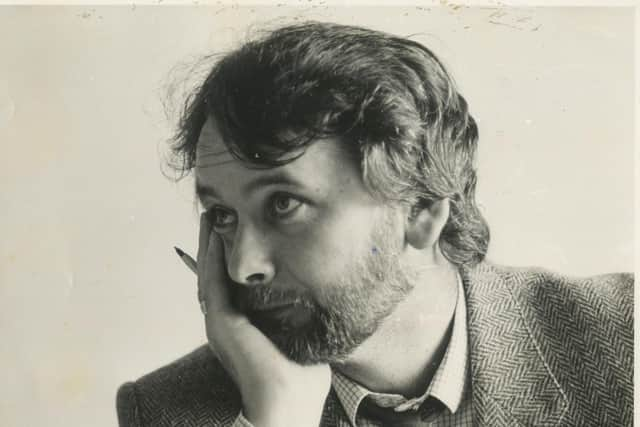 One thing I quickly came to love about the Derry people was that while they were inordinately proud of their city, they also had self-deprecating wit that was as sharp as a tack. I heard witticisms day and daily, usually from within our own staff.
One particular day I was out for a walk and a boy and girl, teenagers, just ahead of me were having a slagging match. The girl was clearly the brains of the duo as she absolutely demolished him by saying out loud, well certainly loud enough for me to hear clearly... 'When you were born the doctor should have slapped your mother for bringing such an ugly child into the world.'
It was vicious but brilliantly funny.
It hit me that if I could harness that kind of Derry humour, we could be on to something. It wasn't exactly a eureka moment, but I wrote the very first column at home that night, took it in on the following morning and got it typeset and marked it for page two.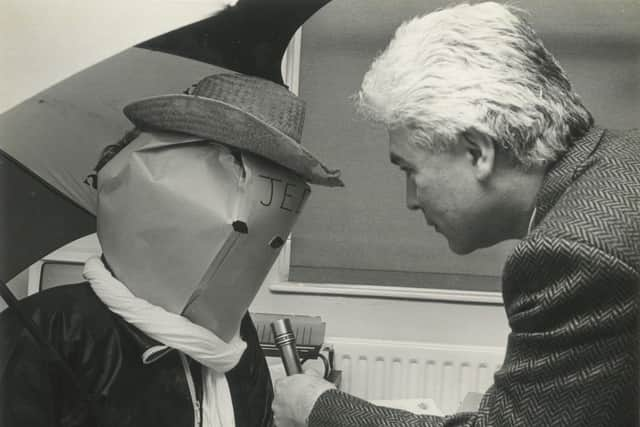 The decision to put it on two was very deliberate. That was where our leader column was and that was usually heavy-duty commentary. I wanted to change this, to reset the dial somewhat by having a tone that reflected light and shade right from the off.
After years of conservatism, I knew the management were unsure about it. I hadn't discussed it with them or with any other staff member. This was a paper that was known to be a serious publication, that was quoted in parliament, was referenced frequently by politicians and academics so it was a concern that this could change the tone, that the gravitas would be diluted if not lost entirely.
With the introduction of JED suddenly there were these little items about teachers coming to class with two different coloured shoes, a cop driving off in the wrong car, the barman who took a sip of a pint of Guinness as he handed it over to a customer. Anything and everything that was off-beat got a mention.
And to my utter amazement it took off like a rocket.
Everyone in Derry had a story they wanted to get in the paper. Colm McCarroll, who had expressed some reservations at the outset, came in one day and remarked that it was becoming a royal pain in the arse, that everywhere he went people were coming up to him and saying, 'here's one for JED'. By this stage he had become one of its biggest fans.
It struck a chord big time. I was told the first thing everyone went for on getting the paper was the JED Column. And it was considered a considerable coup to be mentioned in it.
Neither did it do any harm that the late Gerry Anderson, who had begun his broadcasting career in Radio Foyle in the early 1980s, made frequent reference in his own inimitable way to items which appeared in the column on his show and that gave it a wider platform.
It got so popular the BBC's main arts and entertainment broadcaster, Sean Rafferty came all the way from Belfast to do a piece where he interviewed me. A photograph later appeared where Rafferty is seen with a microphone interviewing a guy with a paper bag over his head with the word JED written in marker pen.
And even Guildhall Press got in on the act when they decided to publish a book, 'The Best of JED'.
It's obvious now why it was such a success.
Gerry Anderson's show was a massive hit for the exact same reason. In the midst of never-ending reportage of bad news people were hungry for relief, to get away from the relentless barrage of carnage that was the news. Gerry would talk nonsense, interview people who kept hens in the sitting room, talk to bald men as to why they still bought a comb, anything that was light relief. And people loved it, absolutely lapped it up. JED was exactly the same, and it was why it was the first thing most people read when they bought the paper.
Earlier this year (2023) I was reminded of the enduring appeal of the column when I rejoined the gym at Templemore Sports Complex. I hadn't been there for several years thanks to Covid. On one of the days, I ran into Christine McCamphill who had started out at reception at the complex and we got talking. Straight away she said 'Pat, do you remember that JED item about me?' and of course I did.
I had been standing behind a well-known Derry personality who wanted to book something or other at the facility. At that time, he was regularly on television and in the papers.
Christine, then new to Derry, made the fatal error of innocently asking, 'And who are you?' to which he responded incredulously: 'You mean you don't know who I am?'
I was standing behind him in the queue, and it was like gold dropping out of the sky.
War, Peace and the Derry Journal by Pat McArt, published November 2023, is available from bookshops and colmcillepress.com, priced £20/€25.