RETRO PICTURE SPECIAL! Life in Derry in 1985
We go back to 1985 for a snapshot of what life was like in Derry...
Wednesday, 12th May 2021, 12:28 pm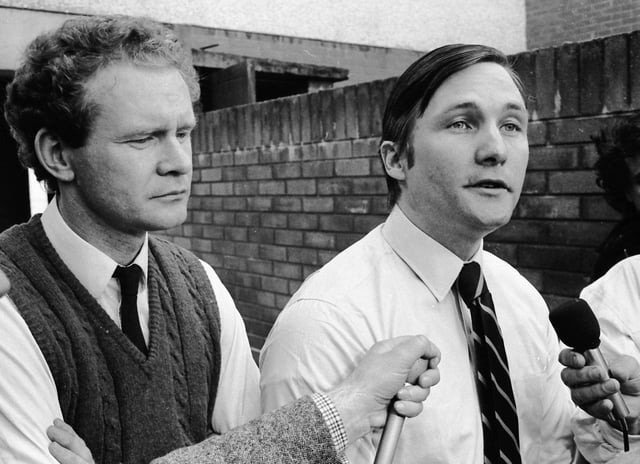 August... Martin Galvin, of Noraid, talks to the media in Derry's Bogside alongside Martin McGuinness.
August... Disturbances erupted in the Bogside following the Apprentice Boys' annual Relief of Derry parade.
August... Large sections of the Rossville Flats were derelict by the summer of 1985.
September... These supporters perched themselves on the roof of the Glentoran Stand to get a bird's eye view of Derry City FC's historic return to senior football in 1985. Derry beat Home Farm by three goals to one in their first ever game under the auspices of League of Ireland football.
January... A delegation of Native Americans taking part in the annual Bloody Sunday commemoration march in Derry.
January... Mayor John Tierney is presented with a copy of the Galliagh Singers' 'GIft of Peace' charity record. From left are group members Deboragh McCauley, Paul Concannon, Michael Walsh and Brenda Phelan.
July... Mairead McCarron (12), Strabane Old Road, who was awarded the 'Little Miss Teen' title at the Top of the Hill Sports Day.
July... Big crowds packed into Guildhall Square for the Foyle Festival Fun Day.
July... Prizewinners, with their parents, in the Shantallow Bonny Baby contest (under 2 years). Froml left are Emma McLaughlin, Andrew Gillespie and Lisa McCool.
August 1985... Charles Haughey enjoys a stroll through Derry city centre with John Hume.
July... Members of the Bogside Disco Club who were prizewinners at the Star Disco Dancing competitions in Dublin. From left are Geraldine Bonner, Andrea Canning, Kelly Smith and Claire Lyttle.
June... The five newly elected Sinn Fein members of Derry City Coouncil arrive for the local authority's annual genrral meeting at the Guildhall. Included are Barney McFadden, Mitchel McLaughlin, Hugh Brady, Gerry Doherty and Dodie McGuinness.
March... Travellers living at a car park on Foyle Road make defiant gestures to Department of the Environment officials after they unsuccessfully tried to remove them from the riverfront site.
March... Pupils at Trench Road PS during the school's Book Week.