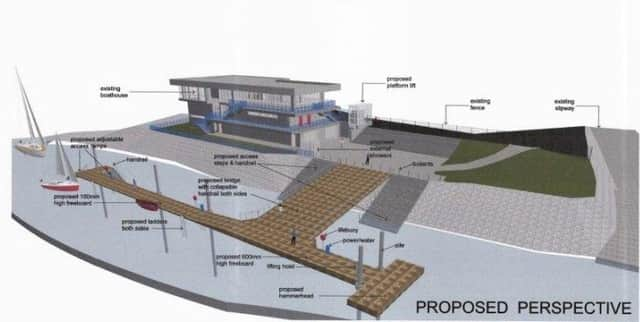 An artist's impression of how the pontoon will look.
Plans for the 66 metre long pontoon at Prehen Boat House have been unanimously approved by Councillors on the local Planning Committee.
The proposals also include upgrading the car park, and the installation of a platform lift for people with limited mobility, and an access bridge / ramp alongside the current steps down to the gang way, as well as a shower/ wash down area.
The boat house site off Victoria Road has been in use as a municipal boat club since 1979, and there are already separate plans being progressed to upgrade the Boat House building itself.
A planning officer said there were no objections from consultees or the public to Derry City & Strabane District Council's application for pontoon, and recommended it be approved.
Proposing the Committee accept this recommendation, SDLP Councillor Sean Mooney said that this was a "really good positive development for the Prehen area".
"The pontoon is going to open up that side of the river for sports development and for water-based activities like the boating club, and for triathlon and various other activities."
Seconding the proposal to approve, Sinn Fein Councillor Aileen Mellon said: "I do think it is a positive contribution to the recreational activities within that area.
"I remember, many moons ago, being in the Boat House learning different skills around the water, and I do remember it fondly.
"Any development of the site in terms of recreational activities for the users is to be welcomed."
DUP Alderman Hilary McClintock added: "It's an excellent, excellent proposal as we would expect from Council. It's a very, very positive contribution to the area and I'm really happy to see it coming before us."
Thanking all those who have been involved in developing the plans, People Before Profit Councillor Shaun Harkin added his support too.
"This is a great development for the river, for the Prehen area," he said.
Alliance Councillor Philip McKinney, said: "As an ex-member of the Foyle Sailing Club, I was always concerned that we had no amenities below the bridge and this will be very welcome for dinghy sailors etc."
Chair of the Planning Committee, Sinn Fein Councillor Christopher Jackson said the Prehen Boat House was a big part of his own childhood while growing up in the Waterside.
"To me this is the first step in terms of bringing it back into use and increasing the water-based activities at that location," Colr. Jackson said, adding:
"It's a sad sight to see what it is now compared to what it used to be, because as Colr. Mellon had alluded to, it attracted groups from far and wide, and it was a big part of the local community, so it's a very positive step by Council and I'm glad it's got the full endorsement of this Council."