Derry - Dublin 2021 air route 'on the radar' - CoDA managing director
The managing director of City of Derry Airport said he is hopeful the 'critical' Dublin route will be secured this year as promised in the New Decade, New Approach agreement.
Watch more of our videos on Shots! 
and live on Freeview channel 276
Visit Shots! now
Steve Frazer, in an interview with the 'Journal', said he is planning to enter discussions on this in the coming weeks and said he also wanted to see a return of the popular Manchester and Birmingham routes post-COVID.
Mr Frazer however warned that the development of the north west's regional airport was being hindered by factors including a lack of central government support, in contrast to regional airports in the Republic, Scotland and right across Europe where smaller regional routes are recognised as vital for local communities and economies and as such are subsidised centrally.
He said that the NI Executive and the government in the south could now help alleviate the burden on Derry & Strabane Council ratepayers by following the example of those governments.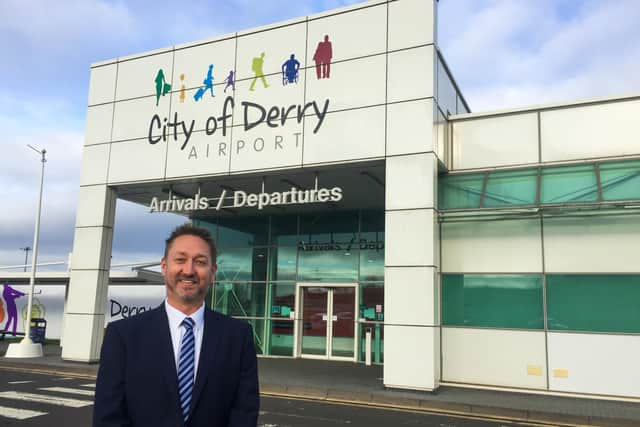 Mr Frazer's assertions that the airport is vital have been bolstered by a recent report examining the economic value of City of Derry Airport (CoDA). The report revealed that while the Eglinton facility cost £2.5m to run in 2019, it returned over 10 times that, £26m, to the local economy. Mr Frazer said: "In CoDA in particular we are effectively NI's only regional airport and we do serve both areas, north and south, but we don't benefit from any of the benefits the southern airports get.
"They are an excellent government when it comes to the funding of the airports, they have a Regional Airports Programme which recognises that airports do not make money if they are under one million passengers, just like CODA, so they need some help to fund them for safety, security costs, capital expenditure.
"We don't benefit from that. And all airports down south are Air Passenger Duty (APD) free, but the British government puts APD on every flight in the UK, and that's a huge thing for a low cost operator as it adds £26 to a return ticket."
Looking towards the year ahead, despite the pandemic continuing to wreak havoc, Mr. Frazer remains optimistic, and wants to get the Dublin route agreed as soon possible.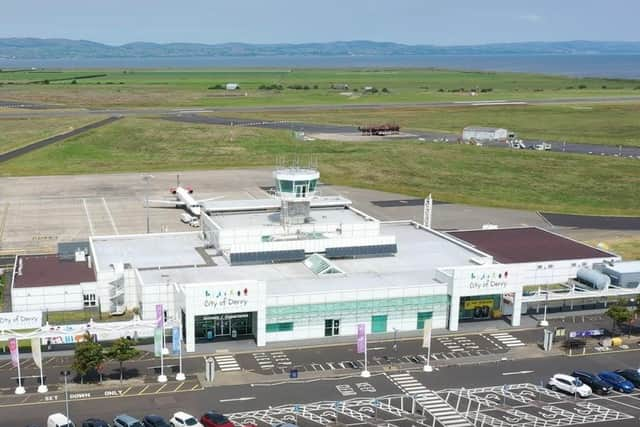 "The people of the North West deserve good connectivity and better connectivity, it's fair to say, than the airport has provided them in the last few years, but we have to look towards the effects of APD," he said.
"We are looking forward to getting that Dublin route, and I'd dearly love to get someone onboard for Manchester and Birmingham as well. There is an extraordinary amount of people from the north west travelling to Manchester and having to use other airports. For CODA, we have to be realistic but it's certainly not beyond the possible to say Dublin, Manchester and Birmingham are on the radar."