'Every single one of us can challenge racism'- MLAs
Local politicians have said there must be a zero tolerance approach to racism as they urged everyone to play their part in tackling the problem.
Friday, 12th March 2021, 12:55 pm - 2 min read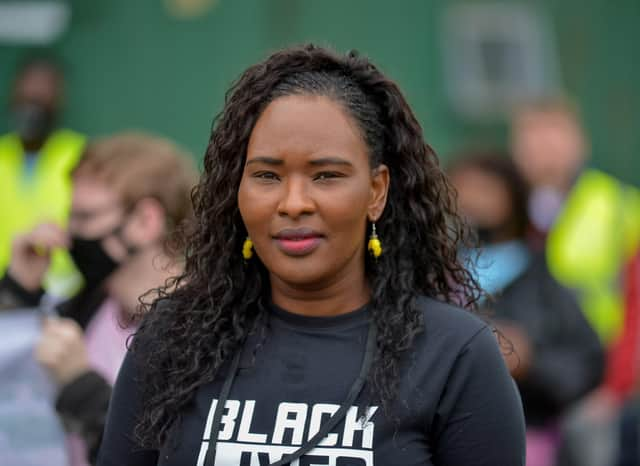 Lilian Seenoi-Barr, NWMF director of programmes, pictured at the North West Migrants Forum 5k Community Walk Towards Racial Equality held in St Columb's Park last year. DER2030GS - 018
They were speaking after hearing from representatives of groups working with people from different ethnic backgrounds at a special meeting of Derry & Strabane Council this week.
Among those who addressed the Council were Lillian Seenoi-Barr and Enya Quigley, North West Migrants Forum; Nikki Yau and Kat Healy, Foyle Racial Equality Forum; Ivanka Anbtova, United Against Racism, Belfast; Stephanie Hanlon, Le Chéile Alliance Ireland; and Becca Bor and Sue Pentel, Jewish Voice for Just Peace Ireland.
Lilian Seenoi-Barr pointed to statistics which show Derry & Strabane registered the largest jump in racist incidents in the whole of the north over the past year, with the second largest increase in racist crimes.
"For us," she said, "we know that while COVID-19 is a recent crisis, racism is an enduring crisis that is inflamed in the presence of others crises."
Foyle SDLP MLA Sinéad McLaughlin called the rise in racist incidents 'deeply disturbing'.
She said: "In Derry we are proud to call ourselves a welcoming city but these statistics expose how that welcome does not always extend to all. It is also incredibly worrying that so few victims actually receive justice. Of the 47 racist hate crimes recorded in Derry and Strabane policing area last year, outcomes (such as charges or cautions) were recorded in just four cases from April to December. I suspect that these statistics only just scratch the surface.
"Every single one of us has a role to play in actively challenging racism, in all its forms, within our communities. These conversations aren't always going to be easy or comfortable, but they are absolutely vital if we are to stamp out racism and build a society in which everyone feels safe and respected."
Sinn Féin MLA Karen Mullan said: "There is no place for racism in our community. It's imperative on us all to work together as a society to stamp out racism and a build a more equal society free from discrimination.
"All incidents of racism should be reported to and dealt with by the police."
UUP Alderman Derek Hussey has since apologised for remarks he made at the Council meeting that he had "always wondered in the back of my mind is it not time that the Black Lives Matter campaign became fully inclusive and changed to become an all lives matter campaign?"
Ms Seenoi-Barr responded: "Of course all lives matters but I would like the Councillor to tell us if he knows the injustices that have happened to black people and where the origins of Black Lives Matter started? Because if all lives matter, he shouldn't feel uncomfortable when we say black lives matter. He should actually be very happy there are people challenging injustice within our community."
More on the comments and issues raised by the various speakers at the meeting in next Tuesday's Journal.