Dr. Michael McBride says officials working to manage Derry COVID-19 rate increase with short-term trajectory uncertain
Dr. Michael McBride has confirmed senior public health officials have been liaising with Derry City and Strabane District Council about the recent increase in the rate of COVID-19 in the north west.
Published 25th Mar 2021, 11:26 BST

- 3 min read
Over the past week the seven-day case rate in Derry and Strabane has been steadily increasing and is now as high it was in late February.
This bucks a trend of falling prevalence that has been witnessed across the north.
The Chief Medical Officer said he was pleased to see that the seven day rolling average of new cases in the north continues to decline albeit at a reducing rate.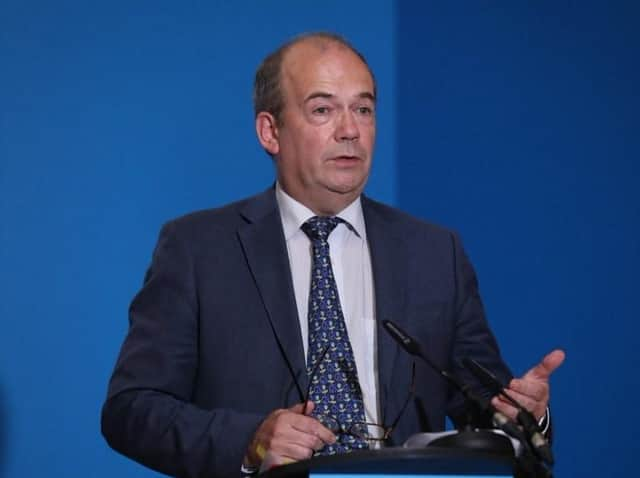 He said the rise in the case rate in Derry is being managed at a cross-agency level.
"Although we have seen that fall in most local government districts we have seen an increase - although the numbers of cases are relatively small - in Derry City and Strabane. I want to put on record my appreciation to the local council, the local community and the Public Health Agency (PHA) for their timely response in managing that small uptick in case numbers that we witnessed there," he said.
Dr. McBride reported that the north has a lower incidence rate than the 26 counties and Scotland but that SARS-CoV-2 is more prevalent here than in England and Wales.
Hospitalisation rates are falling, he said, but there are still many COVID-19 inpatients in local hospitals. Across the Western Trust there were 32 coronavirus inpatients in hospital, according to data published yesterday by the Department of Health. That's still as many as there were in local hospitals last October.
"The rolling seven day average of first positive COVID admissions into our hospitals has also continued to decline but what we do know is that the numbers of people who are admitted often remain stable for quite long periods because many of these people will remain in hospital for quite significant lengths of time," he said.
The number of COVID-19 patients being treated in Intensive Care Units is falling too but the situation remains fluid. Spikes were reported across the north last week, said Dr. McBride.
According to the data published yesterday seven of 10 (70%) ICU beds at Altnagelvin were being used to treat COVID-19 patients and six of these patients were being ventilated. One staffed ICU bed was free at the Derry hospital.
"There has been a gradual decline in COVID positive inpatients in ICUs but again many of these people will require intensive care over a period of many weeks and we have had some spikes in the number of admissions in the recent period," said Dr. McBride.
He noted: "We are still seeing a daily infection rate which is higher than we would like, as the minister has said, but things are improving. The short-term trajectory of the virus, as the minister has also said, remains uncertain as we ease our way out of the current restrictions."
The Chief Medical Officer acknowledged the stunning progress of the vaccination programme being led by Dr. Patricia Donnelly.
"Our vaccination programme is continuing at an extraordinary pace and I want to put on record my sincere thank to all of those involved," said Dr. McBride.
In total 85,799 vaccine doses have now been administered at the three mass vaccination centres in Derry, Omagh and Enniskillen. Across the north GPs have rolled out 355,000 jabs.
He said cross-statutory cooperation was being used to manage the reported increase in cases in Derry and Strabane.
"There is very detailed work with the Public Health Agency (PHA) and local councils, Environmental Health officer teams, local communities, the PSNI, and in relation to the cross-border elements, with An Garda Síochána, and indeed with community groups," he declared.