Acclaimed florist John McDonald says Buncrana 'Spark to A Flame' flower festival will be 'a visual feast for the eyes'
An acclaimed florist, who will be in attendance at the forthcoming 'Spark to A Flame' flower festival in Buncrana has told how 'visitors are in for a visual feast for the eyes'.
Published 15th May 2023, 14:32 BST

- 2 min read
Updated 15th May 2023, 14:32 BST
John McDonald is highly-experienced and well-known.
He was previously chief florist at the Glenagles Hotel, in Scotland. He is also known as the person behind Youtube channel 'Flowerjoos', which has tens of thousands of fans.
John, who has won gold medals at Chelsea Flower Show, is one of a number of international and local master florists who will be in attendance at the three-day festival from Friday, May 26 to Sunday, May 28 at Christchurch in Buncrana.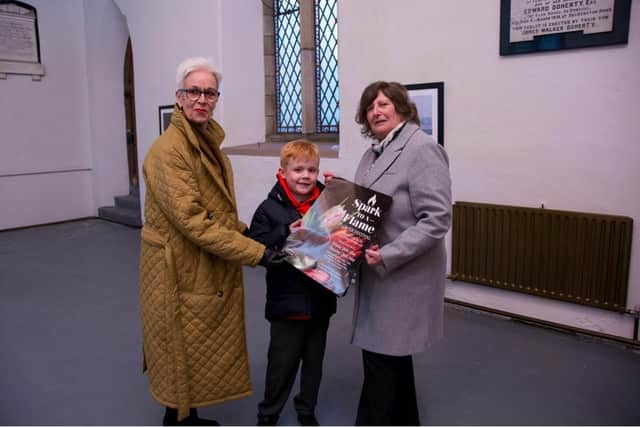 Speaking to the Journal, John told how he 'first fell into floristry as a Saturday job' when he was 14.
He is now 54, so has spent his 'whole life' practically working with flowers.
"I grew up on a farm in a rural area so flowers had that natural connection but was a colourful, fascinating world that drew me in.
"I was very lucky to work for the lady who was head florist at the Gleneagles Hotel and I worked there early on in my career - back when there was a lot of poise arrangements and basket arrangements!
"After college and university I worked in a couple of shops before starting my own business in Dundee, which I ran for over 10 years."
"That was a great opportunity and we did a lot of gift, wedding and funeral work. I then took the opportunity to return to the hotel and ended up as the head of the florist department - working there for over 10 years.
"I've been very lucky - if you love your work then it doesn't feel like working, and it really gave me the opportunity to enter competitions, including Chelsea in London, as well as demonstrating flowers not only across Scotland but also abroad in Spain and Guernsey."
John revealed he has been to Buncrana before.
"I was lucky to be invited to a couple of big flower festivals back open the 2000's. I just loved those."
He added how it is 'good fun' and 'very creative' when you're able to work with other designers and 'everyone ups their game'.
"So, I was really happy to be asked to come for this flower festival. There will be floral displays on show from a range of different designers, so visitors are in for a visual feast for the eyes. The festival is open to everyone, so just for a day out, to see the colours and smell the roses, come along! The last time I was in Ireland I was just amazed at how nice everyone was - you really know how to make a festival work and everyone mucks in, so I'm very excited to return. And the food was amazing - an army marches on its stomach, and the same is true for florists and floral designers!"