Bonus system 'went out with the shirt factories': Striking Derry road workers speak out
Striking roads workers have spoken of the challenges they are facing due to minimum wage pay, with a bonus system that 'went out with the shirt factories'.
Published 1st Mar 2023, 16:42 BST

- 3 min read
Updated 1st Mar 2023, 16:43 BST
The Department of Infrastructure (DfI) employees said some of them were taking home just £309 as they were deemed 'non-skilled workers', with little certainty over whether or not they will receive a bonus each week.
The bonus, which raises wages to around £375, is a system which is outdated and exists nowhere else in the civil service, the workers said.
As a result of low pay, some have been forced to take on second and even third jobs. Some employees have never received the bonus, they warned.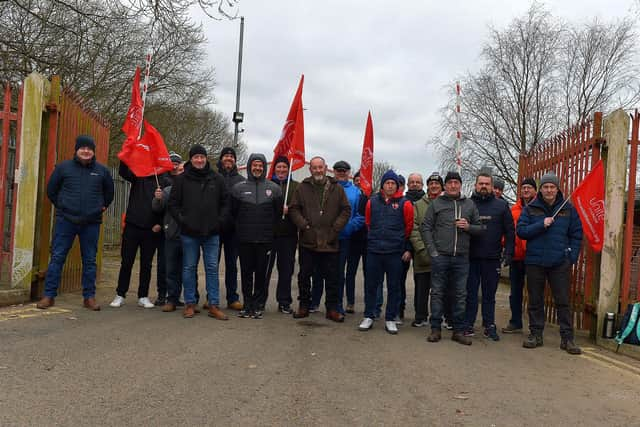 Others said that when they go on work courses or are tasked to specific jobs are told they are not entitled to it.
Their duties include tarmacing, fixing potholes, cleaning gullies, gritting roads, road signage and refilling grit boxes. The staff and their colleagues across the north are currently taking part in industrial action over pay and conditions, and want the bonus money to become a standard part of their pay.
Speaking to the Journal at the picket-line on Wednesday, the Unite union members said their demands were modest.
They said staffing levels have been reduced by half compared to what they were years ago.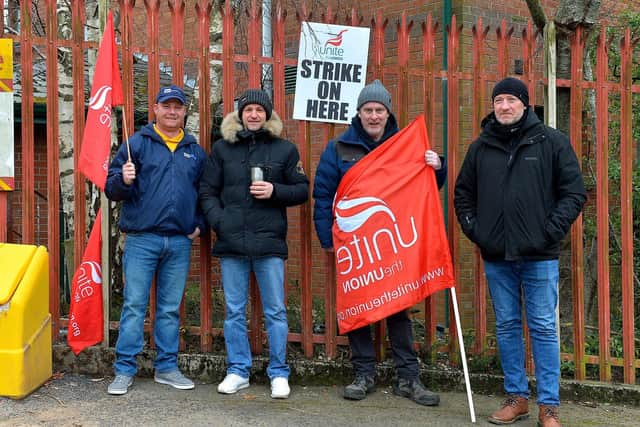 They also levelled criticism at working practices, including contracting out inner city repair jobs which meant staff were sent to the outskirts, which in turn impacted on ability to secure bonus.
They further detailed how they may be sent out to fix two of numerous potholes on one day but are told not to fix others, only to sent out another day to fix other defects on the same road. They said the same 'ridiculous' system also applies to gully cleaning and grit boxes.
Some told the Journal that in terms of gully cleaning, there has been no gully cleaner for several years until very recently, despite major flooding incidents locally and several state-of-the-art gully cleaning machines sitting in storage in Ballymena for the past two years. Instead the work was outsourced."We are getting the jobs the contractors don't want," one worker told the Journal. "Before we had three tar squads on the road, there is one now, and we'd three flagging and kerbing squads on the road and those guys haven't been doing that for months. We may go 20 miles away to fill two potholes on a road, then two days later you're handed a sheet with the others on the same road. The system is a joke, money is being wasted hand over fist."The place has got bigger but the staff has been reduced from around 28 to 14.""The bonus system is completely outdated. It's discrimination. Nobody else in the civil service is on a bonus scheme."
"We are actually better off out here today getting payments from the union while striking than we are in work. That tells you everything."
The workers say they are subject to targets and liability on a range of potential scenarios, including accusations of fraud if there is an error in a project.
Independent Councillor Graham Warke, who met with workers at the picket-line this week, expressed solidarity and said that it was not right the workforce was struggling to make ends meet.
A DfI spokesperson responded: "We are continuing to talk with the trade unions and we would again ask for them to suspend this industrial action. We had already made an offer to review the current productivity incentive bonus scheme prior to the union decision to take industrial action. As part of that review, we are committed to fundamentally looking at the scheme to assess if it is fit for purpose.
"The productivity incentive bonus scheme applies to all categories of road maintenance work undertaken by DfI Roads Operations & Maintenance (O&M) operatives, such as grass cutting, carriageway defect repairs and roadside gully cleansing. Bonus values for each category of work are based on 'standard times' derived in accordance with work study principles by a specialist section. O&M local management allocate works orders to operational squads based on target completion times, and staff training & capability. All work completed to a satisfactory professional standard contributes to the bonus calculation."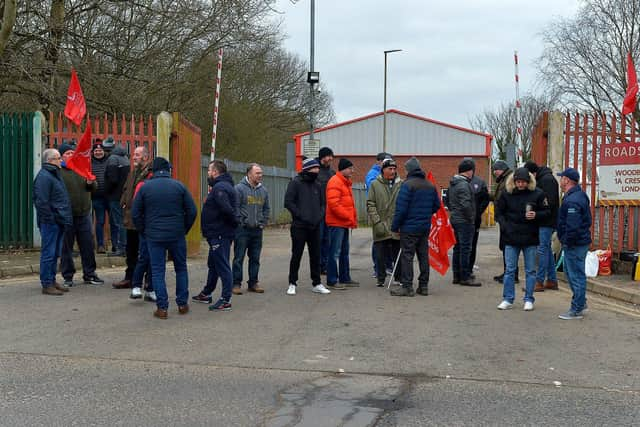 "The Northern Ireland Civil Service has a complaints procedure in place to examine any issues arising from the application of the scheme. The Department continues to work with the Trade Unions and the Department of Finance to resolve issues around pay."