COMMUNITY IN FOCUS: Old Library Trust in Creggan
On any given week up until March 2020, The Old Library Trust would have been welcoming around 1,500 visitors through the doors of its Healthy Living Centre in the heart of Creggan. But while COVID may have closed the hub down temporarily, it hasn't stopped the dedicated team based there pulling out all the stops to ensure that vital community support remains in place for local people.
Published 9th Apr 2021, 15:52 BST

- 7 min read
In fact, George McGowan, director of the Old Library Trust said that the past year has been even busier than normal.
Recalling the spring of 2020, he said: "We didn't know what was coming down the track at the time. We had to learn new ways of working but it took us back to what proper community development is all about, talking to people on the phone, knocking on people's doors, checking in on them, asking 'are you alright?' 'what can we do for you?' and listening to people first hand on what the issues are that are affecting you. We were doing that right from the off, linking in, doing people's shopping for them, delivering a parcel to them, arranging medication for them and setting them up online."
The Old Library Trust (OLT) is a charity and exists, as George says, simply to help improve the physical, mental and social wellbeing of people in the local community, and is part of the 29-strong Healthy Living Centre Alliance members from right across the north, who share good models of practice.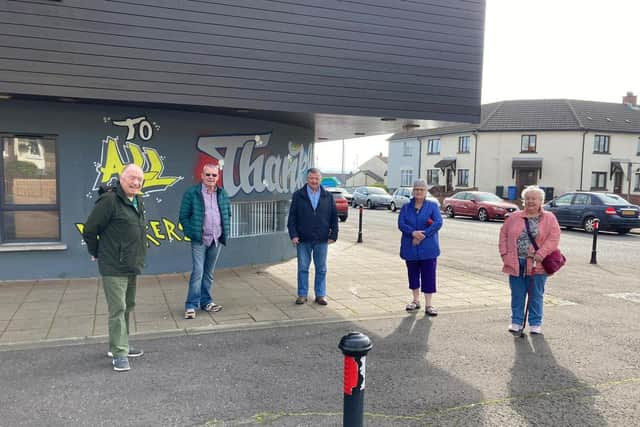 With a small team of just 13 staff, OLT relies heavily on a core team of volunteers and sessional facilitators and tutors who deliver a range of programmes and services. From its Central Drive base, it runs healthy lifestyle programmes, has a gym in situ, has function rooms utilised by older people for bingo and luncheon clubs and also have a small community cafe run locally by local people with subsidised meals. One of its major projects is the DEEDS Project, aimed at supporting people with dementia to live better within their own communities and funded by the National Lottery Community Fund. So successful has this project been that the model has inspired other initiatives across the north.
As well as its in-house programmes, OLT also houses tenants such as SureStart, who run the Children's Centre and Creche, the Pink Ladies who provide essential cancer services, and commercial activity including the dentist's, barber's and physiotherapy and sports massage, as well as leasing space for agencies to come in day-to-day such as Citizens' Advice and the Western Trust.
"It's usually a real hive of activity," George said, adding that the sheer volume of work that has gone into adapting programmes and supporting people became clear at a recent AGM presentation.
That presentation summarised how over 2,000 participants took part in street exercise sessions and online nutrition support and exercise, dance and mindfulness tutorials. Hundreds more have received support with pain management, family support, getting online and socially distanced walking groups.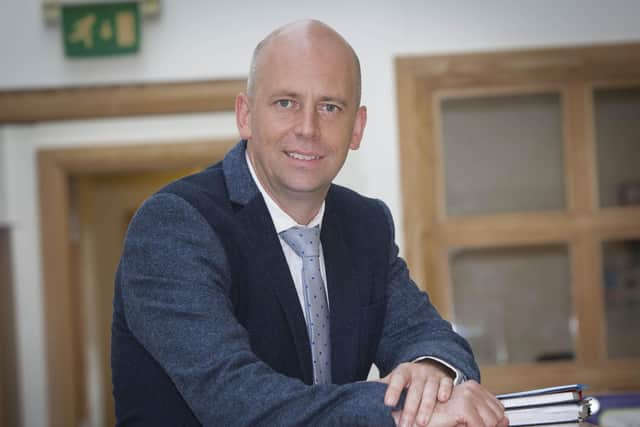 As well as taking part in the wider Moor ward and city-wide COVID response initiatives, OLT has provided a lifeline to many older and vulnerable residents.
"There's a lot more people connected between what we have done with them and there were different opportunities with other funders as well to purchase the likes of iPads, tablets because we did realise the digital divide in places like Creggan. It was not just for older people but for families too, because there might have only been one tablet or laptop for a family of three or four that needed access to it.
"A big part of this has been the flexibility of funders as well. They recognised it was unprecedented times and they were very understanding when it came to the needs of the community.
"We would normally have people coming into the building to do their classes, and we were doing it online, but also with the weather being brilliant at the time we just sent two instructors out with a big music system, and we put it out on social media and encouraged people to stay in their gardens. There was great uptake and craic, it really did lift people's spirits, It was a great success. And the other healthy living centres, they adopted it across the north. You'd people in Fermanagh doing it; people in Belfast.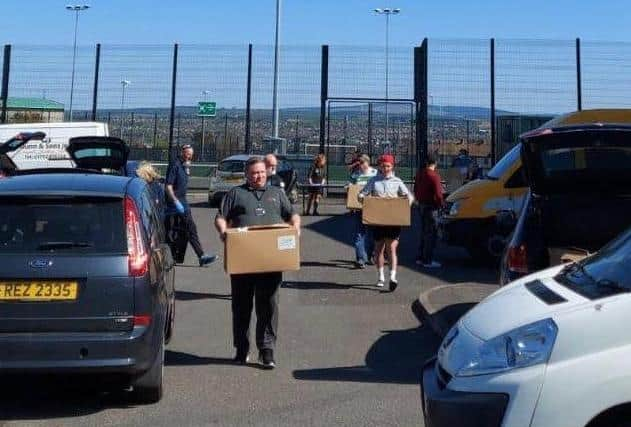 "With DEEDs project, a big challenge too was carers. People living with dementia who would normally come out to our programmes and be stimulated through exercise, music, art and that would give their carers a bit of respite. But because of COVID and they were locked indoors, it was really, really challenging not only for the person with dementia but for the person that was caring for them. We did a lot of work around that, we were in constant contact with the carer, provided a listening ear, advice, guidance, support, a bit of counselling where needed, and then we came up with a whole package to be able to support the carer to be able to do activities with their loved one at home.
"The team produced a series of sessions of what we would normally do at OLT and sent it out in the form of a pack with a tablet and then did a face to face over Zoom to explain to them about the activity - it could be life story work, reminiscing, old photographs - and the feedback from that was amazing. They were basically saying it was a lifeline and getting them through their days."
Over the past year, COVID has claimed the lives of many people with dementia and wrought an awful toll on others with the condition whose routines have been upended along with those of their families.
"Unfortunately quite a lot of the members' journey with dementia progressed over the last year, which is sad to see," George said. Indeed, some DEEDS participants had to go into care homes, and some, tragically, passed away. "It's been a challenging time for the DEEDS workers in particular."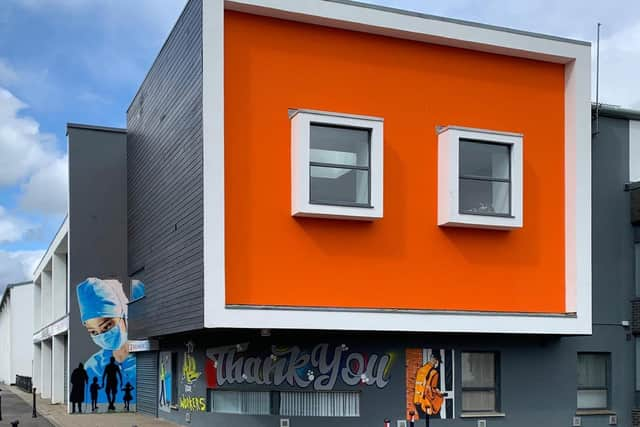 While many of those treasured participants won't return when face to face services resume, the DEEDS project is likely to be as vital as ever, as diagnosis will have been delayed for many local people as routine health services were paused.
All the aforementioned projects are just a glimpse of the vital but often overlooked work of the community sector in general. If there is a lesson to be learned, George said, it is that the sector cannot be taken for granted. "Unfortunately it has taken the response during COVID for people to stand up and say, 'we would have been lost without them'."
In fact, a month before the first lockdown, and before COVID had even arrived in Ireland, the Old Library Trust met with other organisations in the area to devise a plan of action, recognising that things were about to change and change dramatically. "We were already planning for the unknown. We weren't saying 'we are all going into our houses and that's us for six months'; we were saying we need a massive team of volunteers, we need to organise and plan across the whole range of areas - medication, online support, checking in on people and to make sure everybody involved is safe - that was the biggest challenge because we didn't know what the severity of it would be."
OLT would normally see 300 older people in Creggan regularly coming to the centre, and were determined to ensure that if those people couldn't meet up there, they would bring services and support to them. So, as well as regular contact at the door and on the phone, together with their team of 40 volunteers, they put together 300 summer packs with hints, tips and information on staying safe and puzzle books, jigsaws and access to online programmes; 300 winter warm packs with blankets, gloves, hats, scarves, hot water bottles, tea, biscuits; and recently 300 spring package with messages of hope, prayers of reflection, holy candles etc. On top of this across the region they also delivered street bingo packs, specific dementia packs and carers packs. "It took a lot of organisation," George said.
Another key programme run by OLT has been the Long Term Condition Management, which would provide daily activities for people with conditions like COPD, obesity, diabetes. OLT normally works with up to 200 people with long term conditions but most had had to shield during the pandemic. OLT set up an online platform and private Facebook group to keep them connected and devised a full Monday to Friday programme of exercise, nutrition, arts and crafts, quiz nights etc. "This has run for a full year and is still going now and people have been commenting on how it has been a lifeline. They can't wait to get back."
The OLT team are now turning their attention to preparing for potentially reopening services over the coming months. But they are acutely aware that the local community has suffered. "We recognise people have sadly passed away. There's a lot of illness; a lot of sadness. We had a lot of big personalities pass away locally and we offer our condolences and support to those families and if there is anything we can do to help by all means get in touch."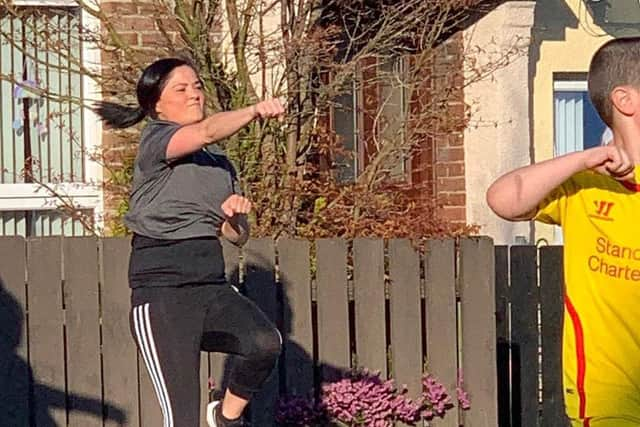 They will not be forgotten, and the OLT team are very much focussed on the challenges ahead, the reassurances and mental health support that will be needed when things start to reopen. George also hopes the funding will be there to help them meet those challenges.
There have been many testimonials and words of praise from local people for all the good work OLT have done, but one encounter over the past year epitomises for George what it has all been about. "We did an initiative Melodies on the Doorstep, and we put it out there for people to nominate someone who maybe lived alone and families sent a request in with the song they wanted, and we went to the door, stood back and we had someone singing that song to them. We had a woman crying because she hadn't been interacting with anyone for a few months and this meant so much to her, and we had the Mayor up as well. Just to see the look on her face and her saying, 'I really appreciate this, it made my day', for me that is what it is all about, just to put a smile on somebody's face."