Cross-party delegation of Donegal Councillors to join mica protest at Leinster House
A cross-party delegation of Donegal Councillors is set to descend on Dublin from 12 noon on Tuesday, February 21 to make a public protest outside Leinster House to demand Equality of 100% Redress for the many thousands of victims of defective concrete homes
Watch more of our videos on Shots! 
and live on Freeview channel 276
Visit Shots! now
The deputation will consist of around 20 County Councillors from Fine Gael, Fianna Fail, Sinn Fein, Labour and Independents who have responded to the call of affected homeowners for their elected local representatives to stand up, be counted and send a very public message to Government that the on-going anguish and lack of equality endured by families victim to defective concrete blocks homes is utterly unacceptable.
The Mica Action Group have said that years of 'resistance and obfuscation from successive governments to acknowledge the reality, scale and complexity of the issues have aggravated a humanitarian crisis.'
"Families on the sharp end of this disaster are traumatised as a result of being forced to endure years of living in structurally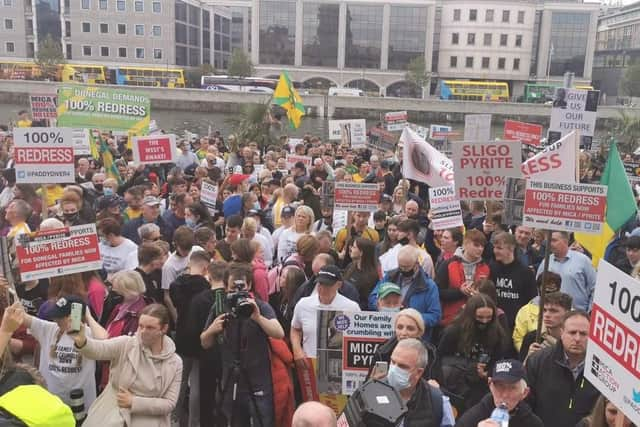 hazardous, crumbling homes that are impossible to heat and are riddled with mould, damp and dangerous electrics.
MAG outlined that, to date, the revised Defective Concrete Blocks Scheme (DCB Scheme) announced by Government on the 30th of November 2021 has not been delivered, despite declarations of urgency from Ministers.
They added that, however, when the revised scheme does eventually go live, it will not deliver 100% Redress due to caps and exclusions and coupled with a lack of support in project management and infrastructure will leave many homeowners, particularly those in more vulnerable or complex situations, without a way forward.
In January 2023 the Government made the announcement of a 100% fully funded, end to end managed scheme for victims of the "Celtic Tiger" Defective Apartments.
Lisa Hone, Chair of the Mica Action Group stated: "We are very glad for the apartment owners and tenants who need defects fixed to ensure their homes are safe and habitable. They have endured much anguish as a result of living in a defective apartment and nobody understands the torment it brings more than the victims of defective concrete homes. We are, however, astonished at inequality between the schemes. Many of the terms defective concrete blocks campaigners fought so hard for and were given a flat No from Government are part of the defective apartment redress scheme.
"Whether it be defective apartments, defective concrete homes or the Leinster Pyrite issue, all affected find themselves in such dire and distressing situations for the same reason – State governance which should have protected them, failed persistently and nationally for years exposing thousands unknowingly to defective products and homes which were destined to fail.
"By its very nature, defective concrete pervades the entire house. The rebuild process is arguably the one of the most complicated, financially demanding and emotionally charged for those affected due to the loss of an entire family home. Despite this, those affected, including the most vulnerable, are advised by Government Ministers to "just get on with it" which displays an utter disconnect and disregard for the life shattering reality families are facing into.
The enhanced Defective Concrete Block Scheme,
• Does not provide a 100% restoration of the home lost,
• Exposes homeowners to severe inflationary pressures and forces them to compete with each other for materials and labour – all in a cost-of-living crisis.
• Does not recognise additional issues faced by those dealing with serious illness, disability or old
age,
• Does not recognise the temporary housing required despite it being integral to ensure the
scheme can work,
• Expects homeowners to rebuild on untested foundations which may or may not be fit for
purpose,
• Excludes many of those affected.
She continued: "This is a catastrophe involving thousands of families which goes beyond party politics, and we urge all local and national representatives to recognise the gravity of the issues and demand equality of a true 100% redress and urgent resolutions to allow families to escape this unending nightmare."