Derry & Strabane reps call for clarity on 100,000 homes target
Members of Derry City and Strabane District Council were unanimous in welcoming progress on the construction of 119 new homes at Creevagh Heights as part of the Seán Dolans GAC regeneration project.
Published 7th Mar 2023, 14:18 GMT

- 4 min read
Updated 7th Mar 2023, 14:18 GMT
However, following a motion brought forward by Sinn Féin Councillor Emma McGinley, council will call on the Department for Communities for clarity in regards to the plan to construct 100,000 social and affordable homes and whether this target has now been impacted by the absence of the power-sharing Executive.
Councillor McGinley, a committee member of Seán Dolans GAC, addressed the chamber saying: "The development is fantastic for Creggan in providing housing and first-class sporting facilities for the community."
Congratulating the teams at Radius, Seán Dolan's and the council who worked collaboratively , she added: "I also want to send best wishes to the families who are in the first phase of the homes that received their keys for Creevagh Heights, so it's just fantastic.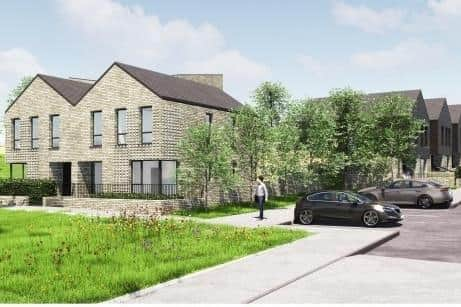 "I'm sure many colleagues across this Chamber have been helping constituents with their housing applications and I know I have quite a few waiting patiently hoping that they'll receive an offer for one of the new homes at Creevagh Heights or indeed anywhere that they can call home."
The Moor DEA councillor called for clarity on the Department for Communities plan to construct 100,000 social and affordable homes. The plan was launched by the then Sinn Féin Minister for Communities, Deirdre Hargey, before the collapse of the Executive. Councillor McGinley said: "Given the level of housing need in this city, it's a crucial initiative, however, like a lot of Executive projects, there's now a huge deal of uncertainty over this plan as a result of the DUP's ongoing refusal to return to power-sharing."
The motion was supported by SDLP Councillor Rory Farrell, who highlighted the housing crisis in Derry and Strabane stating: "Figures released state that there are over 5,500 people on the waiting list. Over 4,000 of them are experiencing housing stress and that's the highest per capita figures across the entire North.
"Regardless of the number of homes that have been built across this city and district in the last five years the waiting list continues to grow and grow and grow. The key point of this motion is about the housing supply strategy, about the vision to build 100,000 new homes over the next 15 years, but we have to remember that a third of those are going to be social housing."
"It's not 100,000 social homes, it's 33,000 homes, which equates to just over 2,200 every year. And we have to remember that the current housing strategy has a target of 1,900 per year so realistically, that's about 300 extra social homes per year. If we look at every council across the North we're probably going to get an extra 30 homes a year.
"If we look at the current housing list for Derry and Strabane there's 5,500 people waiting to be housed. The current strategy hasn't put a dent in that over the last number of years so an extra 30 new builds per year isn't going to make a blind bit of difference.
"Whilst we support the motion, we need clarity on this plan."
Independent Councillor Gary Donnelly praised the Creevagh Heights and Seán Dolans project, however, he highlighted the fact that for every household who gets one of the 119 homes, there are 50 others who won't. "Something needs to happen and it needs to happen sooner rather than later so that people can have a fundamental right to have a home, to have a roof over their head for their children."
Describing the housing crisis as 'in disaster mode', People Before Profit Councillor Maeve O'Neill added: "This crisis is being compounded by the DUP holding up Stormont and the reality behind this is people are in housing stress."
"Anybody who's worked with anybody in housing stress knows how difficult that situation is that they are in, how it impacts families, how it impacts children and how it impacts their health and well being.
"This has massive, massive consequences for years to come; so, so much more needs to be done to actually address this housing crisis."
Alliance Councillor Philip McKinney also supported the motion, saying that everyone in the chamber receives emails every single day from people looking for assistance with housing.
Summing up, Councillor McGinley said, "We do accept that stuff needs to be done to start tackling that and this is the first phase of that. The Minister's direction at that time did focus on Derry and the North West and West Belfast as areas of high need."
Expressing gratitude for the support of the motion she stated she would look forward to the clarification coming from the Department hopefully to confirm that the target for construction of social and affordable homes hasn't been impacted by the absence of the Executive.