Former Poundstretcher store site in Derry city centre to become 'One Safe Place'
Poundstretchers occupied a four storey building on Bishop Street and was popular with local shoppers.
Tuesday, 9th March 2021, 8:14 am
The store, which employed 15 people, was completely destroyed by a fire in July 2015.
Since then, Poundstretchers has reopened in an out of town store at Faustina Retail Park.
The remains of the former store have now been demolished and ambitious plans to regenerate the site were approved by Derry City and Strabane District Council in March, last year.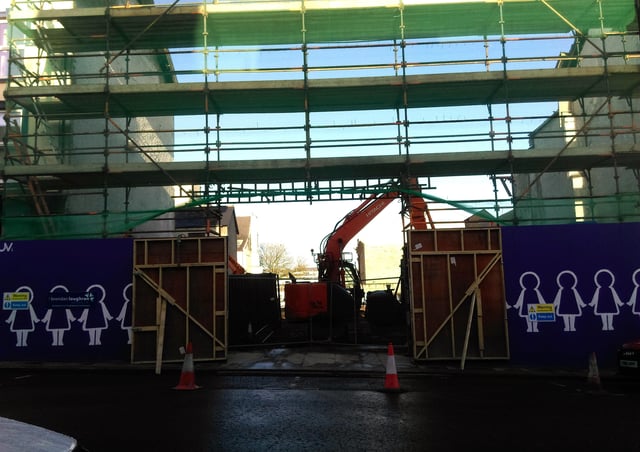 The former Poundstretcher store on Bishop Street within has been demolished.
It is to become the Family Justice Centre, 'One Safe Place', for Foyle Women's Aid.
The new centre will allow a wide range of co-ordinated services to operate under one roof and greatly assist the level of support provided to domestic violence victims and their families.
It will be the first of its kind in the UK and will bring services such as victim support, housing needs, benefits and police orders under one roof.
The building will consist of a reception, offices, family rooms, ancillary facilities and a public drop-in centre and café at ground floor level with supported housing units.
GUTTED!. . . .The Poundstretcher premises on Bishop Street yesterday, after an overnight fire gutted the three storey premises. DER2815MC059
The building will include a family room space with covered open space for children along with nine apartments.
This block will be attached to the Justice Centre through a glazed covered atrium on the ground floor.
Speaking to the Journal in December, last year, Marie Brown, CEO of Foyle Women's Aid, said the charity will be working towards the opening of the Family Justice Centre in 2022.
The organisation has been attempting to set up the 'One Safe Place' for a number of years, and there were initially plans for it to be established at the site of the old Convent of Mercy in Pump Street.
The fire as seen from a distance. Pic Steven McAuley/McAuley Multimedia
Domestic violence remains a major issue for the Derry area and Ms Brown has previously said that the Family Justice Centre will make a huge difference to women and their families because of the multi-agency approach it will be taking.
Victims will be able to come into the flagship centre and seek advice from different services under one roof.
Poundstretcher was a major draw in the city centre for decades, and was among the first discount retailers to operate in the north west.
When it moved to the Buncrana Road area, the company invested £500,000 in the new store and recruited 20 new members of staff (part and full time).