Inishowen fishermen barred from landing 'one bloody fish' as European fleet catches lucrative species 'fattened' off Irish coast
Inishowen fishermen are 'staring out at the Irish exclusive economic zone' unable to land fish while trawlers from other European countries are catching increasing numbers of lucrative species such as the bluefin tuna.
Published 26th Jan 2023, 13:24 BST

- 3 min read
Updated 26th Jan 2023, 13:25 BST
This was the claim of Sinn Féin TD Pádraig Mac Lochlainn who has again criticised quota allocations under the European Union's Common Fisheries Policy.
Speaking in the Dáil he argued fishermen from the 'Inishowen peninsula round the west of Donegal' continue to get a raw deal under the quota system.
He specifically referred to bluefin tuna, describing it as one of the most lucrative fish in the global market, complaining that the predatory species gets 'fattened' off the Irish coast, where it is landed by continental fleets, despite the fact that Irish fishermen are not permitted to land 'a single fish'.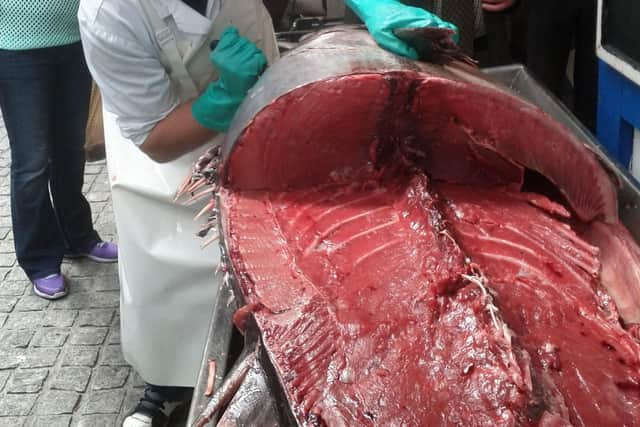 "I support a fairer share of mackerel, herring, spurdog and, indeed, arguably exclusively bluefin tuna if we can ever get one bloody fish to take back, rather than having to release it again," he stated, adding', "Bluefin tuna is one of the most lucrative, if not the most lucrative, species of fish in the world today".
Deputy Mac Lochlainn claimed that the species has made a comeback thanks to conservation efforts and that continental fleets are seeing a benefit under the EU quota system.
"It is now accepted by the Marine Institute and the Department that it is in abundance in our waters, yet Irish fishermen have to catch and release. They take tourists out, catch the fish, which is, by the way, feeding on our own fish, and release it. It is a predatory fish.
"It gets fattened up. All the countries of Europe and the world are catching these fish within our exclusive economic zone, and outside in international waters after they have been fattened here.
"We have not even got one fish. The allocation to the EU of bluefin tuna increased by something like 75 per cent in recent years because the species is doing well again, but we can only catch them on a rod and release them," he said.
The Buncrana-based TD said the tuna fishery was one of huge potential.
"Imagine the extra wealth that could bring to inshore fishermen. There is over-reliance on crab, lobster and other shellfish. Having to rely on them is not going to be a future for our inshore fishermen," he said.
The Independent Kerry TD Michael Healy-Rae, concurred, complaining of the projected €43 million reduction of Ireland's annual quota that followed the Brexit Trade and Cooperation Agreement (TCA) of 2020 when the EU agreed to relinquish 25 per cent of the €650 million in fish caught by European boats in 'British' waters each year up to 2025.
"There are beautiful piers in Donegal and the Spanish are parked there. Spanish fishermen have the quota to go in and out of there. Our own lads are idle and have no income," said Deputy Healy-Rae.
Both TDs were speaking in support of a motion which stated: "Irish boat owners are forced to sit in the harbour and watch as their EU neighbours from France and Spain land fish from Irish waters in Irish harbours, while benefiting from a fuel subsidy implemented by their governments on the back of a derogation given by the European Commission."