Generation 'Brotox' - the rise in men seeking aesthetics treatments
The "Zoom" effect we spoke about a few weeks ago has affected more than just women and the surge in our patient base looking for 'tweakments' has included men. We are most definitely in generation 'Brotox'. The men are now coming in their droves.
By

Simone Louise Ferguson
Published 5th Mar 2021, 10:19 GMT

- 4 min read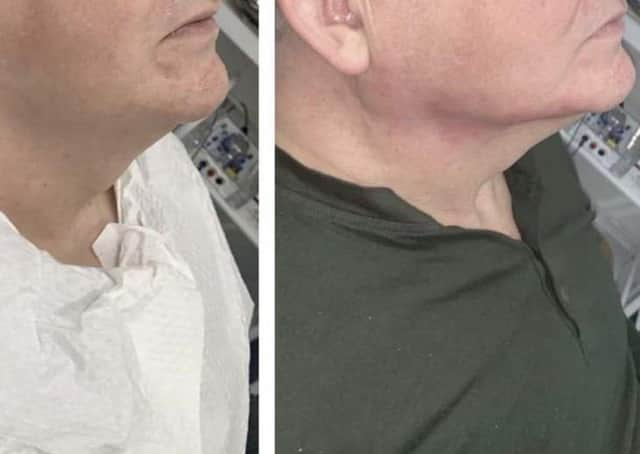 Guys are not synonymous for talking but the statistics are speaking for themselves, as men are presenting to the clinic for treatment after referencing a friend in the gym, at work, running clubs and even social groups.
I'm sure some people reading this are one of three things, shocked, indifferent and perhaps wondering what men get done?
Well really, I believe that when medical aesthetics took off it was almost taboo and associated with great expense, and of course heavily affiliated with the female gender. The insurance companies we work with offer us statistics all the time, and more recently Hamilton Fraser have reported that from 2000 till the present day the rise in males receiving cosmetic surgery and medical aesthetics has risen by 99%.
We have seen this in our own practice and would report almost 25% of our patients are now male, in comparison to when we initially opened our doors, I'm not even sure at that point we could have claimed to have 5% male clients.
It's evident there has been a change and its' no longer a female only affair. So, what are they having done?
The treatments are much the same as the female treatments, only catered to suit the male face, and much like the female patients age and lifestyle dictate what treatments are being requested.
If we had to rank the treatments in term of popularity and described the number one treatment, it would be wrinkle smoothing, the "Brotox", it's almost a must have with my male clients. Very commonly patients will come in wanting the treatment but panicking that their eyebrows would be feminine or they will be made to look "female".
This is where the ethos of our clinic plays a key role, is it suitable, subtle and safe?
If facial assessment is completed and treatments are tailored to the patient then ultimately the risk of changing a male to look more feminine is very unlikely, and the level of success for the treatment tends to be higher.
Commonly we are asked is the wrinkle smoothing that's injected for the male face different from female? The quick answer is yes, but when assessing facial muscle everyone's different.
When ranking any other treatment in terms of popularity the demographics heavily influence with what men present to the clinic asking for. Social media heavily influences the younger generation of men, very like female patients.
Social media has impacted the male generation in two ways, firstly making people more image and body conscious and secondly more accessible. The phenomena of "snapchat dysmorphia" has also been said to affect the male generation just as prominently as the female. Making lips plumper, jaws sharper and foreheads smoother. This, very easily leads me into the second most popular request "definition".
"Can you make my Jaw sharper?" "Can you make my face more chiselled?" Both these treatments can be achieved by Dermal fillers and PDO Threading (Polydioxanone threads). In my experience I'm finding that a lot of the younger male clients are more au fait with the use of dermal fillers and are asking for them rather than me suggesting. They come on prepared with the aesthetics jargon and can very clearly articulate what they want to change. The older the male patient the pattern of referrals from their spouse, wife, partners and friends, rather than social media. Typically noticing a treatment on a significant other or noticing their friend appears fresher. Very commonly not fully understanding or aware of what they have done but wanting the same or something similar, possibly one of the best compliments as a medical aesthetics practitioner.
Now throw the "Zoom" effect into the mix, it has boosted the male demographic just as much as the female as men now have had more time to assess their appearance, and almost daily reminders of things they lack confidence about or don't like about their appearance.
The male demographic has also had a massive uptake on medical grade skin care, again skincare being more synonymous with the female gender. This is again heavily attributed to terminology on social media and the media "maskne" and perhaps the current lack of injectable treatments available.
However, honestly, my opinion is, if something bothers you and you can change it, why not? If it's safe, suitable and subtle, why not? I applaud people who look after themselves and with a massive emphasis on how little we associate men with expressing feeling and emotion I'm glad to see the increase in men taking an interest in their appearance and having the confidence to talk about changes they want.
Men definitely aren't as forthright about claiming they have had treatments done, however let's see what happens in 2021.