MY BEST 11 I PLAYED WITH: Paddy McCourt
This week's 'My Best 11 I Played With' selection comes from ex-Derry City, Shamrock Rovers, Celtic, Brighton, Luton Town, Barnsley, Finn Harps, Glenavon and Northern Ireland winger Paddy McCourt and it has a little twist to it, as he simply chooses his best former League of Ireland eleven.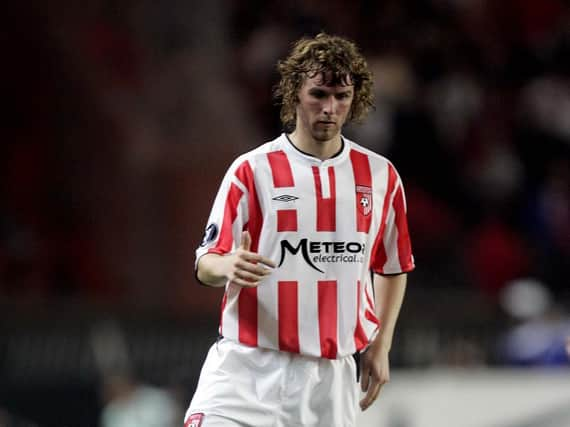 The Derry City Technical Director has played with a host of current Premier League and Scottish Premiership stars, but this line-up is just about his days in the League of Ireland and next week we'll have his cross-channel/international team.
Paddy goes for a attack minded 3-4-1-2 system, (well what did you expect from the Derry Pele), so here's his best 11 players he played with in the League of Ireland and the reasons why....
David Forde (Goalkeeper): Top class goalkeeper who went on to have a brilliant career and get capped at international level by the Republic of Ireland, we argued every game but are still good pals and still keep in touch now.
Darren Kelly (Centre-Back): Probably the best header of a ball I've ever played with, Darren could head the ball further than most players could kick it and was hard as nails in his tackles. Doing well in management now aswell, which is great to see .
Peter Hutton (Centre-Back): Pizza was a proper leader. When I first started watching Derry he was a box to box midfielder who scored a lot of goals and by the time I played with him he was a centre-back. His reading of the game was immense and he was a brilliant captain.
Jason Gavin (Centre-Back): Brilliant footballing centre-back, also great in the air but his main attribute was his passing. Jay could pass a ball long or short as good as most midfielders I've played with and he was also great lad off the pitch.
Niall McGinn (Right-Wing): Niall's gone on to have a wonderful career with many international caps, he's supremely fit. His quality and goal return has improved rapidly as each year has gone on. My room mate for many years and a brilliant lad
Kevin Deery (Central-Midfielder): Kevin had everything you'd want in a midfield player he could tackle, run, pass and had an unbelievable desire to win football matches . His temper could get the better of him at times, but that made him the player he was. Superb midfield player
Barry Molloy (Central-Midfielder): I've played alongside Barry since we were 12 years-old, he started as a striker but his best position was as a holding midfielder. In my time at Derry he was a dream to play with he'd no problem doing the ugly side of the game and would let players like myself concentrate on creating and scoring. Top player.
Killian Brennan (Left-Wing): Killian was a brilliant player in the League of Ireland for many years. He had a great engine and a brilliant left foot. He was a vital cog in the success we had at Derry during my time there and scored many important goals.
Gary Beckett (Striker/No 10): Bing was probably the most under-rated player I've ever played with. He wasn't a prolific goal scorer (which Sean Hargan always reminded him of) but his touch and vision were up there with the very best and I think only in Derry does he get the recognition he deserves as being a really top player.
David Mooney (Striker): An out and out goalscorer, a proper number 9. He could score all different types of goals and could score a goal from nothing. He had great success in the League of Ireland with a number of clubs and then also went on to have a great career in England.
Mark Farren (Striker): Mark is the best finisher I've ever played with and I've been fortunate to play with a number of top centre-forwards. When he went through one on one we almost instantly turned back and walked towards the centre-circle, he seemed to never miss. His pace was electric and he was a dream to play with. Great team-mate and I have a lot of fond memories of the time I spent with Farrenzo.