Derry stars Damian McGinty and Brooke Scullion race up the leader board on 'Dancing with the Stars' week four
Dr. Marie Cassidy became the second celebrity to be voted off series 6 of Dancing with the Stars on Sunday night, but Damian McGinty and Brooke Scullion are still proudly waving the flag for Derry and topping the leader board.
Published 30th Jan 2023, 11:11 BST

- 2 min read
Updated 30th Jan 2023, 11:11 BST
It was lights, camera, action as the celebrities took to the dance floor for Movie Week, treating viewers to a variety of dance styles performed to songs from movie soundtracks.
Derry singer Brooke Scullion with her partner Robert Rowinski, danced a passionate Paso Doble to The Greatest Show from the film The Greatest Showman.Judge Loraine Barry told them: "What I see is the greatest showman, matched with the great showgirl, on the great show in Ireland!"Judge Arthur Gourounlian added: "You are the leading lady! You were so flawless, and you made it look so effortless. I loved it."Brooke and Robert scored 24 from the judges.
Derry actor and singer Damian McGinty and his partner Kylee Vincent rocked a Jive to Burning Love from the movie Elvis.Loraine said: "The temperature has just risen in the building! That was Jive, Jive, and Jive. It was tremendous."Arthur: "Your charisma was flawless and you were so fast that I was tired watching you. That was burning hot!"Damian and Kylee scored 25 from the judges, putting them at the top of the leader board, with Brooke just one point behind them.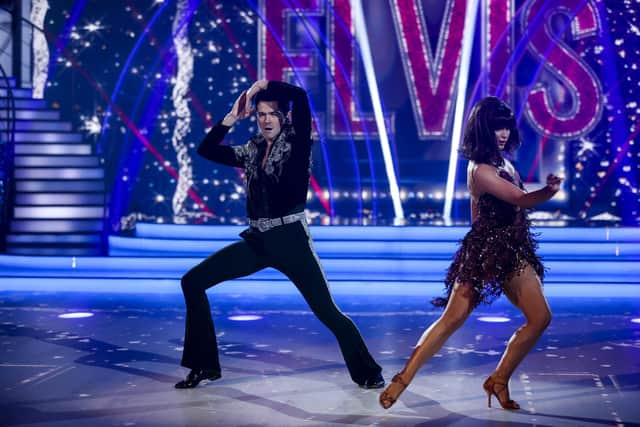 2FM Breakfast host Carl Mullan – who has strong Derry connections as his father is well-known investigative journalist Don Mullan – and his partner Emily Barker took to the floor with an American Smooth to If I Didn't Have You from the film Monsters Inc. They scored 20 from the judges.
The highest score of the night went to Dublin footballer Paul Brogan and his partner Salome Chachua, who scored 27.Elsewhere, former Ireland rugby player Shane Byrne and his partner Karen Byrne scored 18 from the judges, footballer Stephanie Roche who took to the floor with Ervinas Merfeldas, scored 17; comedian Kevin McGahern and his partner Laura Nolan scored 21 from the judges; Panti Bliss and her dance partner Denys Samson scored 22; television presenter and entrepreneur Suzanne Jackson and her partner Michael Danilczuk scored 23