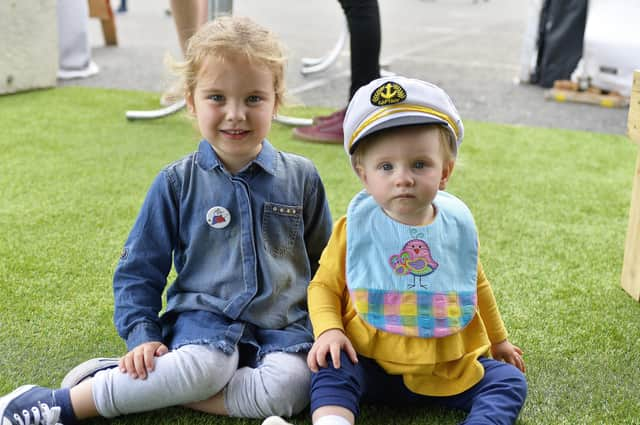 Three and a half year-old Seran Powell and 23 months old Isla McKinney pictured at a previous Foyle Maritime Festival. DER2918GS059
Have a look at what's on this week, July 18-24. What will you be up to?
Foyle Maritime Festival, July 20-24. Get ready for summer 2022, when the most highly anticipated maritime event in the North West of Ireland will return. After the suspension of The Clipper 2019-20 Race last year in the midst of the Coronavirus pandemic, and plans for the city to act as a Host Port Partner for the fifth time were put on hold, we are now delighted to inform you that our internationally acclaimed Foyle Maritime Festival will return to the city in July 2022 alongside the return of the Clipper Round the World Yacht Race fleet. The Foyle Maritime Festival theme for 2022 is 'What Lies Beneath' focusing on the natural beauty of our oceans, rivers and lakes, and the onus on all of us to protect and preserve marine life. Take the Pledge will be the message, with a dedicated campaign within the festival encouraging local people to sign up to being more eco-friendly. Highlights of this year's event include the Legenderry Street Food Festival, live music events, on street animation, marine themed install
Converge Music Festival, Ebrington Square July 22- 24 July.
O'Neills Foyle Cup 2022. July 18- 23. From its humble beginnings back in 1992 when just 8 teams took part in what was then a one day event; the Foyle Cup has grown year on year and now welcomes hundreds of teams from across the globe to compete in the six day tournament that is spread across the entire North West region; and 2022 promises to be the biggest and best year yet!
Enjoy lunchtime Organ Recitals at St Columb's Cathedral this July. Jack Wilson (graduate organ scholar Ely Cathedral) will perform on Thursday 21st July. Saint Columb's Cathedral, was the first Cathedral built after the Reformation. It is the city's most historic building containing displays of artefacts from the Siege. DER2320GS - 010
Après Sea Music Festival. Friday 22nd July - Ebrington Square with Belters Only, REWIRE, John Gibbons and more.
Summer 70's, 80's & 90's Tribute Festival with eight fantastic tribute acts: Lionel Ritchie, Queen, Take That, Spice Girls, Abba, Robbie Williams andJersey Boys. Ebrington Square, Saturday July 23.
Foyle Maritime Festival: Clipper 70 Experience. Enjoy a short motor tour of Lough Foyle as you listen to real life adventures of life on board these sleek 70-foot yachts, recounted by the skippers and crew who have called them home for many months.
Foyle Maritime Festival: Feasting at the Festival. There are a number of options for food at this years Foyle Maritime Festival, so you are certain to find something for the whole family! Wine and dine the whole family at Dopey's Den, the festival bar alongside the main stage where you will enjoy a packed programme of music daily. *Families with kids are welcome up to 9pm in the licenced area if dining. Everyone's on a budget these days so why not pack a picnic and head down to the picnic area at the Family Festival Hub and enjoy the sights and sounds of the festival. Boardwalk Empire: Dine alfresco along the riverfront! The new '22 layout affords everyone a unique opportunity to experience the quay from a completely new perspective, you'll be transported to another world entirely. Pier 10: A nod to the 10th birthday hosting the Clipper Race, this part of the festival has become a cool Street Eats zone complete with a funky retro bar. DER2818GS045
Foyle Maritime Festival: What Lies Beneath - A Celebration. July 22 8pm-12am. What Lies Beneath will unfold as the day fades into the night and the riverfront takes on a new appearance through a series of lighting, animation, pyrotechnics and special effects. A twinkling world will slowly emerge from the darkness with the Parade of Light and a synchronised fireworks display followed by a magical hour of Illumination, glowing silently from 11pm until midnight...the perfect ending to our festival showcase.
St Augustine's Church Summer Concerts. Every Tuesday and Saturday from June 21 to August 27 1pm-2pm. Admission is free.