2003 Iraq War: Recalling when Derry stood up and said 'Not In Our Name' 20 years ago
It was a war that galvanised communities across the globe and Derry was as loud as any of them as it registered its revulsion against the invasion and devastation of Iraq in 2003.
Published 28th Apr 2023, 09:29 BST

- 3 min read
Updated 28th Apr 2023, 09:30 BST
With the hindsight of 20 years and with over 100 armed conflicts still raging across the world, it is obvious that sadly the mass movement against the Iraq War did not change the readiness to resort to or inflict violence upon societies around the world. But what it did do was present a vision of an alternative word and give a voice to the victims caught in the crossfire as people of all ages stood together and said 'Not in Our Name'.
In Derry, the anti-war movement coalesced and organised rapidly and would get its message out through protest and art, in print and via direct action.
Frankie McMenamin was a member of the Derry Anti-War Coalition back then. The former community worker recalls: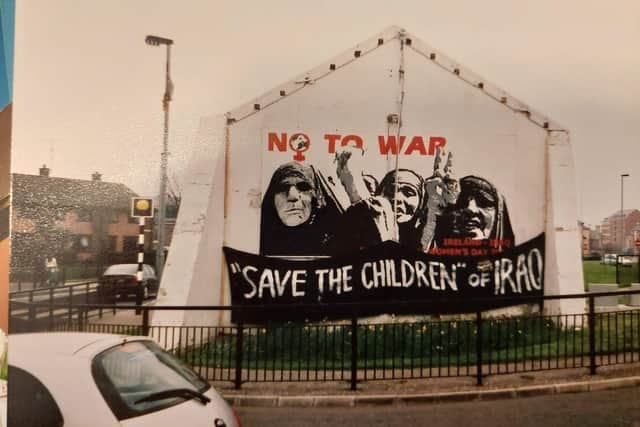 "In 2003 I got involved through the meetings in Sandinos. Upstairs was a sort of headquarters- Eamonn McCann, Dermie McClenaghan, Jim Keys, Stephen Gargan, Gary Donnelly among others were all involved. There ended up being hundreds involved in it.
"Everybody just got together and came up with ideas of what to do and looked at how to highlight it.
"There was anger right around the world. English people knew, American people, everyone knew there was no reason to justify attacking Iraq. There were no weapons of mass destruction.
"Over 1.1m people died in that war in Iraq. There was no apology for what was done, and if Iraq had not had happened we wouldn't have had half these terrorists groups around the world."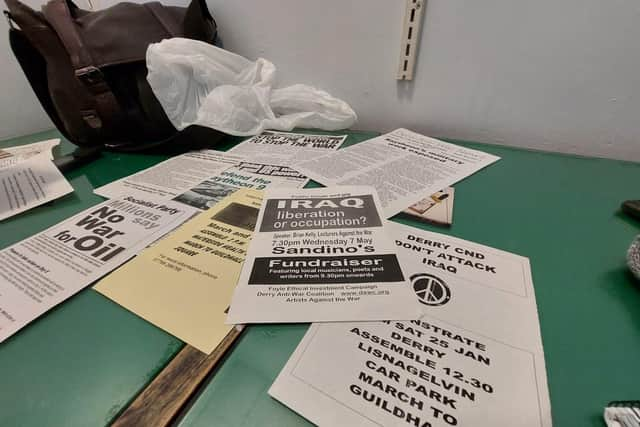 Mr McMenamin recalled the night before President George W Bush was due to arrive in the north going with others to write 'Bush Not Welcome' on Free Derry Wall. Much of the anger was directed at the US President and then Prime Minister Tony Blair as well as the other world leaders who joined them, and there was also anger at the brutality Saddam Hussain inflicted in Iraq.
"We held protests down in the Guildhall, we had black ribbons, the Black Shamrock- we put a large one up on the Derry walls. We made placards," Mr McMenamin recalls, as he shares images from the time.
Mr McMenamin and others also asked local politicians not to meet with Bush in protest, while public art displays and performances were staged around the city centre in protest.
Even local schoolchildren got involved as people protested the war, the torturing of people, Guantanamo Bay, the take over of oil rigs and pipe lines and the use of Ireland by aircraft for refuelling.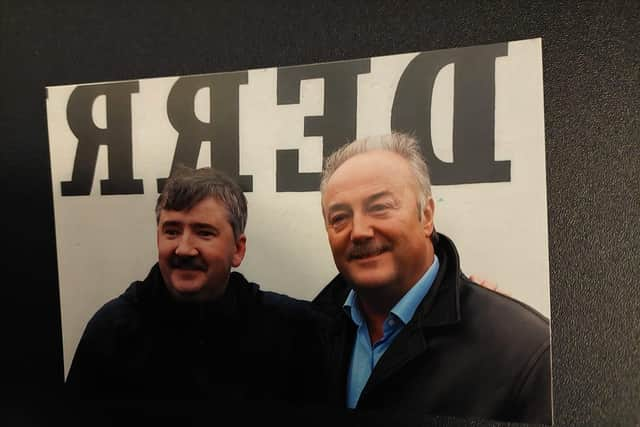 "There was a camaraderie in the air. I wrote a number of letters to the Derry Journal which were carried at the time," Mr McMenamin recalls.
The unified public response in a way revived the spirit of the Civil Rights movement. "There would be hundreds of people. I have never seen so many people so angered and so determined to demonstrate it."
Sadly, Mr McMenamin, said, some of those involved in the Iraq War, despite all that came to light afterwards, despite the devastation and the death toll, still try to justify the invasion and have 'the audacity to speak about peace'. He cites war-ravaged Afghanistan and Syria as examples of how, lamentably, "lessons were never learned."
*Mr McMenamin requested that this article be dedicated to human rights campaigner Stephen Gargan, who passed away in 2022.