Alliance Party's new office a 'clear statement that Alliance has a role to play in Derry'
Former Alliance Party leader David Ford has said the opening of the new party office in Derry city centre is a 'clear statement that Alliance has a role to play in Derry and we are here to play that role'.
Watch more of our videos on Shots! 
and live on Freeview channel 276
Visit Shots! now
Alliance Party leader Naomi Long had been due to cut the yellow ribbon on the new offices at 1 Dacre Terrace, Carlisle Circus but had to bow out this morning, with her predecessor and party president stepping in to officiate.
Speaking to the Journal at the opening of the first of two new Alliance Party offices for the western region ahead, Mr Ford said: "I think this is a very significant day. We have seen successes in Derry in the past but what we have seen in recent years was electing two Councillors in Derry four years ago which we weren't expecting to do, and that vote has grown significantly as we saw in Rachael's [Ferguson, Derry & Strabane Councillor] vote in the Assembly election. And now we have an office here, a clear statement that Alliance has a role to play in Derry and we are here to play that role.
"It used to be as a Councillor for Antrim I was almost as north west as you got. We are now very much a party for all of Northern Ireland, not just a party for greater Belfast," he added.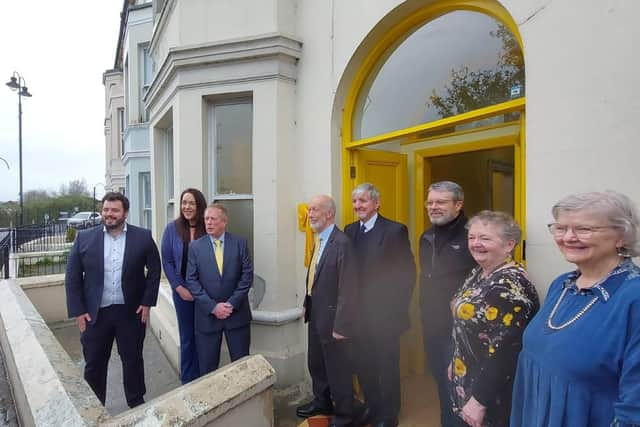 Asked about the importance of getting the Assembly and Executive back up and running, the former NI Justice Minister Mr Ford criticised the DUP.
"When you look at all the problems we have it is clearly very important to get the institutions up and running," he said. "I'm not saying the Assembly would solve all our problems, but if we don't have the Assembly we simply can't do anything about things like waiting lists for health, the cuts in education, issues around justice and infrastructure. All of those are devolved issues which need to be dealt with by an Assembly and an Executive. There is only one party stopping that happening and there is absolutely no reason why the DUP should not be back at work. It's not just them getting back to work it is them blocking other people getting back to work and the rest of us want to get back to work."
A second office will be opened soon in Omagh.
Paying tribute to Derry & Strabane Councillors Philip McKinney and Rachael Ferguson for their tireless work for their constituents, Alliance Party chairperson Stephen Donnelly told those gathered at the launch that the work by Alliance to provide 'that positive, progressive, cross-community alternative' was being felt on the ground across the city was being felt on the ground.
"Not that long ago we were getting hundreds of votes in this city, now we are getting thousands of votes and it is growing every election," he said.
The office is open to the public, staffed by volunteers and initially it is open from noon to at least 2pm Monday to Friday, with plans to extend these hours.