Appeal to support young Caitlin as she undergoes treatment for brain tumour in America
An urgent appeal has been issued to help raise funds for specialist treatment in the US for a young Burnfoot girl.
Published 16th Sep 2022, 09:32 BST

- 3 min read
Caitlin Strain (9) is currently receiving treatment for a brain tumour in Texas, which she commenced on August 31.
Her family sought help in America after they received 'devastating news' following the young girl's most recent MRI.
Caitlin's uncle, Fabian Gibson, is helping to organise the fundraising appeal on behalf of her parents, Thomas and Eimear Strain, and stressed how she needs 'us more than ever,' as the treatment in America is going to require substantial funds. Caitlin was diagnosed with a brain tumour on February 18, 2021, three days before her 8th birthday. Three days later, she underwent the first of three surgeries to attempt to remove the tumour and after a six-week admission to Temple Street Hospital, Caitlin and her family travelled to Essen in Germany. There, she received six weeks of Proton Radiotherapy and returned home to Donegal and her siblings at the end of May 2021.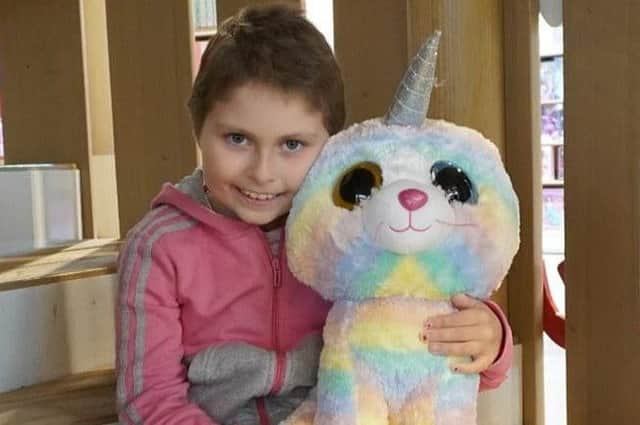 On July 12, 2021, Caitlin commenced approximately nine months of Chemotherapy in Our Lady's Children's Hospital, Crumlin, Dublin, which was completed in March this year. During all of Caitlin's treatment, she received strong support from the community in Derry and Donegal. The family was also supported by the Gavin Glynn Foundation. Earlier this year, Caitlin's family and friends organised a traditional music night in aid of the foundation.
In recent weeks, following a four month break after Caitlin finished chemotherapy, an MRI scan was arranged.
Following the results of that scan, Caitlin's parents have been given a 'devastating diagnosis' and they and her family began researching possible treatments that America could offer. After travelling to Houston in Texas, Caitlin is 'tolerating treatment well and is in good spirits.'
Fabian describes his niece as the 'most beautiful, kind-hearted and caring child.'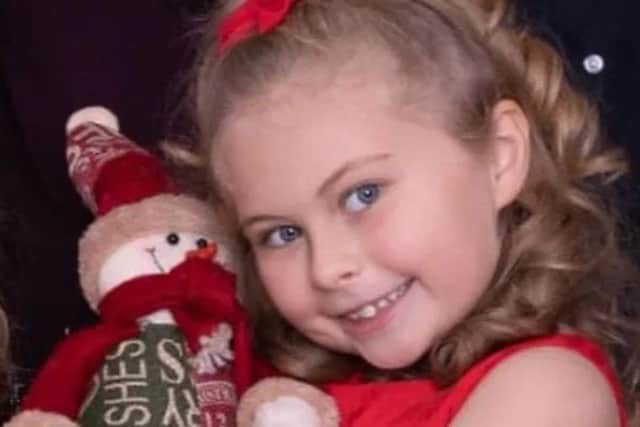 "She loves music, animals and especially the family dog, Bella. She mostly loves being around people, especially her family and friends. Caitlin is the second youngest of five children and has one brother and three sisters."
He added how: "Caitlin is now nine years old and is a very outgoing, bubbly child. Her high-spirited personality helped her through all the hard times and treatment she received."
As medical treatments in America come at a high cost, Caitlin's family are asking everyone for their help.
"Please help in any way you can by donating, arranging fundraising events, assisting with events, sharing, promoting etc."
A Facebook group, 'Caitlin's Treatment in America' has been set up and a number of fundraising events have been organised. These include a coffee morning and raffle in Strabane Fountain Street Community Centre on Tuesday, September 20 from 10am to 12am; a coffee morning and bake sale in the Carrig inn, Carrigans on Sunday, October 2 at 11,30am; a 'Cuppa for Caitlin' in Burt Hall on Saturday, October 1 from 10.30am to 4pm; a wax and shave fundraiser in the Frontier Hotel, Bridgend on October 1; a Harvest Disco on Friday, September 23 in St Mary's Hall, Burt, with juniors from 6.30-8pm and 12 plus from 8.30pm to 10pm, with entry at five euro per person. A number of other events are due to be held in the coming weeks and you can keep up to date on the Facebook page. Joe Jackson's ice-cream in Derry is also hosting a free ice-cream day on September 20 and will ask people to make a donation of their choice. The Go Fund Me page is at https://www.gofundme.com/f/help-caitlin-receive-vital-treatment-in-america.