Art in the heart of Derry: Eden Place Arts Centre at Pilots Row turns 30
Since it opened its doors in March 1993, thousands of people have attended art courses, honed their talents, acquired new skills and developed friendships at Eden Place Arts Centre in the heart of Derry's Bogside.
Watch more of our videos on Shots! 
and live on Freeview channel 276
Visit Shots! now
Fast forward 30 years and Eden Place Arts at Pilot's Row, with Judi Logue at the helm for the past two decades, is today a thriving hub of creative activity and a precious resource for those who gather there to develop their artistic skills and learn from the talented artists who deliver courses.
It was back in the early 90s that the Pilot's Row staff along with local Councillors John Tierney and Pat Ramsay secured funding from the International Fund for Ireland (IFI) and the NI Arts Council to set up Eden Place Arts Centre as a community arts centre which gave opportunities to local people to participate, experiment, share ideas and exhibit within Pilot's Row.
It had evolved out of community interest and need with Susan Gibson providing an 'imaginative and light touch management of the centre' and Kevin Logue, who was described as 'the hugely creative and inspirational leader'. Kevin had previously developed with a group of young people a theatre of resistance named Doire Eile in which young people acted out their experience of poverty, social exclusion, repression, arrest and interrogation in critical, and sometimes boisterous, interaction with the audience.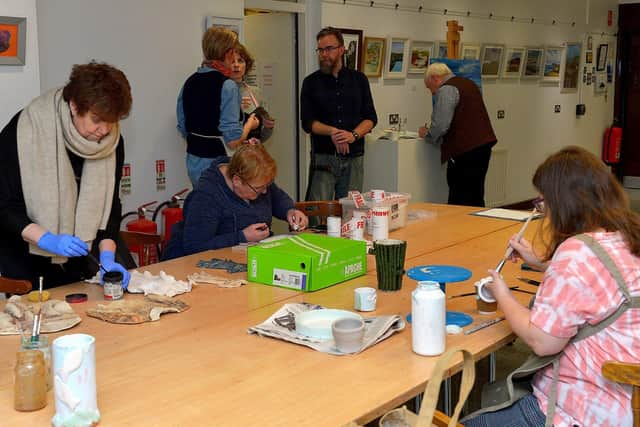 Building on that radical foundation in a time of political conflict, the arts centre is still going strong today in less troubled times.
Kevin Logue recalls: "Pilots Row Community Centre opened on April 30, 1980. It was very popular from the kick-off because there was nothing else in the area. It was warm and had a canteen. Many young people hung around there chatting and for some of the male teenagers there was two snooker tables, and that was about it.
"On a visit to see my brother, the manager, I had a look around and the idea of a youth drop-in centre with an Irish flavour began to take shape in my head. All I needed was a room and the garage looked perfect. I went to Tony Carlin's paintshop in William Street and he donated tins of paint and 'rubber' yellow paint to cover the floor. When a few youth stuck their heads into the garage, they began to get interested in me painting the whole floor a bright yellow. One young man, Martin Rooney, was the first to volunteer and he and I finished the floor. I asked to talk to one of the graffiti painters, Jim Collins (Hawks) and he took charge of the garage walls with lots of Celtic motifs, Irish words, and images by Louis le Brocquy from Thomas Kinsella's translation of the The Tain.
"I built a thatched cottage in the garage, now called An Ceardlann/ the workshop. Various cultural things were rolled out. I had a small collection of Irish traditional instruments, tin whistles, fiddle, starter uilleann pipes and bodhrán and left them lying about for the young people to handle and try their hand at. Beginners' Irish classes and old Irish script calligraphy workshops were organised. The place was usually jammed. And the youth, boys and girls, soon laid claim to it."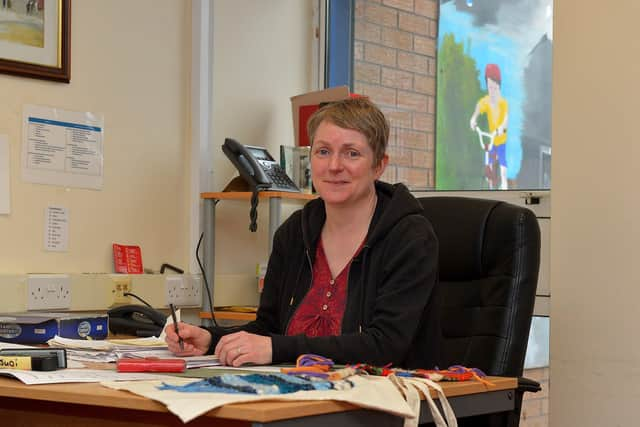 A year later, Kevin Logue made contact with the Arts Council and successfully applied for grants to set up a darkroom, screen printing and woodwork carving tools. Further Arts Council backing brought more and new provisions. Kevin had set up a drama club, kicking off with the Mummers, 'which toured the pubs and attracted youth from outside the area' and brought hundreds to watch plays in the centre hall.
More workshops, like weaving, pottery and painting were introduced and further Arts Council funding paid for extended darkrooms and equipment, an art gallery, stage lights and 200 chairs, framing equipment and a new extension now called Eden Place Arts Centre.
In the early 90s Kevin moved to Donegal and handed the baton over to Madeleine Callaghan. Then in 2003 Judi Logue took on the role. "These two women were legends and Judi has been the longest serving co-ordinator we've had," Kevin said.
Judi praised Kevin Logue for his vision the legacy of which is still very much in evidence.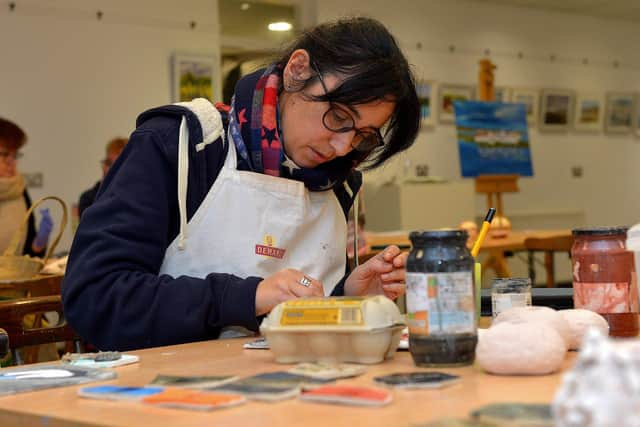 "Officially opened in 1993, Eden Place has hosted hundreds of exhibitions of both local and international artists as well as community groups, women's groups, schools and youth clubs. We have also been at the forefront of providing quality arts experiences to the community by running a multitude of term time courses, workshops and events," Judi said.
"Many groups engage with us on our outreach endeavours. This year we are working with Foyle Women's Aid, The Act Group, Pilots Row Youth Club, Children in Crossfire to name but a few. Of course all this would not be possible without the commitment we have had from the Arts Council of Northern Ireland, DC&SDC and the EA for which we are extremely grateful and we hope to be providing the same level of community arts to our service users for another 30 years and more."
Next week will see Eden Place Arts Centre launch it's annual Easter Student's Exhibition on Monday April 3 at 7pm.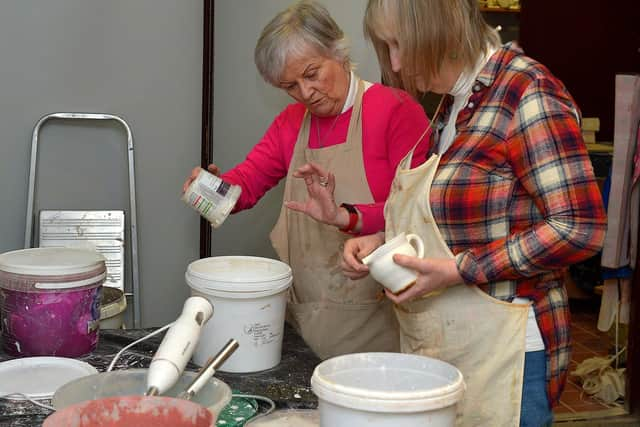 The event is open to anyone who would like to call in to see some of the fantastic art produced this term, including weavings, paintings, photographs, icons, mosaics, ceramics, lino prints and wood sculptures.
Lizzie Devlin, Community Arts Officer, Arts Council of Northern Ireland, said: "For 30 years Eden Place has been a vibrant hub within the community, providing opportunities for people from all backgrounds and interests to engage in the arts. This very special Easter exhibition is a wonderful chance to come down to the centre to see some of the fantastic work on display and find out more about the events and the courses coming up."
And you only have to ask some of the many course participants today to see how much it means to people.
Speaking as she worked on a ceramics piece on Tuesday, Rebeca Infante said: "It is wonderful. There are so many things you could try. I don't think there is anything else like this. I know a few people that started here and now have their own business."
In the same class, Myra Wilson has been returning to do courses for years. "If you are in any way arty it is a great stimulus… and the social aspect of meeting people and getting to know people... I love it."
Another class participant, Angela Tourish agreed. "I love it. It is great for chilling out and expressing yourself. When you come in the front door, the buzz about this place is just fabulous, there is always so many things going on. It is amazing."
The exhibition will be on show on Tuesday 4 and Wednesday 5 April, and viewing times are 10am-7pm.
"We look forward to welcoming potential participants, no artistic experience necessary, just an openness to enjoying some art," Judi said.