Derry Council reduce funding for Millennium Forum by 15% as 5-year agreement backed
Business and Culture Committee members have agreed to a further five-year extension of the Service Level Agreement (SLA) between the council and the Millennium Forum, whilst acknowledging the council's decision to reduce the budget allocation for 2023/24 by 15%.
Published 16th Mar 2023, 14:47 GMT

- 1 min read
Updated 16th Mar 2023, 14:47 GMT
The reduction in council's contribution amounts to £66,500.
Aeidin McCarter, the Head of Culture for Derry and Strabane Council, told the committee that the Forum's management has underscored the significant increase in costs the venue is currently facing. "From last year alone, the annual electricity bill is estimated to double, the cost of gas is set to increase by a factor of five, and insurance is up by 25%," she said, adding that the increased running costs and reduced council funding could have numerous implications.
"For instance, it is likely that the Millennium Forum will need to increase the price of tickets, which will have a direct impact on audiences in a market environment where disposable income is already under pressure."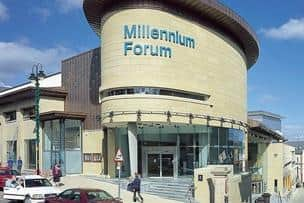 "Furthermore, the cost of hiring the venue facilities is also likely to increase, which will impact the many community arts and voluntary organisations who stage productions in the Millennium Forum."
Members unanimously approved the recommendation to extend the SLA between the council and the Millennium Forum for five years.