Derry dog acts as 'midwoof' as woman gives birth at home alone
The McGavigan family, from Derry, are 'ecstatic' that their two-years-old sausage dog Hiro 'helped' to deliver their beautiful baby girl at home on Wednesday, May 10.
Published 16th May 2023, 10:00 BST

- 4 min read
Toiréasa and Barry McGavigan's third child was due to be born on Saturday, May 20, but doctors advised the couple that their baby girl could be born any day. Toiréasa had been feeling some pains throughout the night on Tuesday so, when Barry came down ready for work, she told him to stay off so he could be close in case anything happened.
Toiréasa said: "I phoned the hospital in the morning but I was told to keep an eye on things for the meantime. We decided to go for a walk and lunch in the Sandwich Company at 1pm. I was feeling more pains at this stage so we went to see the midwife in the Hub and she checked me over and told me to keep an eye out for waters breaking and to stay close to the hospital."
"I thought we had plenty of time," said Barry. "So I decided to go for a haircut because I couldn't go to the hospital looking like I did. I dropped Toiréasa home and told her she could ring if she needed me and I would jump off the seat straight away."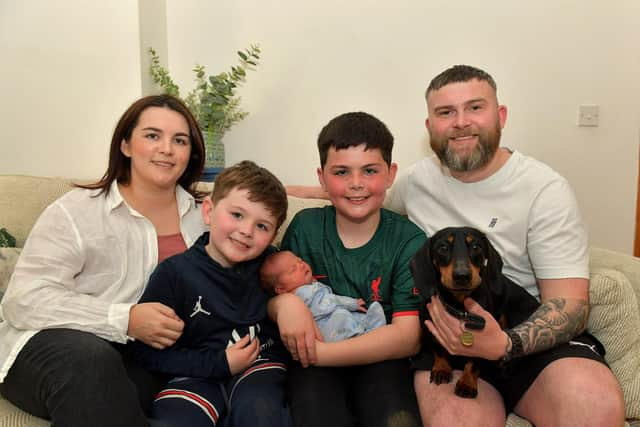 "I came home and was chatting to the neighbours about how she was getting on and told them we'd probably have a baby in the next 12 hours or so because she was in a lot of pain."
"While he was away," said Toiréasa. "I was upstairs in the bedroom trying to work through the contractions and Hiro, the dog, was on the other side of the closed stairgate. He just wouldn't take his eyes off me and was crying and barking really loud as if he was asking for help. He knew something was wrong before we really did."
Barry added: "When I came back, I told Toiréasa I was away to the toilet downstairs and to shout if she needed anything. I gave her some paracetamol and a glass of water and told her just before I left the room that we can go to the hospital whenever she needed to, I was just going to take care of business first."
The layout of the house meant that while Barry was in the downstairs toilet, he wasn't able to hear much of what was going on upstairs. He said he heard some 'commotion' but thought his wife was just going to the upstairs toilet. He opened the door and shouted to his wife but heard nothing back so he decided to go investigate.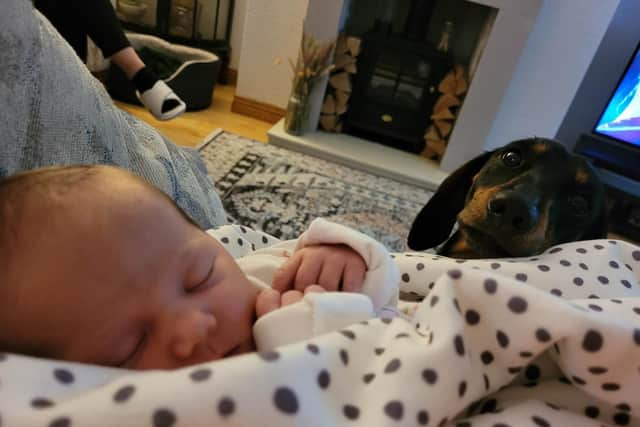 "Just as I was closing the bathroom door, I heard more commotion and a baby crying. I thought 'naw it couldn't be' but I ran through the kitchen, taking two corners with me, and sprinted up the stairs saying 'no way, no way'! I got to the top of the stairs and Toiréasa greeted me at the door with a baby."
Toiréasa said: "I'd say I was grey and Barry was opaque! For me, as soon as Barry went downstairs, I realised I needed gas and air soon. I started being sick, which made my waters burst. I could feel pressure and all I could think of was how I was going to walk to the car with so much pressure. I was screaming for Barry but I don't know if there was actually any sound coming out. The next thing, the dog somehow burst through the stairgate and managed to push open the heavy fire door into the bathroom and then the baby was out. I came out of the bathroom door holding the baby and met Barry at the bathroom door. I was telling him to phone quick and he said 'phone who?'
"We were on the phone to the 999 operator and she made Barry get a clean shoelace and plenty of towels. She told us what to check with her breathing and everything else. The ambulance crew arrived shortly and they were really lovely. They made us really feel at ease and they blue lighted us to Altnagelvin. I was given a private room on arrival because the midwives said it was the least I could do after delivering my own baby. Everything was well with the baby so we were back home again almost exactly 24 hours after she was born."
Barry is feeling 'overwhelmed' by the whole experience but says he is immensely proud of his wife, his new daughter and, of course, the dog. "I'm so proud of Toiréasa and how she handled the whole situation. I'm sad I missed the birth itself but I also think it was probably for the best. Toiréasa would have been comforting me if I had've been there with them! She knew what she had to do and she knew no one was coming to help her in that moment because I was attending to other things. Although he's probably a bit traumatised from it all, I think the dog was the better birthing partner out of the two of us."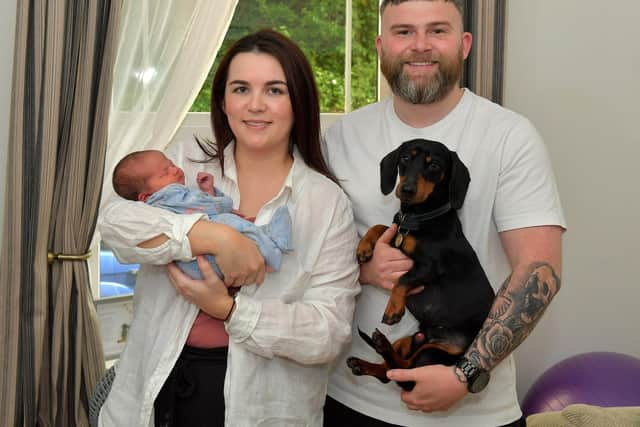 Baby Cobhlaith weighed just six pound two when she was born on Wednesday and her parents say, despite her dramatic entrance into the world, the little bundle of joy is very quiet and content. Her brothers Cáel and Enan were delighted to finally meet her when she returned home from hospital and couldn't wait to tell all their classmates about her exciting arrival.
"I just want to say thanks to the ambulance crew, the 999 operator and the midwives in the hospital for staying so calm throughout it all and for taking such good care of us," said Toiréasa.
Hiro, who is proving to be living up to his name, is already proving to be a loving protector of the newest addition and is taking the fame of being a doggy midwife all in his stride. He was rewarded for his heroic efforts with a fresh groom and a slice of pizza.