Derry group Into the West join campaign to demand Release of All-Island Rail Review
Rail campaign groups from across the island have combined to demand that publication of the All Island Rail Review report should no longer be left in limbo by the absence of a functioning government at Stormont.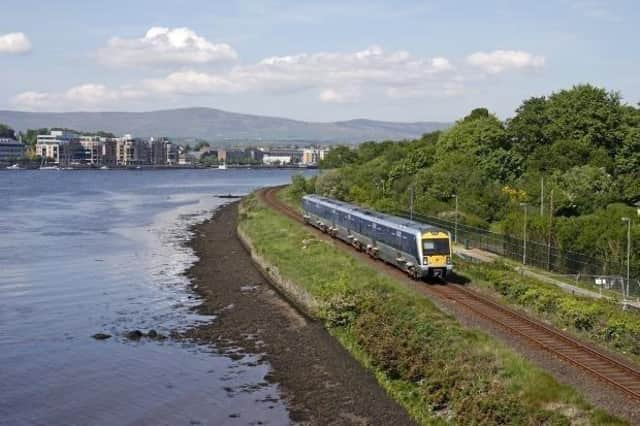 The 'All-Island Strategic Rail Review' process was announced jointly in April 2021 by Irish Transport Minister Eamon Ryan and NI's then-Infrastructure Minister Nichola Mallon. The Review was given a three-fold task : to consider how the rail network on the island could improve to promote sustainable connectivity into and between the major cities ; to enhance regional accessibility ; and to support balanced regional development.
The contract for the study was awarded to engineering consultants Arup, and the period of public consultation resulted in 8,000 contributions from people and community organisations keen to highlight where rail should be improved and extended. Work on the Review has now completed, but the ongoing absence of an Executive at Stormont means there is no NI Infrastructure Minister to approve it for public release. As a result this important document is now stuck in limbo, with no clarity on when the ongoing Stormont impasse will come to an end.
Nine different rail campaign groups, including Into the West, have therefore written a combined letter to politicians and key civil servants to call for the immediate release of the report. They assert that an absolute deadline of April 2023 should be set for its release - which marks the second anniversary of the All-Island Rail Review process beginning, the 20th anniversary of the last strategic rail review in the Republic, and the 25th anniversary of the Good Friday Agreement.
The campaigners insist that a route to publication for the report should be identified now, ready to implement by April at the latest if a northern Minister is still not in-place to approve its release.
The combined letter states "The All-Island Rail Review report will make a vital contribution towards the planning and funding of infrastructure across this island for decades to come. Rail campaign groups and ordinary members of the public have participated eagerly in the review process from its start. The many thousands of individuals, community organisations and councils who made the effort to input into its public consultation deserve to hear the conclusions and recommendations that the Review has reached regarding their area. And with governments on both sides of the border committed to the rapid reduction of carbon emissions and to encouraging people to switch towards sustainable transport modes, every month that passes without this Review being in the public realm represents a missed opportunity for civic society and the battle against climate change. It is also evident that public transport across this island is sub-optimal - in coverage, frequency and appeal - such that a strategy to help address that cannot remain stuck in limbo due to a dispute that has nothing to do with transport. A lot of work has been done to-date to get this report to a finished state, with considerable public time and money invested in it, and it is an unjustifiable waste for it to be left gathering dust on a shelf. It is therefore time for the report to released as soon as possible - and certainly no later than the second anniversary in April 2023 of the process commencing."
The letter has been sent to; Chris Heaton-Harris MP, Secretary of State for NI; Jayne Brady, Head of NI Civil Service; Julie Harrison, Permanent Secretary, NI Department for Infrastructure; Leaders of all political parties represented in the NI Assembly; Eamon Ryan, Minister for Transport, ROI.
The letter also calls on the leaders of each of the political parties at Stormont to contact the Permanent Secretary of NI's Department for Infrastructure to confirm that their party is content for the Report to be released as soon as possible, with or without a Minister being in-post.
It is believed that the All-Island Rail Review will propose a sea-change in Northern Ireland's rail network – with major towns like Omagh, Armagh, Banbridge and Dungannon expected to be recommended for reconnection to rail, along with Belfast's two airports.