Derry podcaster Damian Kerlin uncovers the hidden history behind Britain's queer nightlife
A Derry-born journalist and publicist has launched a new three-part series podcast, uncovering the hidden history of LGBTQ+ nightlife.
Published 15th Feb 2023, 09:46 BST

- 2 min read
Updated 15th Feb 2023, 09:46 BST
Hosted by Damian Kerlin, 'Memories From The Dancefloor' is a brand-new podcast celebrating LGBTQ+ venues.
It shines a light on the history of these incredible spaces, taking us under the rope and into the queer chaos, joy and community within them.
Through the season, Damian will find the pertinent narrative threads of the scenes – be it the AIDS epidemic, trans inclusion, political undertows, or the music which got people on their feet. Through first-hand accounts and on-the-ground reporting, Damian meets the founders, party boys, dykes, and drag queens who lived and loved in these spaces – spaces that, today, remain under threat. In the past decade alone, over 60 percent of London's LGBTQ+ spaces have closed. The stories, secrets, and snippets of gossip that live within their walls are in peril of being lost forever.
"Growing up in Northern Ireland, there were not many LGBTQ+ venues. Derry only had one, which was on the fringes of town. You had to go looking for it. That was my experience of growing up gay -nobody seemed to mind as long as it was out of sight," Damian says.
"We are more than who we are attracted to. Our culture, art, and existence are built on reliance on each other and our community. I wanted to celebrate that, and what better place to start than our iconic queer spaces."
Damian's first experience of queer joy and protest was at Belfast Pride at age 13. "I remember visiting my aunt in the city and walking onto Castle Street, to be engulfed in gay culture and colour," he says.
"Then there was Pepes, the singular LGBTQ+ venue in Derry, that's now shut. So, I'd try my luck there at 16 – slip past the bouncers and see this huge celebration of people, different generations of the LGBTQ+ community like I'd never imagined. It made me – like so many others – who I am.``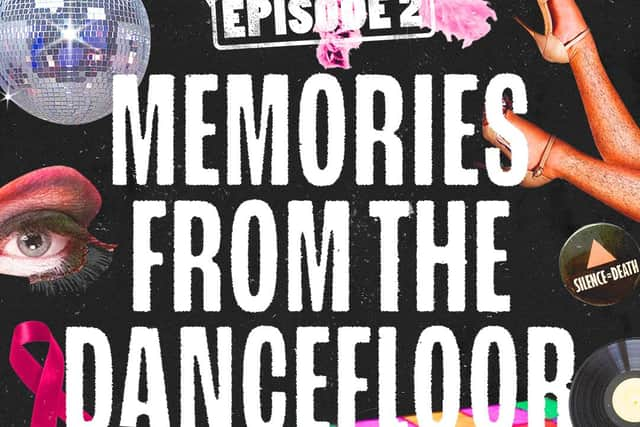 Memories From The Dancefloor was chosen as a winner of Acast Amplifier, an incubator programme to discover, establish and promote new podcast ideas.
With the support of Acast, Memories From The Dancefloor will be available across all podcast platforms and ultimately have access to Acast's monetisation products, including advertising, sponsorship, brand collaborations and live show partnerships.
Memories From The Dancefloor is available to listen to now, wherever you get your podcasts — including Spotify, Apple Podcasts and Google Podcasts.