Derry Protestants 'feeling less polarised': new report
Protestants and unionists in the Derry region are feeling increasingly less polarised, a new report has found.
Tuesday, 30th March 2021, 2:35 pm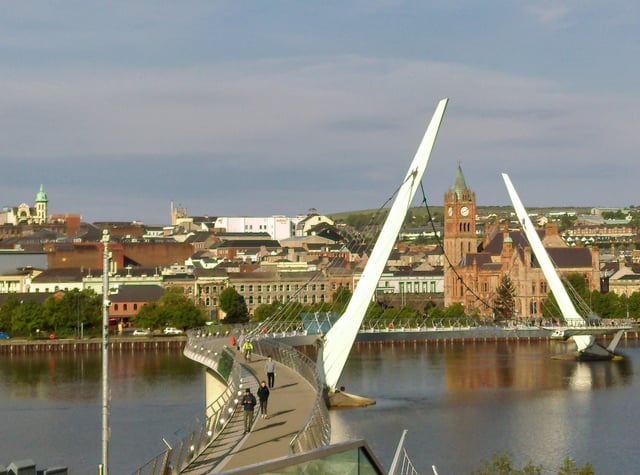 'Where Are We Now', an analysis of cultural and political change in the Protestant population in the Derry city and Strabane district council area, was launched on Monday.
The report follows a similar survey from 2005 and charts changes in attitudes in the intervening 17 years from different areas, notably Caw/Nelson Drive, Artigarvan and Castlederg.
It found that the Peace Bridge had had a major impact on the Protestant, Unionist, Loyalist (PUL) community's cross-city mobility, while fear of walking through Catholic areas at night has fallen dramatically as has the feeling that the unionist community is always making concessions.
"I think one of the main findings is that, among the people surveyed, social and health issues are a higher priority than the constitutional question or matters of identity," said the report's co-author Brian Dougherty MBE.
"That may very well have to do with people's experiences through the pandemic, but it does show that attitudes are changing."
The report was launched with a live online discussion hosted by journalist Paul McFadden involving co-authors Brian Dougherty and Professor Pete Shirlow along with DUP MLA Gary Middleton and Sinn Fein MLA Martina Anderson.
The report was commissioned by Derry City and Strabane District Council (DCSDC) under the SEUPB Peace IV programme 4.1; Building Positive Relations to produce the report.
Derek Moore, vice chair of the Londonderry Bands Forum - which has spearheaded many aspects of community development and cultural integration in the city in recent years, added:
"The research has given a wide range of people from a PUL background the chance to contribute their opinions to the council area in which they live and, indeed, gives a possible snapshot of the PUL thinking that maybe exists in Northern Ireland as a whole."