Derry Square Knitters celebrate raising over £7,500 this year for charity
Knitters in Derry are celebrating after raising £7,520 in 2022 for families in Afghanistan, bringing their total over three years to almost £20,000.
Watch more of our videos on Shots! 
and live on Freeview channel 276
Visit Shots! now
Seven years ago, Mary Hunt and Aideen Hughes decided to set up the group in response to pictures of Alan Kurdi's body washed ashore on a beach in Turkey. Kurdi was only two years old when his Syrian family attempted to flee to Europe from Turkey.
Mary said: "When I was at school, the nuns decided that we would all knit squares to send to people in Hungary, before the Hungarian Revolution in 1956, and they sewed them together in the convent. There was a clothes drive for migrants, which Aideen and Siobhan McNally were involved with and when I asked Siobhan how I could help, she sent me to Aideen. I told Aideen about the squares we knitted in school and, before I knew it, she had created the Derry Square Knitters on Facebook. We were very fortunate to have a connection to Hilda Orr, who knew people in the camps in Greece. We then got in contact with Cormac Wilson, who has since passed – may he rest in peace – who worked for St Vincent De Paul (SVDP), and they provided a service to get things shipped out.
"Everything has been voluntary and all began from word of mouth. When Alan Kurdi's body was washed ashore - the thought of that poor child being lifted out of the water was horrific - I thought that there had to be something we could do so, we started sending blankets and hats. Other groups had been sending money but we didn't have anything to do with money until Brexit happened. Then, it was too expensive to send anything out. After Brexit, we had to even identify even where the wool came from and it was just too much.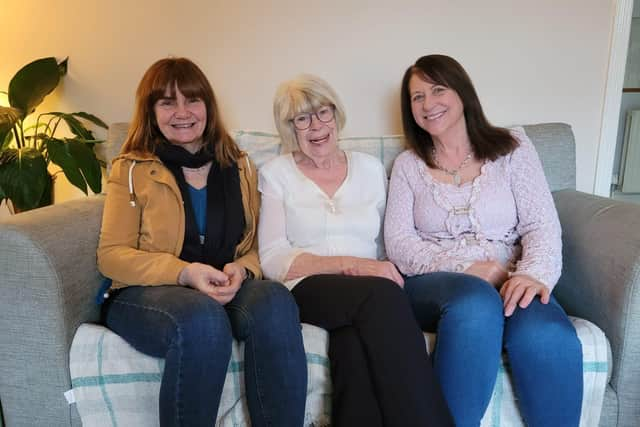 "Unfortunately, the SVDP also had to stop supporting us too because they focus on local aid. Aiden Crawford, president of SVDP was so sorry to have to stop.
"There was a few months of no one knowing what was going to happen and the knitted items were piling up so Jean Doherty said she would make up sets and sell them. She said she could sell five sets and make £100 and that's where that all started."
"That'll be three years ago now in April," said Siobhan, another member of the group. "We've raised nearly £20,000 since then through selling the sets. The sets could be made up of a blanket knitted in Armagh, a cardigan knitted in Omagh and the toy made here in Derry. "Jean and I put them all together beautifully in cellophane wrapping and we sell them online or at the craft fairs."
Hilda Orr is the link between the Derry Square Knitters and families in Afghanistan who are in need of food. When the knitters first began sending blankets and hats out to Greece, she would be there to meet the shipping containers and see the families receive their items.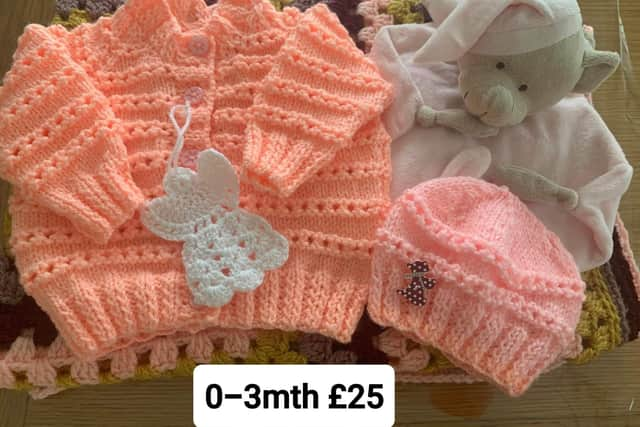 Hilda said: "I went to Greece in 2015 when I saw the pictures of Alan Kurdi. When I was in Greece, about 40 people drowned. It was horrific! I came home and cried for a week. At that time, the refugees were all coming in from Turkey in small boats and going straight to the mainland. They were then starting to make their way through Europe. The next time I went back, however, the borders had closed and they had all moved from Athens right up to the Macedonian border and camped there. They kept thinking the borders would open but they didn't. Eventually, the Greek authorities lifted them all and put them in camps. From then on, all those who were attempting to make their way through Europe were becoming stranded in mainland Greece. People were also getting stuck on the Islands and were eventually prevented from travelling to the mainland. The conditions on the island of Lesbos, where I had been, were the worst anyone had ever seen."During my time volunteering in Athens, I met a young Afghan man called Davood and his French wife. I stayed with them a few times and got to know them very well. A year and a half ago, he rang me and suggested we do something urgently because the Taliban were about to take over in Afghanistan and people were flooding into Kabul. They were living in tents and had no access to food. He sent me photos and videos and I said we would try to get some money into Kabul to feed as many as we could. At first, we had a few people there making meals, with the money coming from the Derry Square Knitters and other private donors to do that. Eventually, we began to expand our feeding programme to the villages surrounding Kabul and included the ingredients needed to cook meals and bake bread. A lot of people in the villages had lost their jobs when the Taliban took over. They had large families and they had no means of feeding themselves and their children. We identified one village in particular, and appointed a team of people, well known to Davood, to make a list of the most needy families and to do the monthly distribution, and they have been doing that ever since. We are presently supporting 110 families in this village and others scattered throughout the city. They rely on us completely for this aid every month."
"There's a lot of trust involved in this operation, but I'm confident that 100% of the money raised is going to where it's needed most. The team in Kabul are very conscientious and send us a photo of every single family receiving food, as well as all receipts. In addition, we receive a lot of messages thanking us for helping them feed their children. They are so grateful to all the Fund a Food Drop donors, and especially The Derry Square Knitters, for all they're doing for them. In many cases, they're saving lives."
"There's knitters here who aren't in a position to get out and about, so we get them wool and anything else they need," said Mary. "We take wool donations, which we could be doing with more of at the minute, and give them to people knitting for us. Someone knitting even one square or a baby set is getting a little bit of joy out of making that. The person who buys it also gets joy and heat and it's just a really simple idea. We just started out with simple blankets and hats but now we make everything and the quality of the items being made by people is something else."
"We couldn't do this without our knitters," added Siobhan. "We try to thank them with a post on Facebook but some people don't even leave their name because they're not looking for thanks. I would really like to thank absolutely everyone who supports us and provides us with the products we sell. From people providing wool, knitters and the customers – those who buy once and the regular customers – we couldn't do it without them."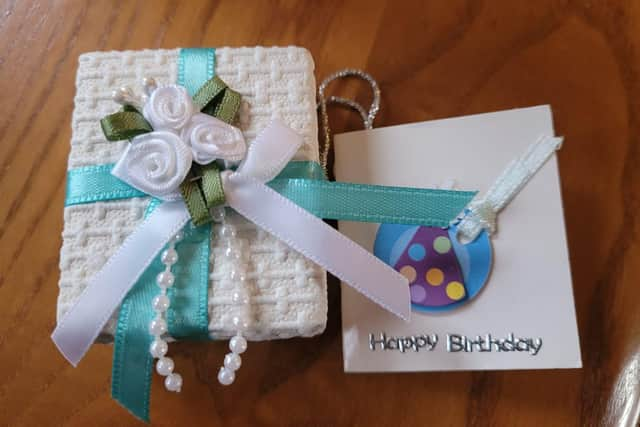 The group has grown and evolved over the years so, now, there are people contributing from all over the world, they're making more than just squares and they also sew, crochet and stitch. They're quite content with being known as the Derry Square Knitters, however.
Search for the Derry Square Knitters on Facebook to make a donation of money, wool or a knitted item, or to buy items. Some sets are for sale at Fabric World, which is also a wool drop-off point.