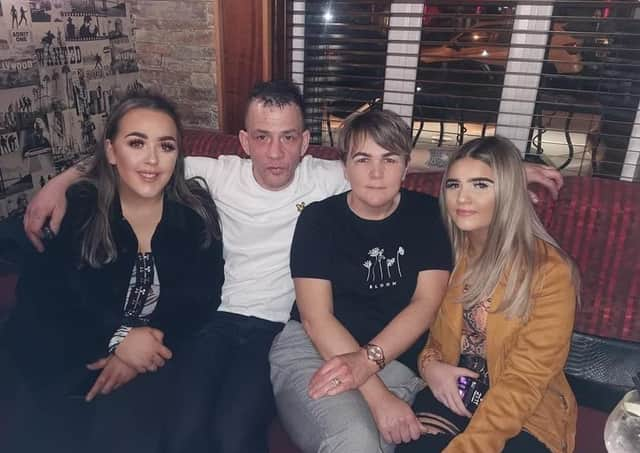 Shannon, pictured with her family.
Shannon Harwood made headlines across the world in February after she shared a generous and heartwarming message sent to her after she tried to buy some balloons.
The 21-year-old's mother, Tanya, had just finished chemotherapy and Shannon ordered some foil balloons spelling out the words 'F**k Cancer' on online marketplace Amazon
Just a couple of hours later, the seller, Noelle, from a company called Eighty80 Ltd sent Shannon a message telling her how she agreed with the sentiment and was refunding her money. She still provided the balloons and suggested Shannon, from Newbuildings, use the refunded money to buy some cake.
Shannon's mum, Tanya, pictured with some of the balloons.
Shannon was delighted and touched by the gesture and shared the exchange on her social media. Thousands around the world were also impacted by the kind gesture and to date, the tweet has been liked 488,000 times on social media site Twitter, shared 31, 400 times and attracted over 1,000 comments.
Shannon told the Journal how the tweet has been 'engaged' with across the world 17 and a half million times.
The Newbuildings woman said she never could have foreseen the reaction the online post would get and revealed she had received messages from across the world.
"My auntie had said to me about getting balloons when Mummy finished chemo. I went on to Amazon and ordered them at around 11am. At about 2pm I received this message. I was worried first as I thought they might not be happy with the cursing and they didn't want to do them. But then I saw that she was refunding me and also sending the balloons. I thought it was justa lovely thing to do and put it on my Twitter.
"Before I went to bed it had around 100 likes. It had 600 when I got up and then it just took off. I had to turn off the notifications on my phone and by the next day, it was up at 275,000 likes."
Shannon initially didn't want to tell her mother about what had happened, as she wanted the balloons to be a surprise, but the tweet became too popular.
"My wee sister said to me: 'Can I have your autograph?' and Mummy was asking what she meant. I had to tell her then and she was delighted."
Shannon has been in contact with Noelle from the balloon company who was 'so lovely.'
"Her sister messaged me and told how Noelle has received so many nice messages and support. I think she had a family member who had cancer, so knows what we were going through."
Shannon's tweet and story has featured on national and international news and she said she has received messages from people as far away as America.
The tweet still continues to make its way across the world and Shannon, who lives with her mum, dad Mark and sister Ellie, still hasn't been able to switch on her notifications.
She admitted how it's 'crazy' to think that her tweet and profile picture have been seen by millions of people.
"It really gave us such a lift. People have been so kind and I've had such lovely comments."
Shannon said she believes that, as the majority of people have been affected by cancer and illness in some way, the tweet and the kindness of Noelle really resonated.
Noelle's full message to Shannon read: "Hi Shannon, we have refunded your order because we agree with your balloons.
"Do not worry, the balloons are still on the way for you, use the refunded money to get some cake.
"All the love, from Noelle at Eighty80 Ltd."