Foyle Foodbank in Derry partner with Apex to deliver social supermarket
Foyle Foodbank has partnered with Apex Housing Association (Apex) to deliver its Community Supermarket service for the coming year.
Published 30th Mar 2023, 08:39 BST

- 2 min read
Updated 30th Mar 2023, 08:39 BST
This addition to the Springtown-based Derry foodbank has enabled the development of a range of wrap around support services at its Springtown base, as part of The Trussell Trust's Pathfinder project.
Foyle Foodbank's hub provides a suite of in-house services that includes longer term food/ household support, mental health and wellbeing, nutrition, financial money management, advocacy and referrals to other agencies to help people find a path out of poverty or the crisis they find themselves in. This is undertaken in partnership with a wide range of community and statutory partners.
The Community Supermarket is funded by the Department for Communities, with Apex successfully delivering the project over the last five years.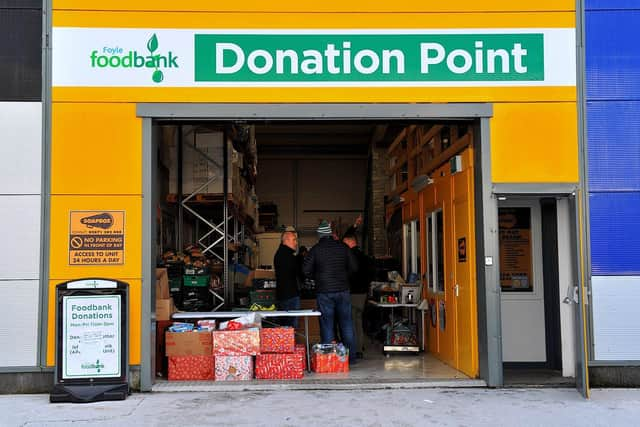 Donna Matthewson, Director of Housing at Apex, said: "We are delighted that Foyle Foodbank will deliver the services provided at the Apex Community Supermarket on our behalf from April this year. The Foodbank has developed significantly over the past few years, and we have no doubt that the Community Supermarket will go from strength to strength under their management."
Karen Mullan, Foyle Foodbank said: "We work closely with Apex who are one of our trusted partners. We are pleased to take on the delivery of the Community Supermarket which will be a helpful addition to our services to support people in crisis.
"We look forward to being able to provide longer term support to those in financial crisis, help maximise their income and support them to bring about change in their lives. The community supermarket model provides that opportunity and will allow us to identify what other support is needed for people.
"Last year Foyle Foodbank helped 7,283 people. With the increase we are seeing in those needing support this year, we are already preparing for another difficult winter to come as people are subject to continuing high costs with only limited government support in place. Projects such as the Community Supermarket will allow us to provide an important layer of support for individuals and families," Karen Mullan added.