'Journal' columnist Amir Abbas Kalhor - 'I love Derry, its lovely people and beautiful places'
​Amir Abbas Kalhor is an Iranian asylum seeker living in Derry. Prior to fleeing his home country he worked for Etemad newspaper and has had articles published in dozens of magazines and online platforms.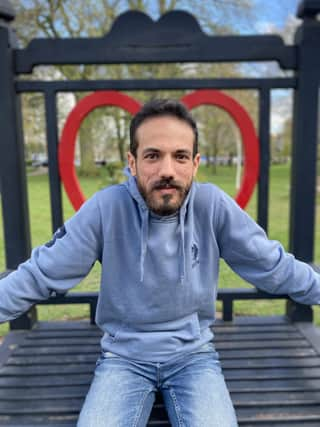 Where are you from in Iran? What about family? Are they all still in Iran?
I grew up in Tehran, the capital of Iran. I am 34-years-old and have one sister who is seven years younger than me. She and my parents are currently living in Iran.
What is the political situation in your country?
It is a summary of all the negatives that came with the old Soviet governments, Nazi Germany, East Germany and North Korea. The difference is that in these governments, people had the right to choose their clothing. In my country, the government intervenes in the clothing of citizens, there is a morality police and strict rules have been established regarding the hijab. Many people do not know Iran or only know that it has oil and gas.
On the other hand they know Afghanistan, Iraq and ISIS very well because news agencies talk about these every day. Between the Islamic Republic, which is the government based in Iran, and the Taliban, which has taken power in Afghanistan, the only difference is in their appearance. There is no difference in their behavior and attitude towards people.
For them, people are not citizens but subjects who must obey what the rulers say. In my country, a president only plays the role of a scarecrow.
All orders, law, and policies are under the supervision of the leader of the country, Ali Khamenei, who has never had a single interview with independent media and is not accountable to anyone for his behaviour.
What did you do when you were in Iran?
While I was a student, I studied political science and became interested in working in a newspaper. I have been working in the journalism sector for more than 12 years now.
I have written extensively about the poverty and economic situation of my people during the Islamic Republic and the life situation of the people before the 1975 revolution and the Pahlavi era.
Why did you leave Iran and do you think you will ever return to your country?
The Islamic Republic has done something to Iran that every moment my country looks less like my dreams and more like a nightmare. Living in Iran is like running on a treadmill for citizens who are against the Islamic Republic and have no affiliation with it. A month before I had to leave Iran, I was threatened with arrest and death by the security forces. As long as the Islamic Republic is present in Iran, I am unlikely to return.
When did you come to Derry and how have you found it since you got here?
I have been in Derry for almost three months. I used to live in Carrickfergus but could not continue my studies there.
When I found out that I could go to a university in Derry to study English, I applied to transfer to the city. My goal is to study to further enhance my knowledge of journalism here.
I love this city. It has lovely people and so many beautiful places.