Lyra McKee murder and rioting accused mixed committal hearing begins
The mixed committal hearing to decide if the men charged in connection with the shooting of the journalist Lyra McKee and others charged with rioting on the same night should be sent for trial has begun at Derry Magistrate's Court.
Watch more of our videos on Shots! 
and live on Freeview channel 276
Visit Shots! now
Lyra McKee, a journalist, was shot dead on April 18, 2019 and the New IRA claimed responsibility for the shooting.
Peter Gearoid Cavanagh (33) of Elmwood Terrace and Jordan Devine (21) of Synge Court both in Derry are charged with the murder of Lyra McKee on April 18 2019 and also charged in connection with the rioting on the same date.
Patrick Gallagher (29) of Pinetrees, Joe Campbell (21) of Goshaden Cottages, Kieran McCool (53) of Ballymagowan Gardens, Jude McCrory (24) of Magowan Park, Joseph Barr (33) of Cecilia's Walk and William Patrick Elliott (56) of Ballymagowan Gardens all in Derry are all charged with rioting and throwing petrol bombs on the same.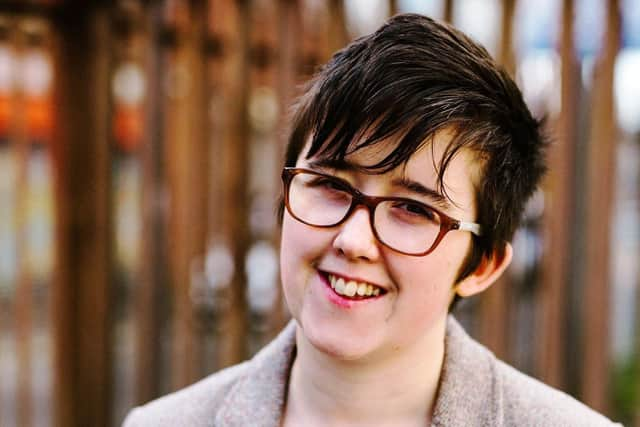 In his statement he said that he could identify Cavanagh in footage he was shown by 'his gait and stance'.
He said that the defendant's face was covered apart from his eyes.
Under cross-examination by Stephen Mooney, counsel for Cavanagh, the officer accepted that he was not an expert on either gait or stance.
The officer was asked had he accessed the Police Service of Northern Ireland's system for material on Cavanagh before carrying out the controlled viewing and he agreed.
Mr Mooney asked had he retrieved 'multiple images' of Cavanagh 24 hours before the controlled viewing and again he agreed.
The officer told the court he could not recall why he was looking at images of Cavanagh before the controlled viewing.
The court heard that while viewing footage, the officer said 'that's Pete Cavanagh' and another officer nodded when he said this.
Another police officer gave evidence of identifying Cavanagh from footage on July 27, 2019.
He said he was able to identify the defendant Cavanagh by 'his build, size and gait'.
Under cross-examination by Stephen Mooney for Cavanagh, he agreed his identification was based 'exclusively' on these three factors as there was no facial recognition possible.
The officer was also asked what it was about Cavanagh's build that enabled the officer to identify him. The police officer said that he recognised 'his build from having previous dealing with him'.
Mr Mooney asked was there anything 'unique or odd' about Cavanagh's build or gait and the officer said there wasn't but he added the defendant carried himself 'in quite a rigid fashion'.
The officer was asked about the hour before his controlled viewing when he was on the PSNI system accessing images of Cavanagh, which he claimed was due to 'an operational requirement'.
Mr Mooney asked him would that 'operational requirement' have anything to do with this investigation and was told it had not.
The witness was then asked was it 'just a coincidence' that he was accessing Cavanagh's profile an hour before a controlled viewing and the officer said it was just a coincidence.
The mixed committal hearing at Derry Magistrate's Court continues.