'New IRA' weapons accused an 'alcoholic stooge' defence barrister tells High Court
A Derry man charged over the seizure of guns and explosives linked to the New IRA is an alcoholic stooge more akin to a character from cartoon sitcom The Simpsons, the High Court heard this week.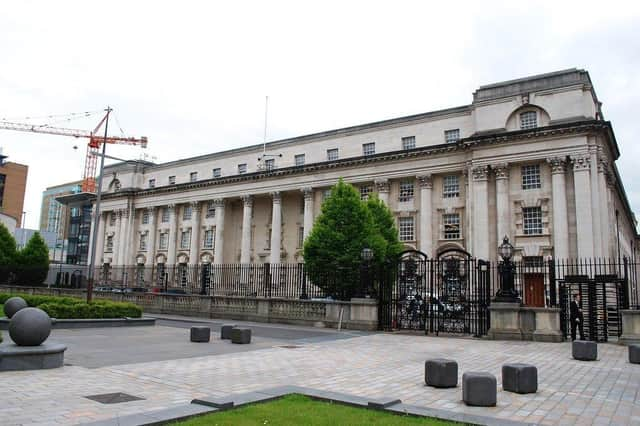 Gerard Anthony Kelly was likened to the television show's town drunk Barney Gumble as a judge ruled that he can be released on bail.
The 48-year-old accused, of Victoria Place, was arrested earlier this month as part of a major police operation in the city.
Two Soviet grenade heads, plastic explosives, two electric detonators and two handguns were seized in searches carried out at properties on September 7.
Sixteen PSNI officers sustained injuries when rioting broke out during the operation.
Gerard Kelly is allegedly linked by DNA from a bag located in a bin which contained some of the weapons.
He faces counts of possessing a firearm, ammunition and explosives with intent to endanger life.
His 26-year-old daughter, Shannon Marie Kelly of Creevagh Heights in Derry, has already obtained bail on similar charges.
During police interviews Gerard Kelly claimed he found the bag on the street and then dumped it in the bin without examining the contents.
Although not suspected of being part of the New IRA, a Crown lawyer claimed he was part of a network used to store weapons on behalf of the terrorist organisation.
"He would be described as a facilitator, as opposed to an active member," she submitted.
Disputing the prosecution's assessment, defence counsel Stephen Mooney argued that Gerard Kelly has such a serious drink problem that he may not even remember the incident.
"He is a stooge, an alcoholic and a street drinker," the barrister said.
"It is perhaps indicative of how far those involved have fallen that they felt it necessary to involve an individual who is effectively the Barney Gumble of Derry."
Mr Mooney suggested his client may have been "prevailed upon" because of debts he owed.
"He wasn't on the police radar until he drunkenly fell into their lap due to a farcical enterprise which would be comedic if it wasn't so serious," counsel added.
Granting bail to Kelly, Mr Justice O'Hara imposed a curfew and ordered him to report to police three times a week.
The judge also commented: "In a way, it's good news the dissidents are now relying on alcoholics to do their business for them."