New thrice daily London Heathrow to City of Derry route takes off
The first ever service between City of Derry and London Heathrow Airports took to the skies at the weekend meaning passengers here can now access 119 destinations across 56 countries via a single ticket.
Published 8th May 2023, 12:15 BST

- 2 min read
Updated 8th May 2023, 12:15 BST
The new service operated by Loganair, who have a long-standing partnership with the Airport spanning over four decades, is now available three times per day.
The passengers on the inaugural outbound London Heathrow service received some VIP treatment with the provision of some complimentary refreshments and goodiest, and the first inbound passengers also received a truly memorable 'Welcome to the Northwest' with a water cannon salute to celebrate the inaugural arrival from London Heathrow.
Steve Frazer, Managing Director at City of Derry Airport, said: "Gaining international hub access is a substantial step in the economic and strategic growth of the region and our vision for the future of the Airport.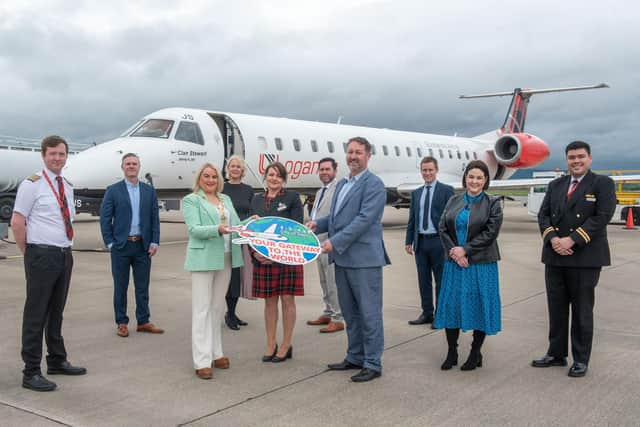 "In terms of outbound travel, London Heathrow truly opens a 'Gateway to the World', as passengers are now able to book single ticket connections to and from City of Derry Airport via London Heathrow to 119 destinations across 56 countries.
"Destinations across Europe, Middle East, North and South America, Africa, Asia and Australasia will all soon be available from City of Derry Airport through Loganair's partner airlines such as British Airways, Emirates, Etihad, Qatar Airways, Turkish Airlines, KLM / Air France, Virgin, Singapore Airlines and Finnair, with several more to follow, all from the convenience of your local Airport."
Mr. Frazer continued: "We look forward to welcoming the world to the Northwest and connecting our people across the globe, with our own world class welcome and customer service experience."
The launch was celebrated at the Airport with special guests Mayor Sandra Duffy, Anna Doherty, CEO of Derry's Chamber of Commerce, James Kilgore, Vice President of Causeway Chamber of Commerce, Shane Grant, Board Member at Letterkenny Chamber of Commerce, and Ciaran Doherty, Head of Regions at Tourism NI.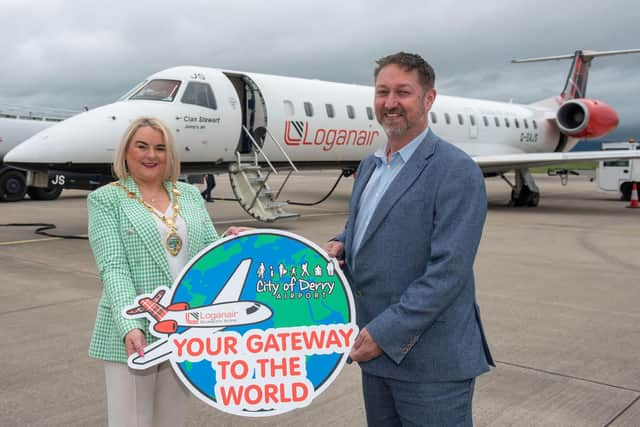 Jonathan Hinkles, Loganair's Chief Executive, said this was 'a milestone moment for Loganair' and indeed for regional connectivity.
"Those travelling from Northern Ireland can take advantage of Heathrow's improved access into central London via the new Elizabeth Line or its vast range of onward flight connections as an international hub. In return it also opens the possibilities for business and leisure travellers to visit City of Derry, with a choice of three departures in each direction every weekday throughout the year."
Mayor Sandra Duffy said: "This connection not only sees the retention of this vital service to London that is so important to our local business community, but it further opens up access to destinations right across the world, which will be of huge benefit to both business and tourism.
"This new arrangement offers passengers a wide range of benefits with increased availability in flights and reductions in travel times, that will further enhance the first class travel experience already offered by City of Derry Airport."