OPINION: And so began the Journey of Reconciliation: Ireland Messines Peace Park 25 years on
This Saturday, November 11 marks the 25 anniversary of the opening of The Irish Peace Park in Messines, Flanders by President Mary McAleese and Queen Elizabeth II.Here historian and author Tom Burke from Dublin reflects on the extraordinary efforts towards reconciliation of those involved as the anniversary approaches for the Derry Journal.
Watch more of our videos on Shots! 
and live on Freeview channel 276
Visit Shots! now
In his famous speech at the Lincoln Memorial in Washington D.C., on 28 August 1963, the great American civil rights activist Dr. Martin Luther King told the thousands listening to him that he had a dream – a dream of a peaceful, fair and reconciled America. Following an emotional visit to the Somme battlefields in September 1996, the Fine Gael T.D. Paddy Harte (RIP) also had a dream that he shared with Ulster Loyalist Glenny Barr (RIP) of a peaceful, fair and reconciled Island of Ireland.
That hope of reconciliation became a living project whose touchstone was the battle on 7 June 1917 during WW1 when Irish soldiers, from the north and south of Ireland, liberated the village of Wijtschate in Flanders. The thinking of some Irish men like Willie Redmond M.P. then was, that if Irishmen could fight and die together in time of war, surly they could live together in a time of peace. There would be no greater legacy those unfortunate men and their families could leave behind, that out of their shared suffering and loss would come reconciliation.
Sadly, that legacy was short lived in the immediate years after the war. But in 1996, both Paddy and Glenny gave life back to that hope of reconciliation in Ireland at a time when it was never needed as much. And so began the Journey of Reconciliation.
When he returned to Ireland after his visit to the Somme, Paddy wrote about his experience in The Belfast Telegraph after which many people contacted him. Whether Paddy contacted Glenny first, or Glenny contacted Paddy first, is up for clarification. Paddy knew Glenny for some 25 years. Between 10 and 12 November 1996, both men organised a group tour of the Somme battlefields. The tour group comprised of some fifty people from a cross-section of Northern Ireland and Republic of Ireland. On the steps of the Somme Thiepval Memorial on 11 November 1996, both men read a Peace Statement.
"As Protestants and Catholics, we apologise for the terrible deeds we have done to each other and ask for forgiveness."
These words would reappear two years later at Messines. On the final night of the tour in a hotel in Arras, those in attendance agreed to build a Peace Park; Messines near Wijtschate in Flanders was subsequently offered.
On 25 November 1997, an interdenominational 'Turning of The Sod' ceremony took place at the site of the Irish Tower in Messines. There was symbolism of Reconciliation at this ceremony when a soldier from the Irish Defence Forces, Trooper Paul Haughton and Private Dickson from The Royal Irish Regiment turned the sod together.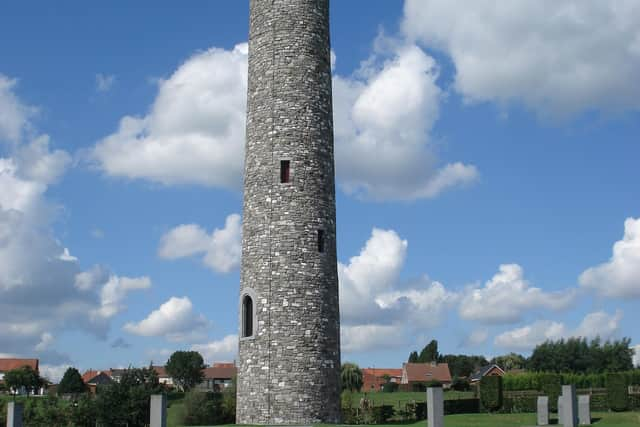 The then Burgomaster of Messines told the gathering: 'We are very honoured and proud that you have chosen this place to build a park of reconciliation and tower. They will be a symbol of friendship between people. … We hope we can contribute a little to world peace and reconciliation through our aid to your unique initiative. We also hope we will strengthen the ties of friendship and appreciation between Ireland and Belgium…'
Construction of the Tower began in May 1998 and incredibly, within a year after the Sod Turning ceremony, the Peace Park and magnificent Irish Round Tower was built. It was an amazing achievement.
In yet another symbol of Reconciliation, much like to construction of the National War Memorial Gardens at Islandbridge in Dublin that was built by Irish veterans of the British and Irish Armies after WW1, the Irish Tower in Messines was constructed by Irish stonemasons assisted by trainees from FAS in the Republic and the Training and Education Authority in Northern Ireland supported by assistance under the Wider Horizons Programme of the International Fund for Ireland.
To fund the project, there was incredible generosity of spirt and indeed of pocket from the business community and ordinary people in Ireland north and south. For example, Irish Rail provided complimentary transport to members of the Trust committees who attended meetings in Belfast and Dublin. An Post in St. Andrew Street, Dublin donated an office for the Trust to work from.
And so, on 11 November 1998, the Island of Ireland Peace Park was opened by President Mary McAleese in the presence of Her Majesty Queen Elizabeth (RIP), and King Albert of the Belgians. In her few words President McAleese noted:
'The Ireland Peace Park sought to use the sacrifice of the men who died in WW1 'as a basis on which to forge a deeper understanding and respect between traditions on the island of Ireland….Let us walk the path of reconciliation together.'
Her Majesty Queen Elizabeth joined with both President McAleese and King Albert, 'in honouring the great contribution of all those from throughout Ireland who fought valiantly and sacrificed so much in the First World War.'
Sadly, within a year of the Park's opening, the trees and shrubs that were planted had died off and weeds began to grow. The Park looked dishevelled and forgotten. The image of growing weeds and dead trees gave people who were ideologically opposed to the project, an opportunity to vent their vengeful attack on the Trust.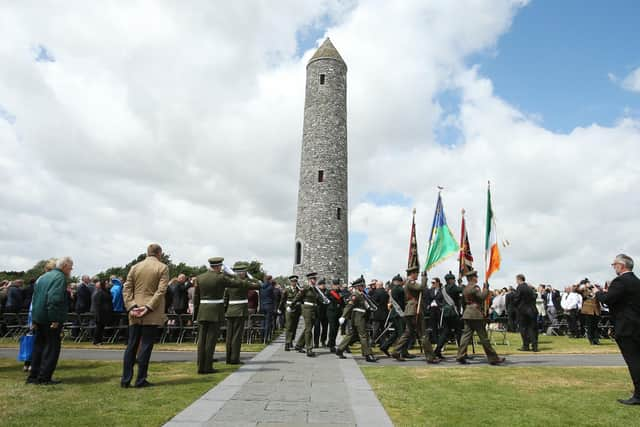 Essentially, the finances for the project, which were mostly from voluntary subscriptions, had run out. Had those who wrote letters to the newspapers complaining about the dead trees, put their hands in their pockets and donated something to the up-keep of the Park, the cost of running it might have been easier.
The overgrown image and negative publicity the Park received gave concern at a political level back in Ireland. Under an initiative taken by the then Taoiseach Mr. Bertie Ahern in April 2000, subject to certain conditions, the completion of the Park, along with the future upkeep and maintenance of the Park, would be carried out on a continuous basis by the Office of Public Works from Dublin in conjunction with their counterpart in Northern Ireland. The results of this initiative can be seen today in the splendour and beauty of this magnificent Irish monument to Peace and Reconciliation.
By the middle of September 2000, a new initiative created by Glenny Barr, namely the International School for Peace Studies, supported then by the European Union Programme for Peace and Reconciliation, was set up in Messines. Paddy bravely carried on with his work in the field of reconciliation in Ireland. In the years that followed the creation of the Peace Scholl, hundreds of young Irish people from across the religious and political divide, came together in a spirit of reconciliation and carried out projects on a variety of topics.
Their positive feedback is a reflection on how successful the project of reconciliation and bridge building was and continues to be. A pupil from St. Cecilia's College in Derry noted: 'Because of The International School for Peace Studies programme for me, the Poppy is now a flower of remembrance, not a sign of division.' A horticultural student named Lorraine Thornton from Drogheda who worked on the Park noted; 'When we were in Belgium it didn't matter what part of Ireland you came from or what religion you were. We all worked together and helped each other and had a good time together…Before going to Belgium I don't think I would have travelled up to the North of Ireland, but now I will. Belgium was a great experience. I got to see another country and most of all, I got to make new friends. I hope our friendships last for many years to come.'
Glenny was awarded an O.B.E. in 2005; Paddy was similarly rewarded with an Honorary O.B.E a year later in 2006. Sadly both men have passed on; Glenny in October 2017 and Paddy a year later in January 2018.
Dr Martin Luther King had a dream of a reconciled America. He never lived to see his dream come true. Sadly, it may never come true. However, the dream of a reconciled Ireland that Paddy Harte and Glenny Barr and those of us who travelled with them on their Journey of Reconciliation back in 1998 has indeed come true. Next Saturday 11 November there will be a ceremony in Messines to mark the 25th anniversary of the opening of the Irish Peace Park.
*Tom Burke is a writer and historian specialising in The First World War. He has contributed to publications on Ireland and the First World War in journals such as The Irish Sword, Studies, and Toward Commemoration: Ireland in War and Revolution 1912-1923 published by the Royal Irish Academy in 2013. His book, Messines to Carrick Hill – Writing Home From The Great War, was published in 2017 by Mercier Press, Cork. He was a member of the First World War exhibition advisory committees to the National Museum, the National Library of Ireland, and Dublin City Archive. He is a Fellow of the Island of Ireland Peace Park in Messines, Flanders. In August 2004, Tom was awarded an Honorary MBE by the late Queen Elizabeth II for his contribution to the Irish Peace Process.