£600 energy voucher rollout begins in Derry today
The first £600 energy vouchers from the Government for households in the north have started arriving through letterboxes on Monday, January 16.
Published 16th Jan 2023, 09:33 GMT

- 2 min read
The vouchers can only be redeemed at post offices and are being sent to all those who don't pay their energy bills by direct debit. The mailout of the vouchers is taking place in tranches over the next four weeks and will be completed by the end of February.
Post Office has worked with the electricity suppliers to prioritise the delivery of vouchers to households on the customer care register. Each gas and electricity supplier is required to compile and maintain a customer care register which stores details of consumers who merit special treatment on account of age, disability or chronic illness.
For customers who pay for their energy using direct debit the £600 will automatically be placed into their bank account. They will not receive a voucher.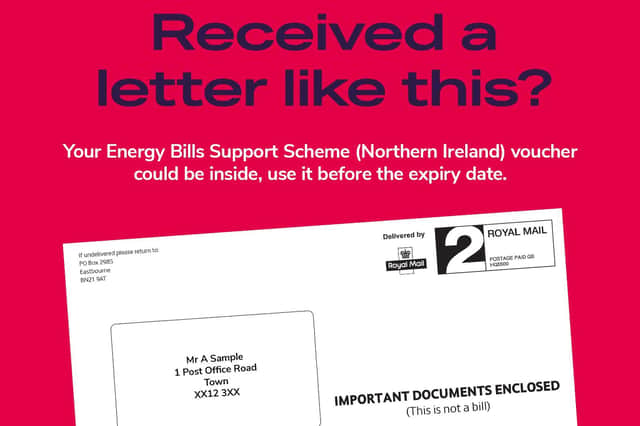 The Post Office is urging everyone due to receive a voucher to pay close attention to their post and to be careful not to accidentally throw their voucher away.
The voucher is made up of a £400 Energy Bill Support Scheme payment and an additional £200 Alternative Fuel Payment. 500,000 households in the north are eligible for the voucher and it is expected post offices will be busier than usual. Of the 500 post offices in the north, the vast majority are open on Saturdays and around 150 are open on Sundays.
Andrew Goddard, Head of Payments for the Post Office, explained around 75% of customers in the north don't pay their energy bills by direct debit, hence why these vouchers need to be issued and distributed over the coming weeks. He said: "This is a major logistical exercise and we are working very hard to distribute the vouchers as quickly as possible. We are working with the energy companies to distribute all vouchers by the end of February so please be patient and keep an eye out for yours to arrive.
"The only way to redeem the voucher is at a Post Office. The good news is that when you do receive it, our branches are open long hours and Postmasters and their teams will be working flat out to process them and support their communities.
"Please do read the voucher very carefully and ensure you take it, plus the forms of ID specified, to ensure the teams can process your voucher and you receive your money. There are common questions and answers included with the voucher as well as information on what to do if you need to claim the voucher on behalf of someone else.
"We also encourage customers to receive your money and deposit this straight into your bank account. We have an agreement with all the major banks and staff at the branch will be able to do this for you there and then.
"Your energy provider may contact you to say your voucher should be arriving in the post soon. But the actual voucher will only ever be sent by post. The voucher will never be sent by email, text or other route."